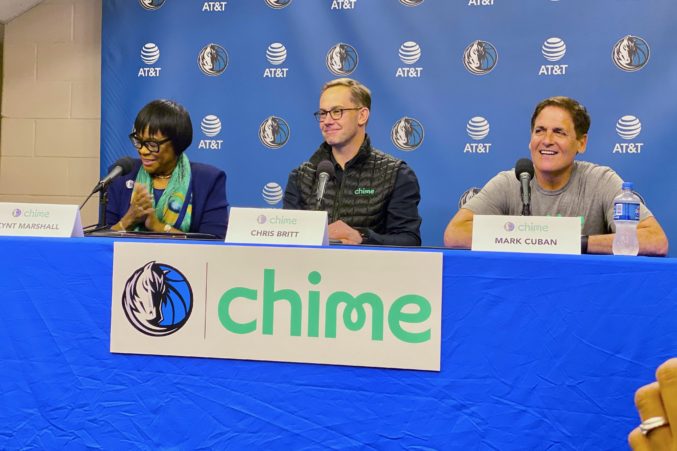 Dallas Mavericks Ink Deal With Fin-Tech Firm Chime
Agreement includes jersey patch sponsorship and entrepreneur readiness programs.
Chime, a digital bank based in San Francisco, is ramping up its brand awareness in Texas and beyond by plastering its name on jerseys worn by Luka Doncic and the rest of the Dallas Mavericks. The deal, which has been in the works for eight months—and, according to USA Today Sports, is valued at "just under eight figures"—was announced prior to Friday night's game at American Airlines Center by team owner Mark Cuban, CEO Cynt Marshall, and Chime's CEO and co-founder Chris Britt.
Chime is a leader among U.S. challenger banks, so called because they are digital financial institutions without brick-and-mortar branches. They target customers who prefer the convenience of app-based banking and don't have a need for face-to-face services.
Chime has no minimum balance requirements, no monthly service fees, and no transfer fees. It also covers overdrafts (up to $100) without charging a fee and allows direct deposits to be accessed up to two days earlier than traditional banks.
Dallas is already a top five market for the company, and Cuban said there's no reason it can't be No. 1. Britt said Chime plans to get involved in the community through programs like Venture Entrepreneurial Expedition, which the Mavericks launched in 2017, and initiatives that focus on financial literacy and education.
"We looked at this as an opportunity to be involved in the local community and get even more active," Britt said. "We expect to be very business in this area and use the voice and reach we have to share success stories across the country. … To be honest, this wasn't just a Dallas play; this is a national team, with Luca and everything that's going on here. It's really an international phenomenon, and we wanted to be a part of it."
Britt told D CEO that Chime has no immediate plans to open an office in Dallas, but he isn't ruling it out for the future, noting that the company recently opened an outpost in Chicago and has been expanding its call centers, too.