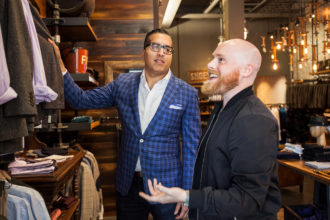 After nearly four years building his Dallas fashion e-commerce company Edition Collective, Matt Alexander has found a buyer. Dallas-based men's retailer Q Fifty One on Monday approved the purchase of Alexander's startup in a cash-and-equity deal.
Financial terms of the deal were not disclosed. Q Fifty One, which owns and operates Q Clothier and Rye 51 across Dallas, Houston, Atlanta, and Oklahoma City, has appointed Alexander as the president and CEO of the newly formed division Q Fifty One Digital. The company, which employs 45 people and operates its main office out of Uptown, will also receive a list of the startup's customers and Edition Collective's intellectual property, including its iOS mobile app. Edition Collective is the umbrella company for Foremost, formerly Need, and Imprint. Foremost and Imprint, as it exists today, will shut down.
Alexander and Edition Collective's assets will help the mostly brick-and-mortar store also specialize in e-commerce. Alexander will serve as a relatively autonomous unit under the brand. He will start off with a team of five people.
"We're doing eight figures now, with profitability in the seven figures," said Raja Ratan, CEO of Q Fifty One, who self-funded the company with help from his brother and a $150,000 bank loan in 2003. "All of it is without Web. We just feel its time to bring that experience online."
Q Fifty One, which Ratan said has been profitable since its first month in business, prides itself in personalizing the shopping experience with assigned clothiers who deliver a purchase options to the customer, whether its at one of its stores or at the customer's home or workplace. Alexander is expected build on existing customer relationships and expand to new ones by creating a community and story around the brand and products, much like he did with his Edition Collective brands.
"This is an opportunity to take something that has grown so quickly and make it a household name," Alexander said one day after the agreement was signed, calling the acquisition a perfect fit. Alexander is "coming in to try to significantly bolster" the brand by taking it into the digital world.
The development came after a rough patch for Edition Collective, which had to cut 60 percent of its team in July and got locked out of its headquarters at Alto 211 in downtown Dallas. Alexander called the cut a difficult decision that was necessary to keep the company cash-flow positive. He credited the lockout to a misunderstanding.
"We had a difficult summer, but we didn't fall," he said, adding that most of the difficulties dissipated. "Our business wasn't a bad business. It was underfunded."
But shortly thereafter, the market began to change, he said. E-commerce companies Jet.com and Dollar Shave Club were both acquired in billion-dollar deals, making investors more interested in e-commerce startups. So Alexander set out to raise his next round of funding. In the process, he learned that there were new buyers looking to pickup e-commerce companies like his and received a couple of offers. The offer from Q Fifty One began with Alexander's lawyer Kevin Vela of Vela Wood, who suggested he meet with Ratan.
The two founders were already familiar with each other, as Alexander previously did business with Ratan in 2013, when he curated items Q Fifty One. The chemistry and alignment of the two brands' goals were clear, and the two began working out the details for acquisition.
Ratan says 99 percent of Q Fifty One's business comes from brick-and-mortar stores, even though the company has a website. With Alexander's expertise, Ratan expects to see a major change.
"The impact will be significant," he said, declining to release any specific projects, "both to the top line and the bottom line."
Meanwhile, Alexander says there is no guarantee for success, given the hot-and-cold nature of retail, only new opportunities. But the decision does raise an interesting question about the maturing Dallas startup community: Can a company start here, get funded, sustain itself, and also find a big exit without ever leaving the market?
"A lot of companies our age are starting to ask themselves fundamental questions," Alexander said. "What Dallas probably needs is a company with a truly lofty idea that's not [dependent] on revenue up front–something really ostentatious and ambitious."
Get the D CEO Newsletter
Stay up to speed on DFW's fast-moving business community with weekly news reports, interviews, and insights.