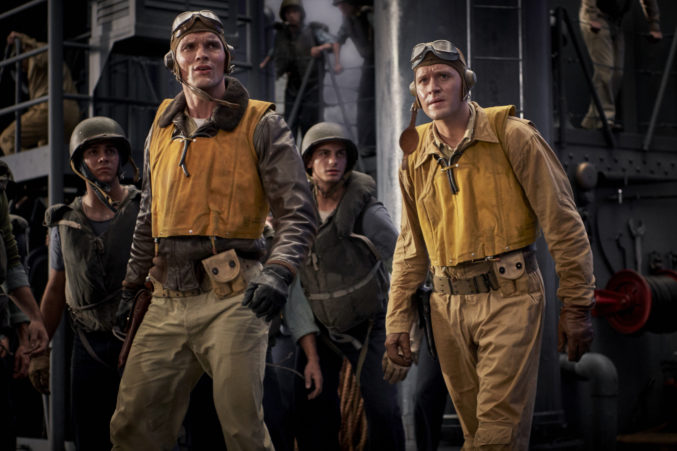 How Family Connections Provided Deeper Meaning for Midway Stars
British actor Ed Skrein drew inspiration from his heroic grandparents while playing an American dive bomber pilot in the World War II epic.
Ed Skrein is removed from the Battle of Midway by several decades and half of the globe. But when preparing for his role in the historical epic Midway, the British actor found that his personal connection to the conflict was much closer.
World War II ties run deep in Skrein's family. One set of grandparents fled Nazi-occupied Austria for England. His grandfather was a military firefighter and translator. His grandfather joined the British army, landed at Normandy in the aftermath of D-Day, and fought at the Battle of Hamburg. Another grandfather spent most of his life in the Royal Air Force.
"I knew my grandfather had fled the Holocaust, but I never knew while he was alive that he was in the British army," Skrein said during a recent stop in Dallas. "I would advise anyone to speak and listen to their grandparents while they're still alive. Their lives are our history. I wish my grandparents could have seen this movie."
The film from director Roland Emmerich (Independence Day) chronicles the pivotal events that defined the Pacific Theater during World War II, starting with the ambush at Pearl Harbor and culminating with the titular three-day clash by sea, land, and air, between the American fleet and the Imperial Japanese Navy that paved the way to American victory.
Skrein (Deadpool) plays Dick Best, a charismatic dive bomber pilot for the U.S. Navy and commander of a squadron that played an integral role in winning the pivotal Pacific battle by sinking at least one Japanese aircraft carrier.
Although archival footage of Best is limited, some of his interviews have been preserved online and in various books, which helped with research.
"We had some still images but no moving pictures. You had to fill in the blanks by watching things from that time — trying to understand cultural influences and how they would manifest in that generation," Skrein said. "Our job was looking like we knew what we were doing when we don't have a bloody clue."
To train for their roles, Skrein and his fellow cast members rode in flight simulators at the Pacific Aviation Museum, sat inside the cockpit of a real Douglas Dauntless bomber, and consulted with on-set military advisers.
"We knew the specifics of every gadget inside the plane, and how everything would work — even the specifics of the dive angles and what it must have felt like, and how a pilot would carry himself," said actor Luke Kleintank, who plays Lt. Clarence Earle Dickinson. "We had a lot of people on set helping us with all of that stuff."
Kleintank ("The Man in the High Castle") researched Dickinson in part by reading his memoir, The Flying Guns, which was written less than a year after Midway ended.
As with Skrein, he also found a personal connection to the material. Kleintank comes from a Navy family, and his grandfather was on the USS Archerfish, a submarine involved in the Midway conflict.
"My grandfather passed away many years ago. I didn't know that he was involved in these battles," he said. "These guys really never talked about wartime. It wasn't something they felt comfortable talking about it. Now, I get to honor not only my grandfather but all of these old men."
The film features plenty of big-budget Hollywood spectacle. However, Skrein hopes moviegoers, especially younger ones, also gain some insight and appreciation for these true-life heroes from a bygone era.
"It's got the entertainment side, but it's historically accurate," Skrein said. "I hope we can help educate people. Maybe that will make people delve more into their own history and gain more of a worldview."