Jared D. Brown is a dancer meant to break molds. Born and bred in Dallas, he has proved himself an exceptional artist since high school, when he won the 2014 Texas Young Master Award recognizing excellence in the arts. Five years later, Brown is still achieving high in his senior year at Juilliard, where he studies dance on a full scholarship and was just presented with the Princess Grace Award for Dance.
Dance lovers will recognize the name immediately. The Princess Grace Foundation, after Princess Grace of Monaco, identifies emerging talents in the arts. Recipients of the award find themselves in the company of some of the greatest artists in the world, essentially branding them as the ones to watch in the industry. Past winners have gone on to become principals at major companies, directors of companies, prolific choreographers— game-changers in an industry that is so often resistant to change. After more than a decade of grueling work, Jared Brown is poised to join these stars.
Lithe and powerful, Brown is a dancer with exquisite fluidity, and extension for days. After playing violin for years, he took a dance class in the fifth grade. What he thought was a hip-hop class turned out to be ballet. It started as a fun extracurricular, but it soon changed the trajectory of his life, sending him to study dance at Dallas' W.E. Greiner Exploratory Arts Academy, and at Booker T. Washington High School for the Performing and Visual Arts. He graduated with recognition from the National Young Arts Foundation in Modern Dance and Choreography, and was a 2016 U.S. Presidential Scholar in the Arts.
"I fell in love with that work ethic," Brown says. "Really what brought me to Juilliard was the work, to learn more, to have that training, and also to continue the legacy of what Booker T. has created."
In 2016, after four years of dancing all day at Booker T., then walking across the street to dance with Dallas Black Dance Theater, Brown started as at The Juilliard School as a freshman. Years of training in all different styles of dance had prepared him for the rigorous curriculum at Juilliard. Unlike other dance conservatories, Juilliard requires you to study all genres of dance rather than choosing a concentration. Instead of choosing to only study ballet or tap for four years, Juilliard churns out dancers trained in multiple styles–thus prepared for the fierce competition of the dancing job market.
Each year, more than a dozen faculty members in the dance division meet to select a talented rising senior for the Princess Grace Award nomination. While he has a strong technique as a modern dancer, especially after years of modern repertory at DBDT, Brown admits that he was not at all expecting the honor. After injuring his foot and calf during rehearsals for The Rite of Spring, he had spent months on the sidelines. And, as a self-described "troublemaker," known for his outspokenness, he had expected to be passed over for the nomination.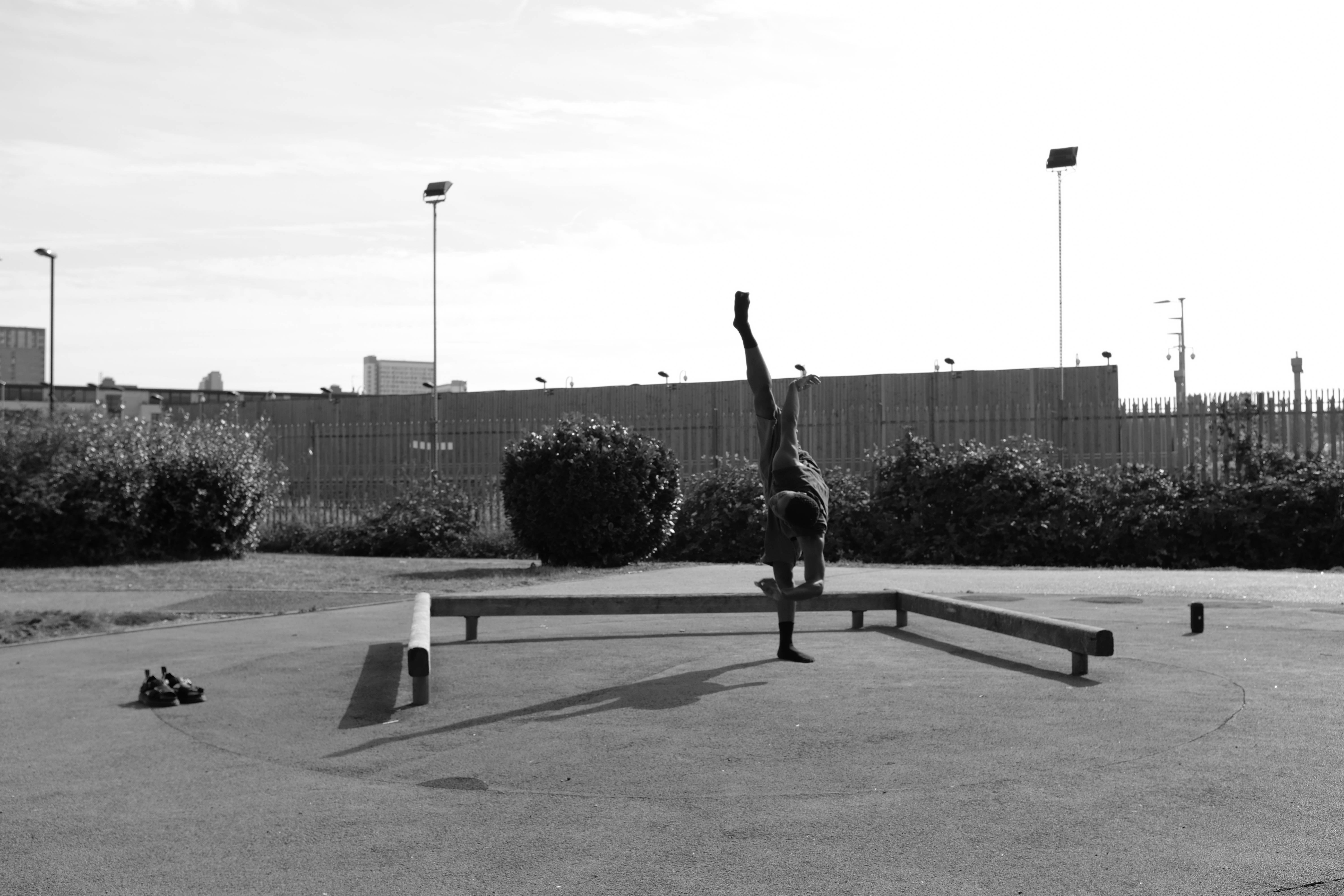 The unspoken rule of the award is that winners will receive a phone call in June, while those who are not selected must wait for a courtesy email. After spending his junior year rounding out his video submission, recording three different solos, one choreographed by contemporary dance icon Crystal Pite from her piece "Grace Engine," Brown had still not heard anything from the foundation. By mid-July, he had resigned himself to a loss. But a week before his birthday in late July, he was called by the foundation while on tour with David Dorfman Dance. He had been chosen as one of the winners.
"If you look back to the beginning, the pioneers of dance were winners," Brown says. "The winners were people who were changing the field, actively. So, that's incredibly comforting to see, and scary, because it feels like I have a lot of weight on my shoulders now."
Seeing as he already had a full scholarship to Juilliard, the scholarship money from the award went directly to him, providing a nest egg for life after college. The award winners also have exclusive access to grants and other opportunities–not to mention the serious prestige the award brings to a dancer's resume.
So far, it's paid off. Brown will finish the last semester of his senior year abroad in London, where he's lined up a contract as a dancer with Hofesh Shechter starting in 2020.
The opportunity didn't come easily, however, as the school typically does not allow studying abroad or independent study. With the school's current policy, Brown would have to choose to either abandon his hard-earned degree, or sacrifice a job opportunity in an incredibly competitive job market.
"It's been my life goal to get a degree from Juilliard, but it's also been my life goal to dance with Hofesh Shechter," says Brown. "Once I got both of those, they started butting heads really badly…I had to have a lot of conversations."
It is these fights for administrative change that have caused Brown to believe he is seen as a "troublemaker." Though the dancers may certainly be flexible, the administration tended to be anything but. Rigid policies tend to corral dancers into a "traditional path," but having spent his undergrad years as a student ambassador for both the entire class of 2020, and the dance division graduates, he was prepared to negotiate.
After weeks of intense conversations, meetings, research, and paperwork, Brown was approved to finish out his senior year in London. He'll dance professionally with Hofesh Shechter and return to Juilliard to walk the stage next May. From Dallas, to New York City, to London, Jared D. Brown is determined to make waves in the dance world.
Get the FrontRow Newsletter
Get a front row seat to the best shows, arts, and things to do across North Texas. Never miss a beat.