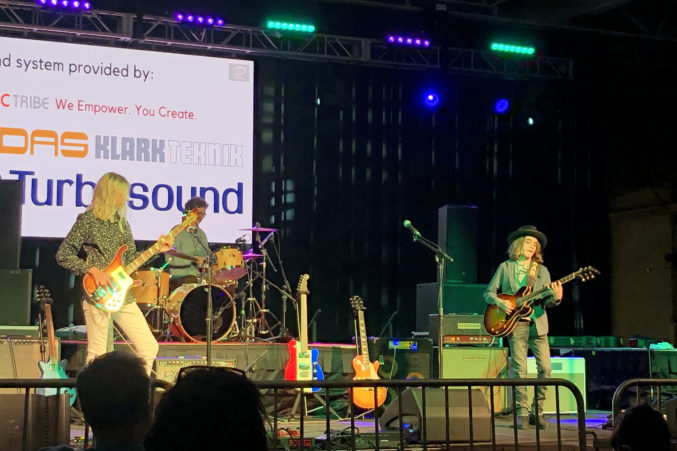 Teens Rock the Dallas International Guitar Festival
Young musicians from across the country gathered at Dallas Market Hall to compete in the annual 10 Under 20 contest.
On Sunday, guitarists from across the country gathered at Dallas Market Hall to compete in the annual 10 Under 20 contest. The competition, which has run alongside the Dallas International Guitar Festival for over a decade, gives teenage players the chance to meet other talented guitarists and showcase their skills. Past winners of 10 Under 20 include Griffin Tucker, who appeared on The Voice and earned a golden ticket on American Idol. This year, a $10,000 scholarship and guitars donated by Gibson and Reverend were up for grabs.
Ten finalists were chosen to compete in the May 5 event after submitting video auditions online. Some played solo, some used the house backing band, and others brought their own bands, each getting just one song to showcase their chops.
This year's first place winner was Ben Goldsmith, a 13-year-old who traveled from Long Island with his similarly-aged bandmates. He immediately separated himself from the pack by introducing himself and his band with confidence. Many competitors merely took the stage and played — Goldsmith's stage presence made it feel like a real show. The moment he launched into the opening riff of Joe Satriani's "Satch Boogie," you could tell that The Original Band (with James Bandini on bass and Jack "McD" McDonough on drums) had been rehearsing their faces off. Goldsmith hit every tapping lick and pinch harmonic with precision. He's a technically proficient player with impressive speed, but he's more than just a robotic shredder. He has tremendous feel, and his ability to integrate with a band to deliver a truly entertaining show will help him to stand out going forward.
Second place went to 14-year-old Owen Underwood of Plano, who played a mashup of "Sweet Tooth" by Intervals and "Peace" by Chon on his Ibanez S Series guitar. Asher Belsky, also 14, took home third place with a medley of classic blues and rock tunes.
After the performances were judged, winners were announced and invited back to the stage. Goldsmith won a 2019 Gibson Les Paul Standard Original 60's and a $10,000 scholarship. Underwood won a Charger RA from Reverend Guitars, with a unique red, silver, and blue paint job that was produced by Reverend in limited quantities as a Guitar Show exclusive.
Jimmy Wallace has been the owner the Texas International Guitar Festival for 33 years. Though he doesn't participate in judging the competition, he feels it is one of the most important parts of the festival. Wallace's parents made a huge difference in his life by supporting his guitar journey early on. He speaks with deep gratitude as he shows off a Les Paul that his mom gave him when he was a kid in Oak Cliff.
Wallace went on to have a successful career touring with Lynx in the 70's, and now owns the Guitar Festival and runs Jimmy Wallace Guitars & Pickups. For Wallace, keeping the dream alive means paying it forward and giving the next generation of players every possible advantage.
"We love kids," says Wallace of 10 Under 20. "This is our future."