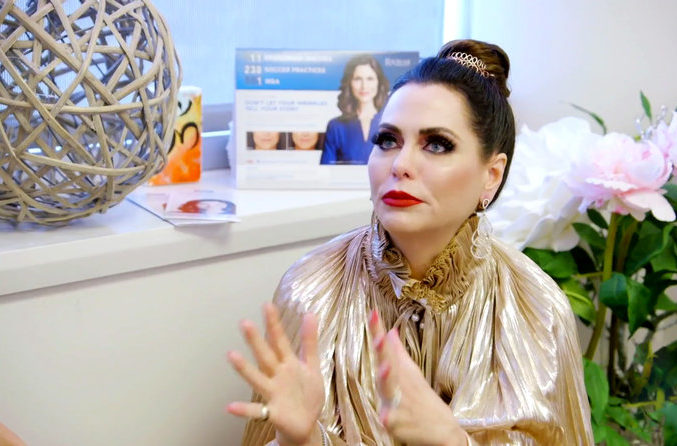 The Real Housewives of Dallas Recap: How Many Rips Does Dee Give?  
None. Not one. (Not even a dog's rip.)
There was this thing on the internet over the summer where a writer imagined what a bot-generated script for an Olive Garden commercial would look like. It was funny, but the best part by far was the closing tagline: "When you're here, you're here."
It reminds me of this episode.
Indeed, when these women are here, in this alternate Real Housewives dimension of Dallas, they are here. And the here makes them do crazy things. It makes Cary completely forget hard-earned traits like discretion or trust and become a human telephone cord. It turns sentences like "I'm a little worried about your drinking when you hang out with Brandi" into "You're an alcoholic!" And it demands we all see a fundamental difference in asking "Was this baby just to save your marriage?" versus "How would you feel if I asked if this baby was just to save your marriage?" One is a horrific and damaging accusation and the other is just an analogy, obviously!
Let's just get right to it. We kick things off at Matchbox (I didn't know we had one of those in Dallas) with LeeAnne and Rich, who are casually talking about their wedding again. I've never been engaged, but I imagine one of the most annoying things about it is that you constantly have to be talking about it. Like you have nothing else to offer the world except your impending nuptials. But LeeAnne does have something to offer in that subdued (comparatively) black dress testimonial look in which she's decided to deliver all her "lines" as Rosalind Russell from The Women. (Or maybe Auntie Mame?)
Rich says that he wants to see cleavage, leg, and no underwear for LeeAnne's wedding look. RICHARD!
Now we're at the Ultimate Living offices, where D'Andra is worried about their upcoming "green miracle" product and her friendship with LeeAnne. Dee has planned a cooking class (!!) for Kam, LeeAnne, and D'Andra, and she really wants LeeAnne there because LeeAnne doesn't know how to do anything and Dee, like the savage that she is, thinks that's funny. So she tells D'Andra to just get over it. LeeAnne may have said D'Andra only has $200 in her bank account, but people say Dee has 50 cents in her bank account, and she really doesn't give "a dog's rip!" (This recurring southern euphemism has evaded me my entire southern life somehow.)
Over at Steph's, she and her sister Tiffanie, essentially the Sliding Doors version of Stephanie, are giving her dog Biscuit a bath. Now, I'm sure Tiff is a kind and wonderful person with many fine qualities, but the only background info we get from Stephanie is a troubling anecdote about how she wore her sister's shirt to school once, and Tiff got so mad that she PEED IN HER SHAMPOO BOTTLE. That is wild. I have so many questions. What kind of bottle was it? How did Stephanie figure out what horror had gone down in that bottle? How many times did she wash her hair before her sister came clean? (Pun intended.) These are things we NEED TO KNOW. Tiff also misses the opportunity to say, "What like it's hard?" and just says, "Harvard is a hard school to get into," so I really don't know about Tiffanie, y'all.
Up in Plano, Brandi, Bruin, and Brian are at Coffee House Café. That's all I remember about that.
Next, we find ourselves at this episode's party of the week, which is the opening of Cary and Mark's Lemmon Avenue Plastic Surgery & Laser Center. It's actually in a pretty lovely, light-filled, and centrally-located office space. Good for you, Deubers! All the women show up in looks that are the most them they've ever looked. Kam is in a glittery pink dress that she NET-A-PORTER-ED. D'Andra is in some sort of lamé Elizabethan collar top and it's the most Dynasty she's ever looked. (Kam astutely points out that she also Net-A-Porter-ed, so she can't be poor!) LeeAnne has an oversized belt by Gucci, which is clearly her designer of choice this season. Cary is in a loud, symmetrical butterfly print which feels right. Stephanie is in a spray tan, and Brandi is sporting a glittery blue crop top. It's like they're all going as themselves for Halloween.
LeeAnne beautifully sums up the desire for plastic surgery with this line: "If, after I've died, a 21-year-old boy opens up my coffin and would be interested in having sex with my body, that's what I want to do." We all just want to be the object of desire for a legal youth's necrophilia someday!
The Mark and LeeAnne face-off was a cordial snooze fest (ugh, growth and maturity, amiright?!), but the D'Andra and LeeAnne sit down was rife with misunderstandings and jumped-to conclusions that could have fueled the drama for this entire laser center party. But of course Brandi, who I truly believe is the low-key villain of this entire franchise (she's both the puppet and the puppet master!), also has to get into the mix, and she most certainly can with that whole baby-to-save-the-marriage thing from last week. She tells the remaining women about it and they're understandably horrified. (Including seen-not-heard Joyce! #justiceforjoyce)
You know what's also horrifying? The story D'Andra shares about her father's suicide. No wonder she reacted to strongly to the alcohol-related comments from LeeAnne. I don't think LeeAnne meant to call her an alcoholic, but I do think she exploited a sensitive topic to get what she wants, which is D'Andra away from Brandi. The women continue to ping pong (like lasers!) from waiting room to surgery room to bitch about one another (but mostly LeeAnne). None of it is cool or fun.
Brandi and Steph leave in a black Escalade, where Brandi explains that she thinks LeeAnne's whole zen, bowl thing is an act because "you can't teach an old bitch new tricks." (That's definitely going to end up on a tank in Brandiland.) She also makes the incredibly narcissistic assumption that LeeAnne is only pretending to be friends with Stephanie to get to her. Stephanie is justifiably hurt.
In a testimonial, Steph muses that both Brandi and LeeAnne were in the wrong at the laser center party. Earlier with Tiff, Stephanie explained that she's working to break free from her extreme codependency. Maybe the final few episodes of this season will feature a Stephanie untethered from any opinions apart from her own, telling it like it is and riding off into the Dallas sunset with a freshly bathed Biscuit by her side.
Unfortunately, Woke Stephanie will not be at Dee's ketchup cooking party next week, which I am very much looking forward to. Until then!