Back in January of this year, months before the original iteration of Sweet Tooth Hotel opened its doors in Victory Park, I wondered if it was just a Dallas version of the Museum of Ice Cream—essentially a manufactured backdrop for selfies that swept the coasts last year and inspired a slew of candy-coated knockoffs. With that example, there are no artists involved—it's still a mystery where the MOIC gets its "museum" title—and the aesthetic template it set has earned far more scorn than praise. You can't, however, deny its impact.
The good news is that Sweet Tooth Hotel is decidedly not Dallas' take on the Museum of Ice Cream. It's inspired by it, sure, but it's not just about Instagram. (I mean, it's a little about Instagram, but that's not the sole focus.) Created by husband and wife Cole and Jencey Keeton, the "Hotel" features six local artists hand-picked by the duo to execute their own visions under a common theme. The follow up to the original sugary motif is the Space Race-inspired "1955," which opens on Nov. 1. There is no corporate backing or brand integrations. It's just a showcase, and a meticulously executed one at that.
"It's like a playground for the artists," says Jencey. "We just show up, give them the theme, and they take it from there."
Returning artists Rob Wilson, Jeremy Biggers, Shamsy Roomiani, and The Bender Brothers all went even bigger for their "1955" installations, while new additions, Hatziel and Drigo, worked to create interactive spaces that would pop in photos. "I actually reached out to Jencey and Cole after seeing some artists I knew participate in the original Sweet Tooth," says Drigo, whose astral diner-themed room features a vintage TV visitors can pose in.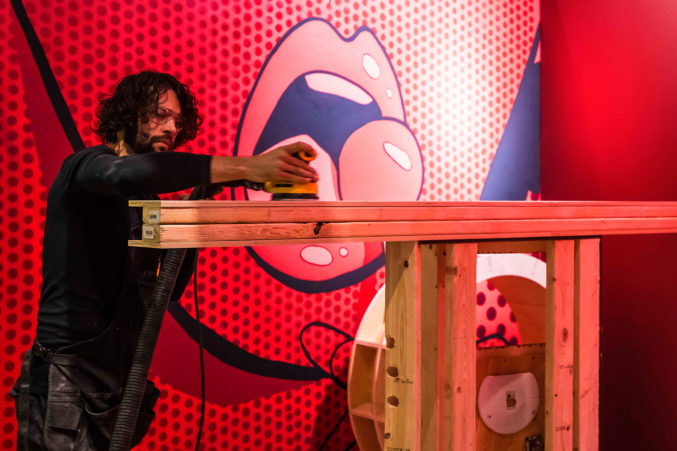 Next year, even more local creatives (Jencey hinted at some virtual reality artists) will have the opportunity to get involved. Sweet Tooth is taking over the 5,000-square-foot Victory Park space next door to its current home, and combining the two locations to debut a new theme once or twice a year.
"One of the cool things about Sweet Tooth is that it's not just who we're working with, but the photographers and videographers that are coming in. There's this whole other level of creation that's happening on top of it," says Jencey. "And people are so happy when they're in."
Head to the slideshow for some behind the scenes shots of the creation of "1955," and look out for D's December issue for artist profiles — and more amazing Elizabeth Lavin portraits.
Get the FrontRow Newsletter
Get a front row seat to the best shows, arts, and things to do across North Texas. Never miss a beat.