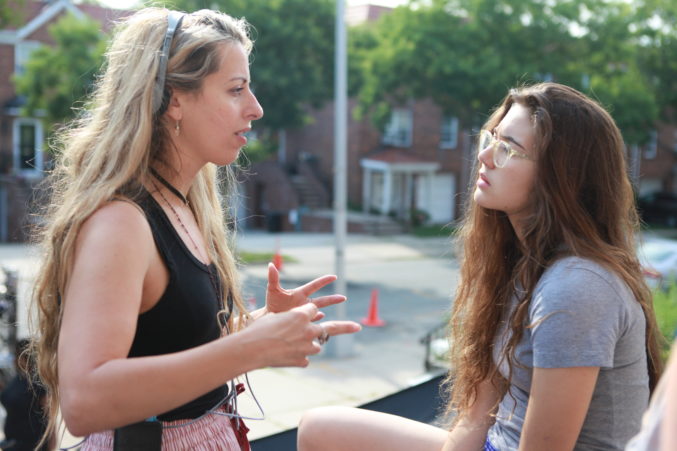 Women on Wheels: Filmmaker Inspired By Her Skate Kitchen Subjects
Crystal Moselle's narrative feature debut combines her passion for skateboarding with her penchant for immersive storytelling.
Crystal Moselle grew up around a skateboarding culture in Northern California but never quite fit in, because almost all of the regular skaters were boys.
So when the documentary filmmaker met some female skaters on a New York subway a couple of years ago, she was instantly drawn to them.
"They're girls who skateboard," Moselle said during the recent Oak Cliff Film Festival. "I was interested in telling a story about girls who were doing things in a field that's male-dominated."
Moselle's latest film, Skate Kitchen, is her first narrative feature, combining her passion for skateboarding with her penchant for immersive storytelling.
The gritty coming-of-age story about sisterhood and teenage rebellion follows a skater (Rachelle Vinberg) coming out of her shell on the streets of Manhattan. She befriends the Skate Kitchen crew against the wishes of her overbearing mother, then jeopardizes those relationships when she falls for an aspiring photographer (Jaden Smith).
Two weeks after that subway encounter, Moselle (The Wolfpack) was set to begin shooting a project as part of the Women's Tales short film series for Miu Miu, and wound up basing it on the teenagers' actual stories.
"It's very much inspired by their lives. They're playing versions of themselves," she said. "That [short] got a lot of attention, so I decided to make a feature after that."
Moselle, 37, wanted to share the experience. She became a den mother of sorts for almost a year, inviting the girls to her house and hanging out with them at the neighborhood skate park and elsewhere.
"It was a very organic process, where everybody had a point of view and I was there to listen," Moselle said. "I wanted it to feel as authentic as possible."
Moselle eventually developed a screenplay that focused on a few of the Skate Kitchen members, who played lightly fictionalized versions of themselves. She estimates about 250 skateboarders participated in the film, and miraculously, nobody got hurt.
"I really like collaborating, and I felt restricted by making a documentary film," she said. "I wanted to break these rules I had in my head about how I had to make a film, and completely go with my gut. There was a balance I had to find, because it was a little different than what I'm used to."
Moselle said she hopes the film not only promotes more female participation in skateboarding, but also conveys a broader message about empowerment and challenging traditional gender barriers.
"Teenagers can give you a whole new perspective," Moselle said. "They have a cool relationship with the city. It's almost like one big skate park for them."