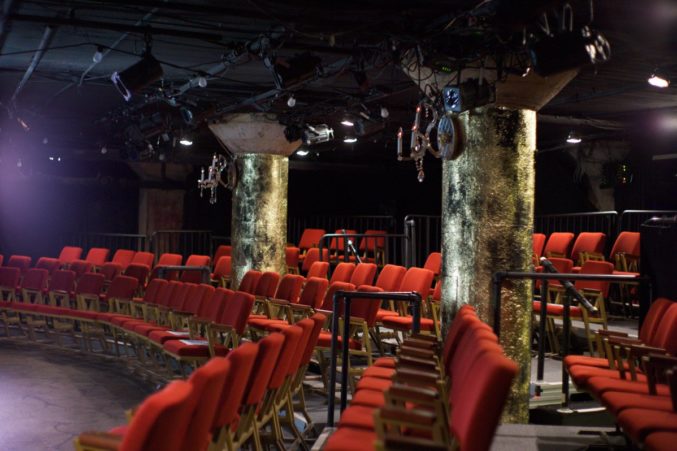 Undermain Announces Festival of New Play Readings Led By Breakout Dallas Writer
The Whither Goest Thou America series set for April includes A Love Offering by Jonathan Norton.
It's been a red-letter year so far for playwright Jonathan Norton. He talked to D contributor Alec Petsche at the end of 2017 about how he's been nurtured as an artist in Dallas to create historically relevant (and revelatory) works, as part of this roundtable on how playwrights are succeeding in the city.  A couple days after that article was posted in late January, Dallas Theater Center announced its 2018-2019 season. There was Norton's name, listed with his play Penny Candy, which centers a 12-year-old who helps his dad run a candy store out of their apartment in the Pleasant Grove neighborhood of Dallas. (That sounds a lot like Norton's childhood, as I remember him expressing his own earliest scenes in panel discussions and interviews over the years.)
We won't have to wait until Summer 2019 to experience new work from Norton's mind, though. Undermain is hosting him first as part of a series called Whither Goest Thou America, a survey of ways people move through the country's current psychic landscape and adapt to various environments. The sequence of staged readings is named for the question Jack Kerouac asks in On The Road, the next line being, "in thy shiny car, in the night?" And that omission is telling for the chosen plays; there's more pressure and chaos than open highway ahead for these characters.
Audience members have the chance to interact with the playwright at the end of each week-long residency and witness these plays in their malleable phases, as writers work things out in a long arc. For example, Norton's Penny Candy saw its first reading at PlayPenn in Philadelphia last year.
Staged readings of Norton's play A Love Offering at the Undermain claim the week of April 12. In this one, a nurse's aide named T'Wana works with Alzheimer's patients and weathers all the requisite biting, kicking and scratching that's part of the routine for caretakers. Then a patient in E 204 attacks her and the incident rattles a system of trust shared by her and her co-workers.
Blake Hackler, a Dallas-schooled talent also featured in Petsche's article, has a Murakami-esque mystery called The Light Collectors  featured, too. Established avant-garde playwright Len Jenkin appears again at Undermain behind a new work; the theatre has staged six of his plays.
Read on in the full press release, and find tickets here:
Undermain Theatre presents

Whither Goest Thou America:

A Festival of New Play Readings

For Immediate Release

DALLAS- (February 20, 2018) Undermain Theatre presents Whither Goest Thou America: A Festival of New Play Readings. Four weeks of staged readings of new American plays examining the current American Landscape. Each week of the series will focus on a different playwright and play with readings of the play by an ensemble cast and the playwright in attendance for discussion of the work every Saturday night. Audiences will have the opportunity to return each week of the series to experience a new work and author examining the American experience and asking the question, "How did we get here and where are we going?"  

More information on the readings and the festivities to come!

Tickets on sale now!

The featured plays and playwrights are as follows:

A LOVE OFFERING by Jonathan Norton 4/12/18 – 4/15/18

T'Wana Jepson has been bit before. And scratched. And kicked. And punched. And called every dirty word in the book. But so has her coworker and play-mama, Miss Georgia. It comes with the territory as a nurse's aide caring for patients with Alzheimer's and dementia. You learn to not take it personally and to lean on your co-workers for support. But after T'Wana is attacked by the patient in E 204, something happens that threatens the bonds of trust and friendship. A timely and compelling play by Jonathan Norton.

* Post show discussion with Jonathan Norton Saturday April 14th

THE LIGHT COLLECTORS by Blake Hackler 4/19/18 – 4/22/18

Esther's quiet Brighton Beach existence is upended when a mysterious woman arrives at her door. It seems Esther's sister, Laila, has been kidnapped by a dybbuk, who's taking people's stories. Soon Esther is on her way to Japan to do battle with the dybbuk and her past. And she's going to bring Laila home, no matter the cost. A metaphysical mystery by Blake Hackler.

*Post show discussion with Blake Hackler Saturday, April 21st

VISIBLE FROM FOUR STATES by Barbara Hammond 4/26/18 – 4/29/18

A small American town argues over whether to put a cross or a cellphone tower on its only hilltop — as the local prison warden struggles with his friendship with a young man on death row. Visible from Four States sits at the modern crossroads of belief and communication, where an individual man carries the moral burden of a nation. Barbara Hammond deftly weaves the familiar into the profoundly new in this brilliant and compelling script.

*Post show discussion with Barbara Hammond on Saturday, April 28th

SHAKEY JAKE + ALICE  by Len Jenkin 5/3/18 – 5/6/18

Shakey Jake + Alice traces the poetic arc of the lives of two lovers through the years from first kiss to last goodbye and everything in between. On the road, in an indelible American landscape, longtime Undermain collaborator Len Jenkin explores the psyches of life-long partners to answer the question, "How is it that we live?"

*Post show discussion with Len Jenkin on Saturday, May 5th

About the Authors

JONATHAN NORTON

Jonathan Norton is a playwright and theatre maker based in Dallas, Texas. His plays include My Tidy List of Terrors, Mississippi Goddamn, n*g*erb*tch, 

homeschooled, and Our Lady of South Oak Cliff: The Virgin Shenequa. Jonathan's plays have been produced or developed by PlayPenn, The Black and Latino Playwrights Conference, South Dallas Cultural Center, TeCo Theatrical Productions, African American Rep., Nouveau 47, Dallas Institute of Humanities and Culture, CrossOver Arts Theater and Soul Rep. He is a recipient of the Diaspora Performing Arts Commission from the South Dallas Cultural Center, and an Artistic Innovations Grant from the Mid-America Arts Alliance. His civil-rights-era drama, Mississippi Goddamn, won the 2016 M. Elizabeth Osborn New Play Award. Jonathan is an inaugural member of the Dallas Playwrights Workshop at the Dallas Theater Center where his newest play, Penny Candy will be produced in DTC's 18-19 season with a grant from the TACA Donna Wilhelm Family New Works Fund. 

                                                   

                                                             smu

BLAKE HACKLER

Blake Hackler is a writer and actor originally from Texas. As an actor, Blake has appeared in productions on Broadway, Off-Broadway and in regional theatres throughout the country as well as in TV and film. An Undermain Company Member, Blake appeared in We Are Proud to Present…(Man 2), Time in Kafka (Kafka/Desk Clerk), The Ghost Sonata (Hummel), and so go the ghosts of méxico, part one (el morete) and directed Anne Washurn's 10 Out of 12 and Annie Baker's The Flick. Most recently, his play, What We Were, was named a winner of the 2017 Ashland New Plays Festival. His play, The Necessities,  was named Best Play of 2017 by the Dallas Theatre Critics Association, and is nominated for the prestigious Harold and Mimi Steinberg Award. Other productions include This Sweet Affliction – Yale Cabaret and Margo Jones Theatre, The Boss in the Satin Kimono – New York International Fringe Festival, 10 Reasons I Won't Go Home With You (lyrics) – Midtown Theatre Festival, The Lady in Red – Gene Frankel Theatre, Mother Courage of Westchester – NYTE, Barry Horowitz: A Jewish Fantasia on Catholic Themes – Prospect Theatre and The Wasp Woman – a musical written with Phillip Chernyak. Blake was the runner up for the ATHE Playwriting award in 2015. He is a member of the esteemed BMI/Lehman Engel Musical Theatre Writing Program, and is the recipient of the Harrington Award for Excellence in Musical Theatre Writing. He holds an MFA in acting from the Yale School of Drama and is a Fulbright Senior Scholar.

                                 decmetrotheaterarts.com

BARBARA HAMMOND
Barbara Hammond is currently under commission from the Royal Court Theatre for her latest play, Terra Firma. Her play, We are Pussy Riot or Everything is P.R., was originally a commissioned for the Contemporary American Theatre Festival, and in February 2016 had a residency at Duke University followed by a workshop production at Emerson College. Her research took her to the world's biggest country, where she witnessed one of the last opposition protest rallies in the center of Moscow at Pushkinskaya Square in September 2014.

She and her plays have won recognition, awards and funding including New Dramatists ('18), the National Endowment of the Arts, The Tyrone Guthrie Centre, The Venturous Theater Fund, the Laurents/Hatcher Foundation and the Andrew W. Mellon Foundation, as well as Emerson College, Duke University, Yale University, the Contemporary American Theatre Festival, The Helen Merrill Foundation, Seven Devils Theatre Conference, the First Irish Theatre Festival, the Edward Albee Foundation, the Tennessee Williams One-Act Play Festival and the Kerouac Project. A member of ASCAP and the Dramatists Guild, she was named one of the Influential Women of 2011 by the Irish Voice.

                           Robert Hart/TheaterJones

Len Jenkin

A hero of the avant-garde and Undermain company member Len Jenkin returns to Undermain following a long line of acclaimed award-winning productions of Jenkin's plays such as Jonah, Margo Veil, Port Twilight, Time in Kafka, Abraham Zobell's Home Movie: Final Reel and Poor Folks Pleasure.  Len Jenkin's credentials and awards include three Obie Awards for directing and playwriting, a Guggenheim Fellowship, a Rockefeller Foundation Award, a nomination for an Emmy Award, four National Endowment for the Arts Fellowships and a PhD in literature from Columbia University. His stage plays have been produced throughout the United States, as well as in England, Germany, France, Denmark, and Japan. In New York his plays have been produced at Lincoln Center, Soho Rep, The Flea, The Chocolate Factory, The Public Theater and many others.

Dates:

A LOVE OFFERING by Jonathan Norton

Thursday, April 12th @ 7:30 pm – actor/director talkback

Friday, April 13th @ 7:30 pm

Saturday, April 14th @ 7:30 pm – post reading discussion with the author  

Sunday, April 15th @ 2:00 pm

THE LIGHT COLLECTORS by Blake Hackler

Thursday, April 19th @ 7:30 pm – actor/director talkback

Friday, April 20th @ 7:30 pm

Saturday, April 21st @ 7:30 pm – post reading discussion with the author

Sunday, April 22nd @ 2:00 pm

VISIBLE FROM FOUR STATES by Barbara Hammond

Thursday, April 26th @ 7:30 pm – actor/director talkback

Friday, April 27th @ 7:30 pm

Saturday, April 28th @ 7:30 pm – post reading discussion with the author

Sunday, April 29th @ 2:00 pm

SHAKEY JAKE + Alice by Len Jenkin

Thursday, May 3rd @ 7:30 pm – actor/director talkback

Friday, May 4th @ 7:30 pm

Saturday, May 5th 7:30 pm – post reading discussion with the author

Sunday, May 6th @ 2:00 pm

Tickets are available at www.undermain.org or by calling the Box Office at 214.747.5515.

Thursdays, Fridays, and Sundays are $15.

Saturdays are $20.