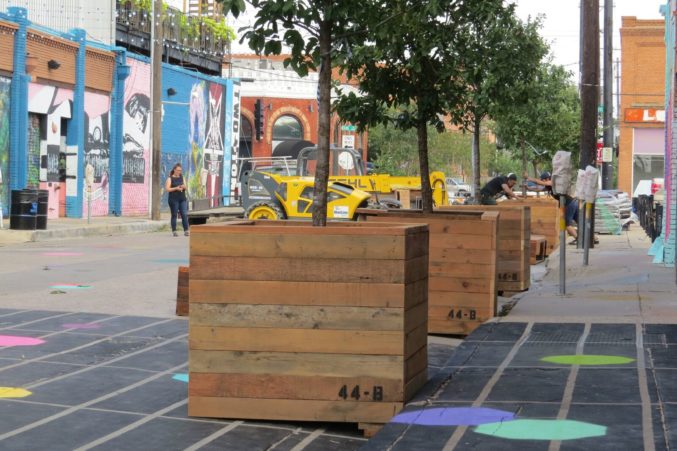 Reimagine Crowdus Envisions a More Walkable Deep Ellum
The urban park experiment also brings fun events to the neighborhood every day this month.
Deep Ellum has a new hotspot this month, and it's not a concert venue, bar, or restaurant. "Reimagine Crowdus," an experiment led by the Deep Ellum Foundation, has given the neighborhood a much-needed public gathering space – at least for September. The project has transformed a three-block stretch of Crowdus Street, from Emerson to Commerce, blocking it off from traffic and filling it with colorful art and community events. If everything goes as planned, this urban "park" could eventually become a permanent fixture in the neighborhood.
Carrying out the experiment has been a community effort.
Design Future Dallas held a design competition for the project last year; the current setup on Crowdus includes elements from the first and second place submissions by Gensler and Studio Outside, respectively.
The Deep Ellum Foundation has partnered with local businesses to bring free events to the space every day in September: free outdoor movies from Alamo Drafthouse, fitness classes from City Surf, improv from Dallas Comedy House, and so on.
"It's an idea we've all been talking about for a long time," says Jessica Burnham, executive director of the Deep Ellum Foundation. "There's a lot of residential density that's in the works, and there's no public space for anybody."
Crowdus seems like a natural solution for this problem – the street is already a pedestrian epicenter, and is regularly shut down for the Deep Ellum Outdoor Market. Burnham believes that converting the area into a public space can create "an enhanced pedestrian experience" without compromising the neighborhood's character.
"I hope that people see that we can transform a very loved and protected street in a really positive way and that we can be one of the forerunners on adapting to pedestrian use within an entertainment-nightlife district," Burnham says.
At the end of the month, the foundation will create a case study to determine whether and how the city should move forward with creating a permanent gathering space on Crowdus. But no matter how the case study unfolds, Burnham says it will be a long wait – at least five years – before the Reimagine Crowdus idea is permanently realized.
"It's something that's pretty unprecedented to test something like this for a whole month," Burnham says. "I don't know any other group that's done anything like this in Dallas, let alone the country…The businesses are scared that this is going to happen right away and that's just not true."
In the meantime, the foundation is simply looking for feedback from the community.
"This us saying 'this is an idea that the neighborhood wants let's make sure we know how to do it,'" Burnham says.
To join in the experiment, head over to Crowdus for one of the many free events, including yoga with the Traveling Yogi, electronic picnics with Off The Record, and swing dancing with Studio 22.
Go here for more information and a full calendar of events for Reimagine Crowdus.