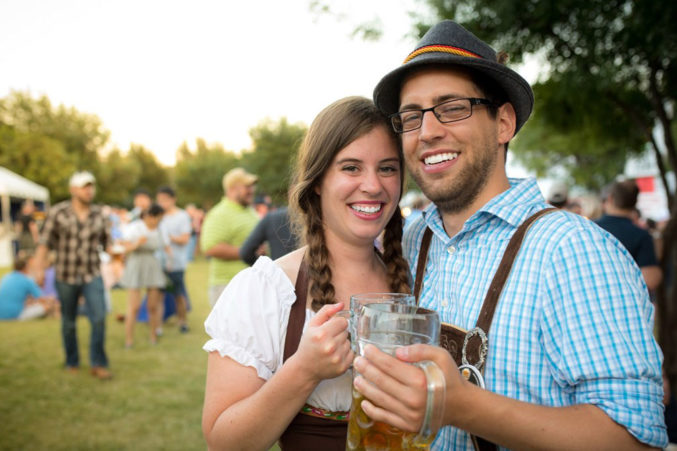 Where to Celebrate Oktoberfest in North Texas
Beer, brats, and Bavarian good times in Dallas, Fort Worth, and Denton.
Summer is over, but it's not all bad news: Along with lukewarm temperatures and gray skies, fall brings Oktoberfest. We love a good biergarten, and Oktoberfest is one of few occasions to enjoy funny costumes, horn music, and meat on sticks without having to endure the creepiness of a renaissance fair(e?). Keep the bier flowing and the lederhosen on all month with this guide to local Oktoberfests.
Addison Oktoberfest, September 15 – 18
Get an early start on the fun with Addison Oktoberfest, starting this Thursday and going through the weekend. Celebrating its 29th year, the festival hails itself as "the most authentic Oktoberfest experience in North America." We were sold at "giant soft pretzels," though.
Addison Circle Park
4950 Addison Circle Dr. Addison, Texas
September 15 & 16, 6–11 pm
September 17, noon–11 pm
September 18, noon–5 pm
McKinney Oktoberfest, September 23 – 25
McKinney Oktoberfest has all of the traditional Bavarian treats, along with an assortment of German and local beers, a "Marktplatz," and a full roster of entertainment. From a brat eating contest to a 10k run, there is something for everyone. Check out the festival's opening parade through historic downtown McKinney on Friday at 6:30pm.
Historic Downtown McKinney
September 23, 4–11 pm
September 24, 10 am–11pm
September 25, noon–5pm
Rahr & Sons Oktoberfest, October 1
Bring your A game to this Oktoberfest celebration in Fort Worth. Rahr & Sons Oktoberfest kicks off with a 5k in the morning and runs into the afternoon with a costume contest and stein hoisting. Fuel up for competition with brews from Rahr & Sons, Bavarian snacks, and a side of live polka.
Rahr & Sons Brewing Company
October 1, starting at 9am
Lake Highlands Oktoberfest, October 1
Brews, brats, live music, and the rest of the works near White Rock Lake.
Flag Pole Hill
October 1, 11 am–10 pm
Southlake Oktoberfest, October 7 – 9
Southlake Oktoberfest will host its 15th annual celebration in the town square, complete with food, drink, and live music going all day. Two stage areas will host local bands including Molly Ringwalds and Le Freak, and scattered booths will offer handcrafted items and food. Stop by Saturday morning to watch the weiner dog race and parade.
October 7, 5–11pm
October 8, 10am–11pm
October 9, noon–5pm
Southlake Town Center
Fry Street Oktoberfest, October 8, 2016
Three neighboring bars unite to bring Germany to Denton for Fry Street Oktoberfest. Lucky Lou's, Riprock's, and Cool Beans offer lots of German-style beer, food, and live music starting at 11 am and going until 2 am. The day kicks off with a fun run benefitting two Denton nonprofit organizations. For a little added motivation, a free beer awaits the winner at the finish line.
Corner of Hickory and Fry Street in Denton
October 8, 11 am–2 am