Tenor Andrew Bidlack isn't afraid of a vocal or dramatic challenge. This fearlessness, in addition to his sparklingly bright, clear voice and sensitive musicality, has made him a go-to hire for The Dallas Opera, especially when they are staging a new or obscure work.
Three years ago, when TDO presented a little-known 1970s chamber opera with a dark, psychological thriller of a plot (The Lighthouse), Bidlack skillfully tackled a dual role that required navigating tricky modern music. When the company asked him to sing a lead role in a brand new opera (Everest), Bidlack agreed before the music was even composed ("because it just sounded like a really cool project"). And when TDO approached him to join the cast of their upcoming production of Tchaikovsky's rarely performed Russian-language opera Iolanta, Bidlack was game again, despite the fact that the only score he could find for the piece was written in Cyrillic.
Earlier this week, we sat down with Bidlack to discuss his post-production thoughts on Everest, his upcoming role in Iolanta, and his close working relationship with TDO over the past three years. Here are some excerpts from our conversation:
How did your working relationship with TDO get started?
My first engagement at TDO was for The Lighthouse. I was an Adler Fellow at the San Francisco Opera – that's their resident young artist program – and through that I got to know Jonathan Pell (who was TDO's Artistic Director at the time). The composer Jake Heggie lives in San Francisco and we workshopped Moby Dick there. I got to sing the part of Ishmael during that workshop and Jonathan Pell came to that. I think that is how he got interested in me for The Lighthouse.
Over the last three years, you've appeared on the TDO stage on several occasions. Why do you keep coming back?
Because they ask! I've participated in four productions at TDO over the last three years: The Lighthouse, Die tote Stadt, Everest, and now Iolanta. I've definitely been at Dallas more than other places lately. It's always really nice to be hired back. I mean, it's great to get hired at a place for the first time, but to get hired back means that they liked what you did. That's a great feeling.
You seem to be drawn towards new and obscure operas here and elsewhere. Why?
Well, you kind of do what you get hired for, you know? And when you get hired for one kind of thing and it goes well, it often leads to more in that same direction. But I also really like doing new music. The best part about it is that it is really yours. Take the character of Rob Hall for instance (Everest). That was so much fun because there was so much there to work with and I was the one creating that part. There was nobody else to listen to or compare myself to. That's the exciting part of doing new music.
But isn't it also scary to tackle something that's never been done before?
I guess it can be. It was really scary in The Lighthouse. That was probably the hardest musical thing I've ever done. You have to pull pitches out of thin air in that piece. When I was offered that contract, Jonathan [Pell] suggested that I go check out the score in the library and think about whether I wanted to do it before I accepted the contract. I looked at it and he was right, it was so hard. It's only an hour and a half long opera but I took that score with me everywhere I went. I learned it a page a day because that was all I could take in. It was just so complex musically and you have to memorize it almost harmonically. So yeah, in that way it's very challenging. But I don't think that modern music has to sound like the negative stereotype of modern music, you know? It can be sung well. That's the trick. It doesn't have to sound difficult or unvocal.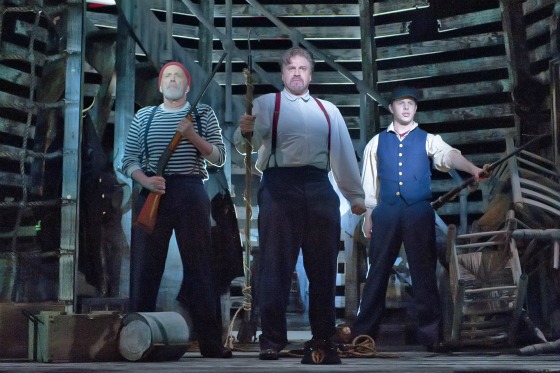 It seems like we're in a bit of a golden age for new American operas both nationally and locally. Do you agree?
Yes, and it is so exciting right now because that is happening. Opera can't just be museum pieces. I love singing the old pieces and we definitely have to exist in that world too, but opera as an art form has to be alive and vibrant. I think people are starting to really tune into that. Younger audiences are really interested in newer stuff. You know, it's entertainment, but it's also theater. As theater, it has to say something about where we are now and what our sound world is now and where it's headed. It's so great because we get to be like the people who saw Mozart's operas for the first time. They got to discuss whether they liked this one or didn't like that one. We get to have that discussion now. It creates a dialogue that has to happen.
I think it's a testament to the management here [at TDO] that they are willing to do so much new stuff. They know their audience and they know what will go over well. Clearly they're doing something right because they're in the black [in terms of budget]. All you hear about nowadays is how opera is doing badly in this country. I just don't agree with that. There are so many companies like TDO all over the place that are doing really well and doing some exciting stuff.
When you perform in a new opera, can you tell if it's going to be a hit or not?
Absolutely with Everest. I think it was the conductor [Nicole Paiement] who said while we were workshopping it, "This one has legs." It was so much fun to sing. Joby Talbot wrote some beautiful scenes that told the drama in a way that made you just want to communicate it. As an actor, there were so many scenes that were just so rewarding to put forth. And visually it was so impressive. The set was amazing and the graphics looked cool, too. Of course, I couldn't really see them, ha! But all together it was just such an exciting 70 or 80 minutes of music and drama. To be on that stage after the curtain went down and hear the enthusiastic response–That was such a good feeling.
What was it like being on that set in those costumes?
That show was such a workout. It wasn't just for any singer. We were all so sweaty afterwards. I had to learn to rappel and how to tie knots. It was really fun costume-wise. They had the real stuff: real climbing harnesses and ice axes and goggles and those masks and all the gear. It was so hot. I had a down coat on that whole time. My goggles would steam up while I was on stage and then I'd sort of be blindly going down the set. It worked because I wasn't supposed to be walking gracefully across a flat stage, I was supposed to be blindly climbing on ice, so if I slipped or stumbled it was fine. But yeah, it was so hot. That last scene, the one with the radio, I was just drenched by the end.
Did it make you want to climb a real mountain?
Absolutely. The thing is, everyone says, "Why would anybody do that? It's so crazy?" But after I read about it and watched all those documentaries, I got it. Personally I can see why they do it. You want to test yourself against that mountain. It's crazy and it'll ruin your life, but you can say that you did it. I definitely see why people are drawn to it at their peril and financial ruin. There's a draw that I understand.
When a show like that closes, do you miss the music?
Oh, so much. Especially with Everest. We only did four shows and I was definitely not ready to close on that last show. I mean, I always want to go home and see my family, but we were all sad to see that one go.
Let's talk about Iolanta. Have you sung it before? What is your role in this production?
Honestly, I'd never even heard of Iolanta until I got this contract. I'm a little ashamed to admit that, but it's not done very much in the U.S. It wasn't done at the Met [in New York] until this season. It's standard over in Russia and many of my colleagues in this production are Russian and have sung it many times. But I'm brand new to it.
In this production I play Alméric, the king's armor bearer. It's a much smaller part than Rob Hall (in Everest). Alméric is essentially a messenger in this piece. There's a scene that transpires between him and Bertrand near the beginning of the piece. It's an important scene because it gives us the backstory.
Have you ever sung in Russian before?
Once. In San Francisco I was a part of a production of Boris Godunov. If I hadn't done that, this would've been so much scarier. I would've had to shell out a lot of money for a Russian coach. Luckily, in San Francisco, they trained us in how to read Cyrillic.
Now that you've gotten to know Iolanta, what's your favorite part?
This is a new production and the set is really cool. It uses all these panels that move and create tunnels of light and interesting shadows. It's a very psychological take on the main character's physical blindness.
Musically, there are these parts where the melodies come through that are just gorgeous. My favorite is the soprano/tenor duet between Vaudémont and Iolanta right before everyone comes back on stage. It's Tchaikovsky at his best: gorgeous orchestration, fantastic climaxing melodies. It's beautiful.
Get the FrontRow Newsletter
Get a front row seat to the best shows, arts, and things to do across North Texas. Never miss a beat.