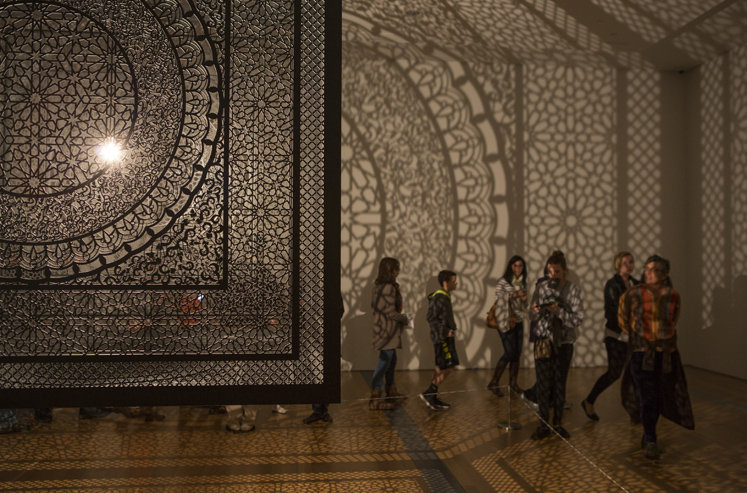 Should Dallas Fear Art Prize?
While ArtPrize hasn't exactly uncovered the next Picasso hiding out in some small Midwestern town, it has been a boon to the Grand Rapids economy.
In the December print edition, which is about to hit newsstands, I write about the idea of expanding the Grand Rapids, Michigan-based Art Prize to Dallas. At the time that we were putting the issue to bed, Art Prize was still in contract negotiations over the expansion, and officials didn't expect an announcement until early next year. Well, things change. Yesterday, Art Prize announced that it will, indeed, expand to Dallas in April 2016. To read the full release, go here. Here is the article from the December D Magazine:
Over the past six months there has been a mix of excitement and trepidation over the possibility that ArtPrize might expand to Dallas. Some would call it downright fear.
The Grand Rapids, Michigan-based art exposition is an idea so simple that it's revolutionary. Started six years ago by Rick DeVos, the scion of the billionaire family that founded the multilevel marketing giant Amway, ArtPrize is a citywide art exhibition with two unconventional parameters. The first: anyone can enter. The second: the public votes on which art is the best. The artist with the most votes receives $200,000, one of the biggest cash payouts in any art exhibition. Consider that Britain's highly respected Turner Prize comes with just a $40,000 check.
ArtPrize has been nicknamed the American Idol of visual art. In Michigan, it has been a huge success, with thousands of people flocking to Grand Rapids, creating excitement around contemporary art in a city not exactly known as a cultural hotbed—and creating a platform for the exhibition of some of the most atrocious, ridiculous artwork ever put on public display. The winner of the grand prize in 2011, for example, was an oil painting of Jesus modeled after a long-haired California surfer, relaxing against a cross made of Home Depot lumber, with a candy-colored saccharine sunset radiating behind him. ArtPrize is the art event art lovers love to hate.
Which is why—though they won't say it on the record—a lot of Dallas artists, curators, and administrators hope ArtPrize won't come to town, even as negotiations to make it happen are underway. It smacks of the kind of lowbrow, flyover-country opportunism that could cast the city's cultural institutions and burgeoning art scene in an unwelcome light. Meanwhile, big money is lining up behind the effort, and you can understand why. While ArtPrize hasn't exactly uncovered the next Picasso hiding out in some small Midwestern town, it has been a boon to the Grand Rapids economy. ArtPrize fills hotel rooms, brings hundreds of thousands of visitors to the city, and—with art installed in nearly every corner of the city—sustains a festival atmosphere that enlivens the community. A study estimated that in 2013 ArtPrize was responsible for pumping $22 million into the city. That's in Grand Rapids, with a population of 192,000. Imagine ArtPrize in the fourth-largest metropolitan region in the United States.
The person at the forefront of the effort to bring ArtPrize to Dallas, however, couldn't be more unlike a suit from the Dallas Convention and Visitors Bureau. Ariel Saldivar is a Trinity Christian School and NYU grad, a musician who has toured with the Canadian indie group Broken Social Scene, and a jewelry designer. She has also worked at Sonnabend Gallery in New York, managed a Preston Hollow family's private art foundation, and was an associate director at the Goss-Michael Foundation.
Saldivar got involved with ArtPrize after meeting Rick DeVos at a cocktail party hosted by Trammell Crow. DeVos came to Dallas to gauge interest in an expansion of ArtPrize but left thinking he hadn't found any real traction. That's not what Saldivar thought. She started garnering support and raising money, going outside her art-world network to corporations and the real estate community. She was concerned that arts patrons and institutions might kick up resistance. Instead, she found a champion in Headington Company president Michael Tregoning.
"He's been the No. 1 cheerleader who helped me," Saldivar says.
She argues that there is another benefit of ArtPrize that isn't talked about much: real financial support for artists. Right now, the way Dallas supports culture, it doesn't end up putting a lot of money in artists' hands. The appeal of ArtPrize is that it doles out hundreds of thousands of dollars every year to artists, not only via the popularly chosen grand prize, but also in smaller prizes based on category and voted on by the general public as well as a jury of artists, curators, and critics. Saldivar says ArtPrize will solve a big problem with Dallas culture: that we tend not to reward the people who actually drive culture—the artists.
There's also the argument that ArtPrize is no longer exclusively a bastion of bad taste. Founders have listened to critics who argued that its popular vote model tended to favor artists who excel in craft over content and that association with such art drove away serious artists. Now juries award cash prizes equal to those determined by popular vote. Juries include some of the most well-known art professionals, and ArtPrize invites its critics—like New York magazine's Jerry Saltz and Art Fag City's Paddy Johnson—to participate, even providing panels for art world elites to trash the art they hate and, maybe more important, pay notice to the stuff they like.
This open-door attitude fits ArtPrize's very libertarian-sounding ethos. Some skeptics have linked ArtPrize's almost free-market approach to art to the DeVos family's conservative and Evangelical connections. The family has funded attempts to pass anti-gay-marriage statutes in a number of states, and some Evangelical charities supported by the DeVoses advocate for the "re-Christianization" of culture. But in interviews, Rick DeVos sounds more like a Silicon Valley executive than an Evangelical cultural warrior, with an audience-trusting, open-source mentality that assumes innovation is the product of handing over access to as many people as possible.
This vision of an unregulated art world is why Saltz has called ArtPrize "terrifying and thrilling." There's risk involved with handing over the keys to the museum. Populism has its limitations. The democratization of art can also read as a new marketization of art. With its knee-jerk, checkout line-style voting process, ArtPrize can look like the Walmart of art rather than its American Idol—a mass-market mash-up of quality and schlock.
Should we fear it? Resisting ArtPrize feels a little like an acknowledgment of one's own regional insecurity. One thing that's certain about ArtPrize is that it's good for creating a lot of noise and debate about the nature and value of contemporary art. Those are conversations worth having in any city. But as much as ArtPrize raises the volume of the conversation, it's fair to ask whether it raises the level of the conversation. With its penchant for pandering to the masses, it doesn't seem positioned to spur the sort of work that pushes buttons and creates (sometimes uncomfortable) debate.
"A lot of times, people don't know what they want until you show it to them," Steve Jobs famously quipped. Even the king of Silicon Valley understood the old maxim that the audience doesn't always know what it wants.