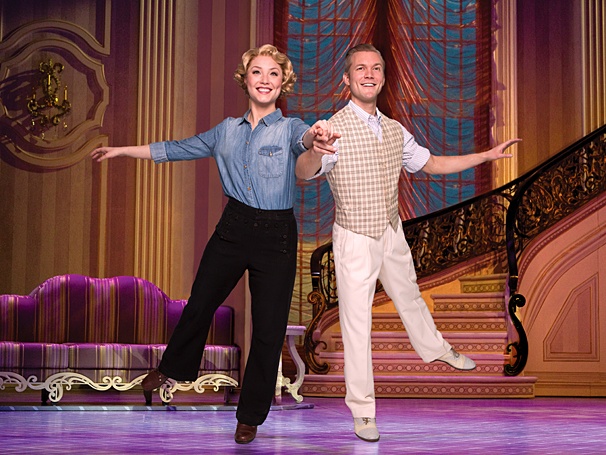 Nice Work if You Can Get It Kicks off the Dust and Bursts with Sass
A stitched-together musical set in the 1920s that features exclusively Gershwin tunes might sound like a musty premise, but this version is reinvigorated with vitality.
A stitched-together musical set in the 1920s that features exclusively Gershwin tunes might sound like a musty premise, but thankfully the re-energized tour of Nice Work If You Can Get It is bursting with sass and vitality. The Broadway version, which ran in 2012-13, featured Matthew Broderick as pretty but dumb playboy Jimmy Winter, and Kelli O'Hara as tomboy bootlegger Billie Bendix. The non-equity tour, which is enjoying its debut in Dallas before heading out to Fort Worth and beyond, is populated mainly with fresh-faced and limber-limbed young kids, most of them recently out of college. The energy is…slightly different, shall we say. And all the better for it.
Using the Gershwin musical Oh, Kay! (with book by Guy Bolton and P.G. Wodehouse) as a stepping stone, Joe DiPietro has created a vigorous—and slightly naughty—example of the classic musical comedy. There's equal parts silliness and sincerity, with plenty of gorgeous chorus girls, sparkly costumes, knee-slapping one-liners, show-stopping dance routines, and hummable tunes. The overall effect is like bubbles tumbling to the top of a champagne flute that's about to be clinked in a toast.
That's the joy in this production—it has an authentic feel (jokes and musical numbers both flow effortlessly) yet there's a knowing wink to the whole endeavor that keeps both the cast and the audience on their toes.
At the height of Prohibition, Jimmy (the charming Alex Enterline) is celebrating his last night as a semi-bachelor before marrying his fourth wife, modern dancer Eileen Evergreen (Rachael Scarr). Turns out, his third marriage isn't null yet, but that doesn't stop him from hopping from wife to wife in search of adult stability and his mother's approval. He drunkenly stumbles into Billie (an enchanting Mariah MacFarlane), who's running gin from the docks as part of her highly successful bootlegging operation. When Jimmy mentions he has a Long Island mansion he never uses, Billie marvels at her luck. With her sidekicks Cookie (Reed Campbell) and Duke (Aaron Fried) in tow, Billie moves her shipment to the mansion's basement, only to encounter Jimmy on his near-honeymoon.
With the police, Eileen's father, and Eileen's teetotalling aunt Estonia (Stephanie Harter Gilmore) all snooping around the property, Jimmy and Billie of course discover they have feelings for each other. That's just the start of the star-crossed shenanigans, however. Watching everyone pair up—and how opposites attract—makes for a delicious jaunt down the torturous road of romance.
It's one thing to write a pastiche, but quite another to acknowledge the source material and then add some edgy modern humor to keep it crisp. For example:
Eileen, in the bath: "I'm vulnerable, helpless, and wet. Is that how you want to see  me on our honeymoon?"

Jimmy, bursting into the bathroom: "Oh god yes!"
David Eggers has beautifully recreated Kathleen Marshall's inventive choreography and smooth direction. Classic George and Ira Gershwin songs, from "Someone to Watch Over Me" to "Let's Call the Whole Thing Off," cause a ripple of appreciative murmurs throughout the audience. All told, s'wonderful.