A play about strippers and the JFK assassination should not be dull, yet somehow we have Candy's Barr's Last Dance, a world premiere by Ronnie Claire Edwards. The oddly put-together show skimps on the details about the real-life Candy and instead wallows in Southern-fried clichés and lackluster storytelling.
Edwards' last play at Theatre Three, the deadly boring Idols of the King, also centered around kooky people in mourning, although in that case the audience didn't need to learn much about the departed's life. Unlike Elvis, ecdysiast Candy Barr (born Juanita Dale Slusher in Edna, TX) may not be familiar to non-Texans. Indeed, parts of her colorful life might come as a surprise to even the most dedicated Dallasite, who's only familiar with her involvement with nightclub owner and Oswald assassin Jack Ruby.
Why, then, banish Candy's fascinating story to the edges of what's essentially a gabfest that trudges in circles for 90 minutes? On the day of Barr's funeral in 2006, three of her former dancer pals gather to reminisce about the good ol' days. That's one of the play's big themes, the other two being "I love that man of mine" and "Candy sure was an original, wasn't she?" The way these women interact, however, make it seem as though they haven't spent much time with Candy or even each other—just another of Edwards' curiously constructed approaches.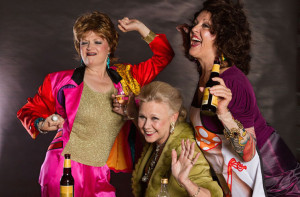 At the home of tattooed Evangelist preacher Corky Latrelle (Mary Lang), the trio swigs booze and plots how to crash Candy's funeral after learning that her family has banned their presence. Why they're not welcome isn't precisely explained, but that's just another of the plot devices that's suddenly important one minute and entirely forgotten the next. The more pressing matter seems to be giving these women a spotlight to relive their wicked life stories—tales they surely must be familiar with by now if they're truly as close as they claim.
Corky, inked with Bible stories and operating a "strip your sins away" tent revival now that she's found the Lord, is the level-headed leader. The garishly garbed Tricksy Dean (Cindy Beall) is barreling through town in an RV with her soon-to-be hubby Big Tiny, escaping to the chapel and avoiding BT's greedy family along the way. Timid Flutter (Marty Van Kleeck), a former ballerina who grew too busty and was forced to turn to a different sort of dancing, is now a respectable Houston socialite who's preoccupied with her granddaughter's debutante debut. As each steps into the spotlight to bump and grind her way down memory lane, it all feels a little tired, as if they've told these stories over cocktails dozens of times before and now have little else to say to each other.
When a mysterious suitcase left behind by Candy yields an incriminating photo linking the gals to Lee Harvey Oswald, it's all dealt with rather swiftly. Some poems written by Candy stir far more interest. These are delivered from the corners of Theatre Three by an ethereal Lydia Mackay, supposedly embodying Candy but listed only as "Dancer" in the program. This not-quite-Candy appears at the end of the show to perform a sultry dance under a disco ball, peeling away her gossamer robe and seducing the audience with heavy-lidded eyes under a platinum-blonde wig. Mackay writhes and struts admirably, but why she's not decked out with Candy's signature cowboy boots and pearl-handled six-shooter is a mystery. Much like how this play came to be, I suppose.
Get the FrontRow Newsletter
Get a front row seat to the best shows, arts, and things to do across North Texas. Never miss a beat.