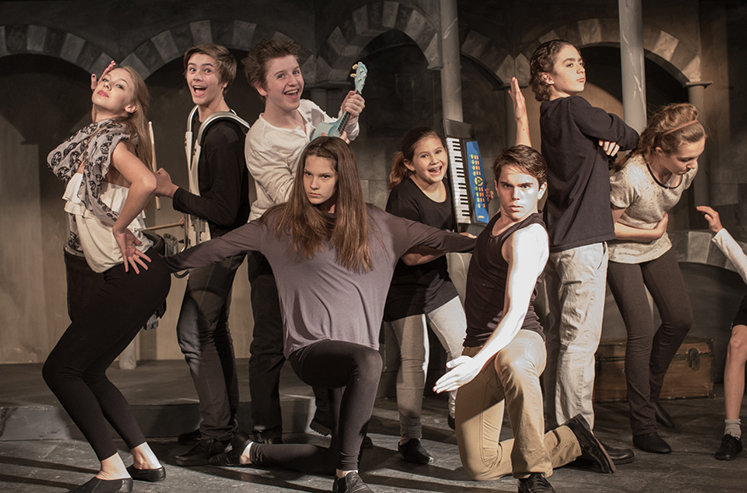 Young Plano Theatre Excels in Rosencrantz and Guildenstern Are Dead
The youthful cast handles tragicomedy with preternatural ease.
The clever, often confusing dialogue in Tom Stoppard's Rosencrantz and Guildenstern Are Dead is expertly tackled at Fun House Theatre and Film, but you may not hear it for all the laughter. Rather than getting bogged down by Stoppard's intricate musings about free will, life, and death in this absurdist exploration of two minor characters from Shakespeare's Hamlet, the young cast—who range in age from 10 to 15—embraces the play's sillier side and brings a refreshing touch of existential buffoonery.
Renowned DFW director René Moreno, making his Fun House debut, coaxes sharp, physical performances from his actors. Jeff Swearingen, wearing many hats as the associate director, movement coordinator, and actor (The Player), leads a troupe of nine tragedians, whose athletic mugging is one of the show's many highlights, and Lizzy Greene in particular is especially marvelous as Swearingen's put-upon assistant. Together, Moreno and Swearingen craft a tight three acts that skip along with moments both philosophical and ridiculous.
Jaxon Beeson and Kennedy Waterman impressively portray R & G, the doomed courtiers and supposed childhood friends of Hamlet's. "Supposed" because it is a running theme that the pair possesses no memories, and often do not understand how they have arrived in their present locations. This meta addressing of the play's inverse structure—when not participating in the Bard's scenes, they are in an undefined limbo on Clare Floyd DeVries' Escher-like set—reoccurs frequently and helps make the action a little more accessible. It's ok if you're not always sure what's going on; chances are Rosencrantz and Guildenstern don't either.
The cast of last year's acclaimed Hamlet returns to poke fun at their characters. Chris Rodenbaugh's mad prince has a touch of Mel Brooks, while Taylor Donnelson's whimpering Ophelia distills the girl down to her tearful, sighing essence. Doak Rapp and Madeleine Norton glide in and out with style as the clueless royal couple.
Much like with Hamlet and Daffodil Girls last year, Fun House is at its most astounding when it allows its young actors to prove what they do is not children's play. Rosencrantz is a complicated, wordy tragicomedy, one that has been known to confound more mature companies. Here, Waterman and Beeson handle Stoppard's extensive ruminations with ease, imbuing the often nonsensical conversations with thoughtful subtext and a quick pace that shows they are truly reacting, and not just reciting.
"Juvenile companies: They are the fashion," Swearingen's character remarks knowingly, to thunderous laughter from the audience. Let's hope this fashion continues.