The seasons of the art market dictate that summers are for group shows, and often the occasion affords the opportunity for a gallery to wander from their usual offerings. Case in point, please to meet me, up now at Talley Dunn Gallery through July 27. The show features six artists who are by no means new faces to local art watchers, but their inclusion in the confines of Dallas' most blue chip commercial gallery indicates that there may be more vertical health in the local art scene than it otherwise seems.
That said, one of my first impressions upon walking into the show featuring Kristen Cochran, Rachel Cox, Laurie Frick, Jessica Halonen, Kelly O'Connor, and Michelle Rawlings is that the artists are all represented here with very sellable work (in Dallas, that means art that doesn't frighten away interior designers). There is an abundance of light-on-the-eyes colors, pretty pastels, precious primaries, delicate drawings, voguish photography, and just the right mix of organic objects (wasp nets and bent twigs) and industrial products (paint samples and Ikea crates) to make all the aesthetic pleasantries feel like they are packing some conceptual grit. But while pleased to meet me won't likely shock or startle, underestimating its gentle elegance may throw you off the show's thematic scent. This is an intelligently assembled group of work, and repeated consideration of the interplay between the six artists sends the mind in new directions.
The broadest and most encompassing entry point, as the title suggests, is the artist's exploration of self and self-expression. Take Rachel Cox. Her photographs isolate items plucked from her grandmother's closet against monochromatic backgrounds or, as with a shot of an over-stacked closet, allows the edges of her frame to dissolve into black, giving the image an almost forensic quality. There is tension created between an almost anthropological approach to her subjects that nonetheless resist dispassionate, scientific representation. These items, like clumps of wigs, an old competition ribbon, a faded picture of a dog (presumed dead), resonate with nostalgia, latching onto ideas of fashion and commercialized beauty, while attaching the product to a sense of time, aging, and loss. There's an almost Proustian overtone — the self, receding through time, made present by an object that triggers the memory – the inanimate object a keyhole to a distant soul.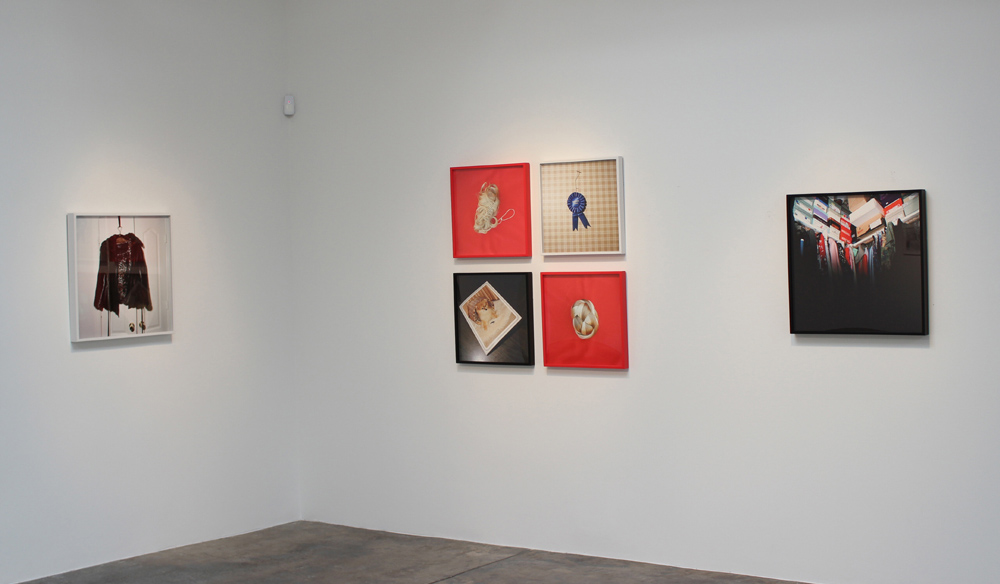 On the opposite side of the gallery, Kristen Cochran's ink-stained drawings, organized with renderings of grid structures in graphite, as well as her slagging nylon sting hanging sculpture, conjure for me a similar melancholic feeling. There's an alchemy to Cochran's work. At first, the grids and blotches seem merely to wrestle with considerations of form and composition – the reigning-in of an improvised process. But spend some time with the objects and the materials take on an emotive quality. The fragility of the hair-thin tracing paper, the graduations of the sopped up ink, the delicate pencil work: is it too much to feel loss and shortcoming in these homespun efforts? Perhaps not when the mood is already set by other works in the room. Behind you, a very thin nylon string grid is suspended from the ceiling like a sagging net from a ship's mast; it bears the weight of nothing. The title, mtv, limp grid, 2013, which repeats the "mtv" in the title of the drawings, pushes us to see the work as a reaction to pop cultural references otherwise absent, but easily to associate with all of this vulnerability.
Laurie Frick has an engineering degree, and her technical acumen is on display in her laser cut paper pieces. Like Cochran, there's a sense of toil in the work, an even more wrought experimentation with industry and ephemerality. The abstract patterns cut into paper, which are framed like drawings, read like maps. Some pieces also contain etched words, and along with the titles of the works (Upset Stomach, 2013; Collapsing Inbox, 2013), associate the cutting and mapping of the paper with an inwardly probing exploration of psychosis and anxiety. One of the pleasures of pleased to meet me is that none of the artist are represented by just one kind of work, and this particularly helpful with Frick. In addition to the all-white laser cut drawings, there is a wall mounted framed grid of wood and Abet Laminati samples called Moodjam – Birthday Party, 2013. Here again we see an interest in fusing industrial process and aesthetic forms. All the soft colors of the piece read almost like a pointillist study in tonal juxtaposition, while unintentionally suggesting the source of the gently hued pallet shared by the entire show.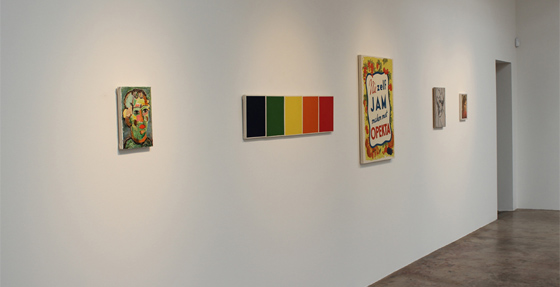 Color is a vital component in the work of all the artists in the show, and Michael Rawlings' intellectually zesty contribution is likewise driven by it. There's a Dutch advertising poster from the 1940s, which feels like a proto-pop artifact if only because Rawlings finds brightly colored commercial material that predates Pop Art. The source of the image, however, is only cursorily commercial. The piece is a replica of a poster that hung on the wall Anne Frank's Amsterdam apartment, and knowing that draws into play a number of associations – with the diary that has made Anne Frank's struggles intimate to so many generations of girls her age; to a mood provoked by juxtaposing the banality of advertising with the ferocious society to which it belonged; to an implication of the gallery by partially restaging it as the apartment under Nazi siege. Paired with the poster are three (self?) portraits of female faces – one almost fauvist, one sort of cubist, one like a faded image from a high school yearbook — as well as a chromatic series of rectangular color swathes. Seen in series, Rawlings' work reads like repeated attempts – and failures – to scratch at something deeply personal by returning to tropes of self-expression. There's both sensitivity and skepticism at play, suggesting that for the artist, expression is an act of simultaneous self-exposure and masking, and the visual forms that give shape to various histories – political, art, personal – offer a means to construct and deconstruct our identities.
In the midst of all of this, I found Jessica Halonen's work less visually satisfying or conceptually open as some of the other work in the show. Her paintings, color targets that look very much like Linnea Glatt's thread drawings, play in contrast to sculptural pieces on the floor, bent twigs marked with paint, monolithic pillars created from recycled materials, or a cube of shredded medical and financial documents. The sculptures play with minimalist, arte povera, and land art forms and themes, while both sculptures and paintings contain additions that foil direct art historical associations. The birch branches and cherry laurel are "jointed" with dollops of epoxy, acrylic, and gouache; there are stacked milk crates and pine crates that I swear are the same kind I bought at Ikea. Even the paintings possess curious add-ons — trompe l'oeil price tags hanging from otherwise meticulously organized paintings – which pun on the work's aesthetic preciousness.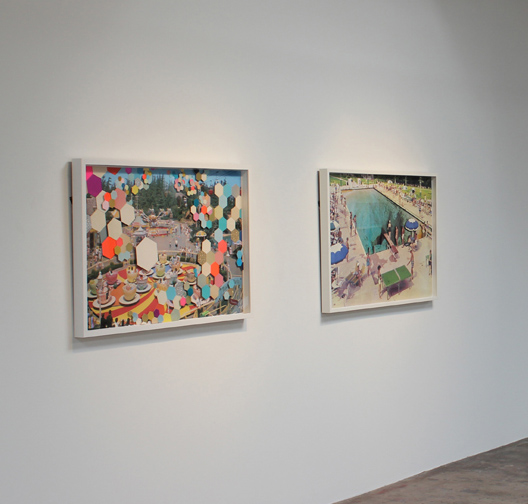 Like Halonen, there is something a little too precious about Kelly O'Connor's manipulations of vintage photographs, which represent idealized settings often with plenty of social-historical residue. But there is also something satisfying about her direct obstruction and layered manipulation. The three photo-based pieces here include a 1950s-era shot of Disneyland, a similar mid-century era pool scene, and a landscape interrupted by a circle of steel fencing in the middle of an otherwise bucolic, glassy lake. In each, O'Connor has altered the original content of the photographs through strategic application of layers. In Twirl, 2013, Disneyland is layered-over with a haze of hexagonal, multi-colored patterns. In Bottom of the Pool #4, the water of the pool is replaced with an amorphous and ambiguous pit. In each, a dreamlike manipulation of the original image heightens our sensitivity to the activity of idealization in the original image. The strategy is best employed in Watergate, 2013, which isn't as much of an overt commentary pop cultural ideals. The work presents an appropriated picture of a landscape as if viewed on LSD,  infused with underlying colors and a central circle that is cut away to reveal a colorful starburst. There's something simultaneously ominous and optimistic about the piece, its psychedelic vortex confined to a zone delineated by a real industrial barrier – a melding of subjective and social paranoia in Technicolor.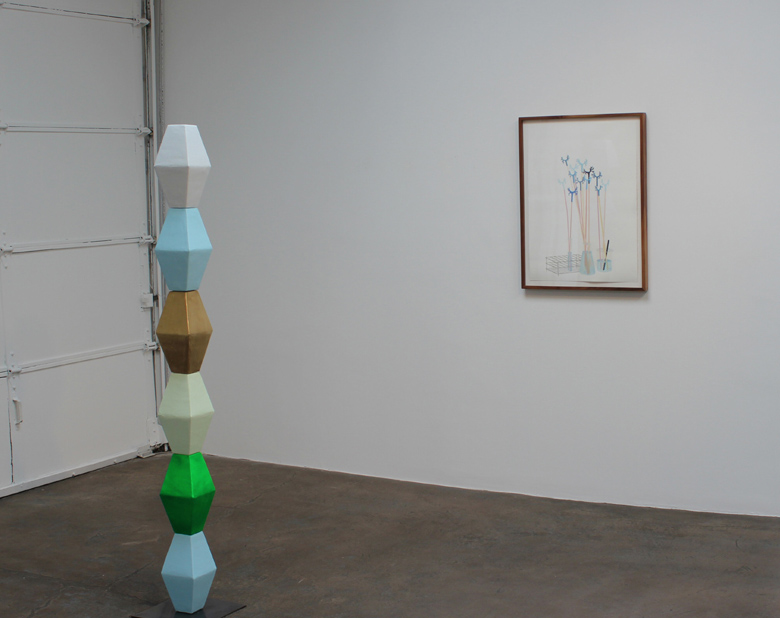 Making rounds through please to meet me forces you to reencounter another piece by O'Connor that feels out-of-place at first, but then became a kind of talisman for the show. Untitled (Endless Column), 2013 is comprised of a succession of inverted pyramids whose vertical repetition suggests a continuation of form, the piece is a near-exact replica of Brancusi's seminal modernist sculpture Endless Column with one key alteration: each segment is painted with pastel acrylic and oil based paint. That alteration calls to mind Rosalind Krauss' writing on the role of color in the work of another modernist sculptor, David Smith, in which she argued against some critics of the day (notably Clement Greenberg) that application of color onto the surface of Smith's steel sculptures were integral to the artist's conception of his own work because that interplay between surface and form allowed the work to shake something of its materiality. "The visual configuration of sculpture could transcend its physical materiality," Krauss wrote, "So that the work of art would have an effect that could not be accounted for by the measurably concrete object which embodied it."
The interplay between surface and form, corrosion and intention, the application of color and the elucidation of self-expression: these are artistic strategies that are everywhere in pleased to meet me. With all six artists, surface — whether applied, altered, manipulated, or isolated — becomes both the subject and the means of an exploration of the intrinsic qualities of a work of art. Existential and psychological surfaces are also recurring metaphors, with artistic methods employed to puncture and probe these elusive conceptions of selfhood.
More than just individualized explorations of the artist's own sense of identity and personhood, the work here implicitly calls into question art's potential to transcend its mere materiality. Can a poster from Anne Frank's house convey the feeling the artist has when she looks upon it with all of her personal associations? Can a grandmother's jacket hanging from a closet door and photographed in low light conjure the emotions one feels when one is staring at one's own grandmother's jacket, with all those musky, mothball odors in the air? There is a sense of fear or trepidation that pervades all of the work in the show, suggesting that the artist is prone to fits of insecurity and insufficiency. Perhaps art cannot transcend or communicate the profundity of feeling experienced in the personal arena. And if it does, how can we know? Fitting, then, that some of this work succeeds more than others. That is both inevitable and necessary for a show that needs both failure and success to reveal the difficulty of the task at hand.
And here are the weekend's openings:
WEDNESDAY 
CentralTrak Open Studios at CentralTrak — July 10: 6-9 p.m. 800 Exposition Ave, Dallas, Texas 75226.
THURSDAY
"COLORIMETRY" by Neil Matthiessen and Patricia Rodriguez, at the WAAS Gallery – July 11: 6-10 p.m. 2722 Logan Street, Dallas, Tx 75215.
FRIDAY 
"The New Navy" by Alex DiJulio and Samantha McCurdy, at RE Gallery – July 12: 7-10 p.m. 1717 Gould Street, Dallas, Tx 75215.
"MALLEABLE FORMS: AN EXPLORATION OF TEXAS SCULPTURE AND CLAY" by Angel Fernandez, Eliseo Garcia, Yesica Moran, and Ricardo Paniagua, at the Latino Cultural Center – July 12: 6-8 p.m. 2600 Live Oak Street, Dallas, Tx 75204.
"FUTURE" by Edward Ruiz, LewTheZulu, Neil Matthiessen, and Patricia Rodriguez at the WAAS Gallery – July 12: 7-10 p.m. 2722 Logan Street, Dallas, Tx 75215.
SATURDAY
BEEZUS at The Public Trust — July 13: 6-9 p.m. 2919-C Commerce Street, Dallas, Texas 75226.
"Side Affect" by Waddy Armstrong, Mayra Barraza, Tim Best, Sandow Birk, Du Chau, Letitia Huckaby, Vince Jones, Mona Kasra, Kathy Lovas, Ryan Sarah Murphy, and Laray Polk at the Liliana Bloch Gallery – July 13: 6-9 p.m. 2919 Commerce Street, Suite C, Dallas, TX 75226.
"Introduction & Retrospection" by Valery Guignon, at the Janette Kennedy Gallery in the South Side on Lamar – July 13: 6-9 p.m. 1409 South Lamar Street, Dallas Tx, 75215.
"Gild" by Ann Wood, at the Kirk Hopper Fine Art – July 13: 6:30-8:30 p.m. 3008 Commerce Street, Dallas, Tx 75226.
"A MODART SPECIAL EVENT – Studio Tour with artist Alison Jardine" at the Continental Gin Studios – July 13: 2-4:30 p.m. 3309 Elm Street, Dallas, Tx.
"Closing Reception for CHAOS! Ro2 Art Summer Small Works Show" at  Ro2 Art – July 13: 7-10 p.m. 110 North Akard, Dallas  75201.
"Paintings" by Lindy Chambers at the Valley House Gallery & Sculpture Garden – July 13: 6-8 p.m. 6616 Spring Valley Road, Dallas, Tx 75254.
SUNDAY
"MUSIC: REBELS & VISIONARIES" by Fawn Jones, Walter Ray, Carmen Lax-Ray, Rick Cade, Gabrielle Castaneda Pruitt,David Hobson,  Jan Partin, Carol Ann Thornton, Anne Royer, Mary Ann Turner, Linda Lee, Tom Morningstar, Marino Chanlatte, Randy Ross, David Roden, David Klewicki, James Loveless, and KeLaine Kvale, at the TVAA Downtown Gallery – July 14: 2-4 p.m. Plaza of the Americas, Suite G207, 700 N Pearl, Dallas, Tx  75201.
Image at top: Installation Shot of pleased to meet me (Foreground: Laurie Frick, Moodjam — Birthday Party, 2013; Background: Kristen Cochran mtv, limp grid, 2013) All images courtesy of Talley Dunn Gallery.
Get the FrontRow Newsletter
Get a front row seat to the best shows, arts, and things to do across North Texas. Never miss a beat.