On June 16 we will launch our latest FrontRow Film Series at the Kessler Theater. Entitled "Dallas ,Outlaws, and the American Dream," the series will include three classic movies – a thriller, a comedy, and a drama — that showcase our city and deal with our cultural fascination with the figure of the outlaw.
Bonnie and Clyde, Bottle Rocket, and Paris, Texas are three films fueled by the romance of the cinema and the open Texas road, making this is a perfect film series for a hot Dallas summer. In addition, before each screening, KNON's Texas Renagade Radio has sponsored a musical guest who will perform in the Kessler's front bar to help set the mood for the evening. Doors open at 6 p.m., music begins at 7 p.m., and the movies begin at 8 p.m. Tickets are $10 for each movie or $20 for the whole series, and you can purchase tickets here.
About the Films: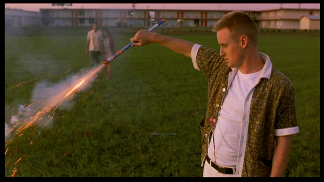 The series kicks off with Arthur Penn's Bonnie and Clyde on June 16, the groundbreaking shoot 'em up romance about Dallas' most famous couple and a movie that, in many ways, redefined the American thriller. Singer-songwriter Miles Penhall to perform.
On July 28, we will continue with Bottle Rocket, the debut film from Wes Anderson and the Wilson brothers. Shot in Dallas in 1993, there is, in my opinion, no better portrait of the cultural character of Dallas, Texas than this off-tone comedy about a group of would-be criminals. Singer-songwriters Kevin Deal and Miles Penhall to perform.
Finally, on August 25, we will finish the series with Wim Wenders Palm d'Or winner at the 1984 Cannes Film Festival, Paris, Texas. An existential drama about a man who unexplainably shows up in the Texas wilderness, Wenders' stunning movie plays like visual blend of John Ford, Edward Hopper, and Ed Ruscha, and it represents Wenders at his most lucid and florid, which owes much to his collaboration with Sam Shepherd and screenwriter and Dallas-native L.M. Kit Carson. Former Nervebreaker Barry Kooda to perform.
About the Series: A City of Outlaws and Dreamers
The idea for this film series comes from a desire to explore a lurid irony about Dallas' history and culture. From its very founding, Dallas been a city of entrepreneurs and promise, marketed as an ideal home for the upwardly mobile and ambitious. At the same time these very qualities have attracted – or produced – some of the most iconic criminals and outlaws in American history.
Indeed, Dallas' criminal history could be described as entrepreneurial, and some of the city's most famous criminals pursued not wealth but status, prestige, or fleeting notions of happiness. Bonnie and Clyde robbed banks, but they also built their own sensational romantic myth which captured the public imagination. Lee Harvey Oswald killed a president, but he was also a nobody who, with one tiny bullet, wrote his name large on the annuls of history. Jack Ruby, a two-bit gangster and cabaret owner, also took hold of a gun in an effort to recast himself as a John Wayne-style American hero, a justice-seeking gunslinger who instead only earned himself and his city humiliation.
Writing about Arthur Penn's Bonnie and Clyde in her book Kiss Kiss Bang Bang, movie critic Pauline Kael speaks about this theatricality that underscores a particularly kind of American outlaw sensibility.
The real Bonnie and Clyde seemed to others to be acting out forbidden roles and to relish their roles. In contrast with secret criminals—the furtive embezzlers and other crooks who lead seemingly honest lives—the known outlaws capture the public imagination, because they take chances, and because, often, they enjoy dramatizing their lives.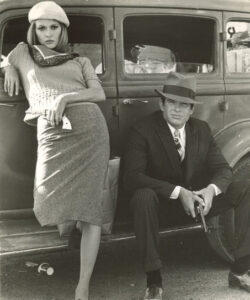 As Kael points out, the outlaw is not merely criminal, but an actor in a real life drama, exemplifying in extreme fashion an exertion of individual freedom in the face of the conforming pressures of society. Among this country's earliest celebrity anti-heroes, the appeal of Bonnie and Clyde speaks to a longing in the American spirit for a romantic ideal as well as an irony implicit in the American Dream: we live in a culture that both values equality and exalts celebrity.
Wes Anderson and Owen Wilson's character Dignam in Bottle Rocket is a shrewdly conceived misfit who explicitly plays out this American fascination with criminality that is fueled by a high regard for individual exceptionalism. Dignam exists, as Anderson puts it in a Dallas Observer article from 1995, "about five degrees removed from reality," and yet this disconnect, while fueling the absurdity of the film's comedy, also proves candidly honest in portraying about how we imagine the true value of our lives, lives that are not complete or considered authentic until they participant in the kind of high cinematic romance exemplified in the extreme by Bonnie and Clyde.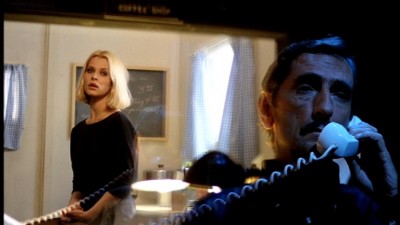 In Paris, Texas, we are presented with a character who is not so much a criminal but a social outlaw – or more accurately, a lover outlaw. He is also a dreamer, but Travis (played by Harry Dean Stanton) is torn between his hope for a "normal" existence and the reality of life, with all its pain, sufferings, and romantic shortcomings. In this way, Wenders comes at the American Dream from an inverse angle, showing that equality and celebrity are ideals that are similarly ephemeral and their pursuit leads to isolation.
The outlaw's role in the American character is by no means unique to Dallas, but through the film series "Dallas, Outlaws, and the American Dream," we might reflect on our own city's nature as a dreamer and the multi-faceted consequences of such an identity. Dallas is a city whose image of itself is caught up in the dream of international grandeur (the "world class city") and of realizing the ideals set forth for it by its own marketing and civic boosterism. It should come as no surprise, then, that this kind of civic environment, driven by a perpetual sense of striving towards becoming great, would produce citizens who are also striving dreamers – and even those who take the pursuit of these dreams to criminal extremes. But ultimately it is our own endearing attachment to these characters and their plights that speaks to the seductive power of the outlaw and the figure of the outlaw as a cultural force that continues to shape our city and our conception of the world.
Get the FrontRow Newsletter
Get a front row seat to the best shows, arts, and things to do across North Texas. Never miss a beat.