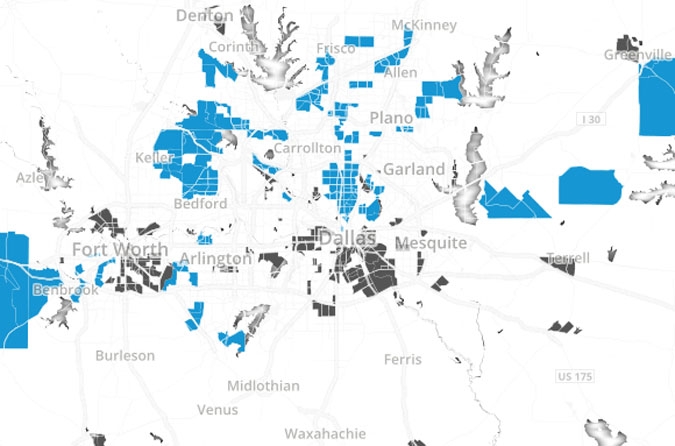 Governing reports on a new Urban Institute report that looks at how income inequality affects neighborhoods. In short, the report demonstrates that between 1990 and 2010, wealthier neighborhoods have become wealthier, while poorer neighborhoods have become poorer, further exaggerating levels of income inequality between neighborhoods across U.S. metro areas. And the region that leads the way in this trend towards increasing neighborhood income inequality is Dallas (or, more accurately, DFW). Via Governing:
The analysis examined inequality within commuting zones, or large regions of several counties that resemble metropolitan areas. Of all commuting zones with at least 250,000 residents, those with the largest neighborhood disparities were Dallas, Philadelphia and Baltimore.

The Dallas commuting zone, home to about 3.7 million residents, had the highest degree of neighborhood inequality of any area reviewed. The Urban Institute's Rolf Pendall, who wrote the report, attributed this to the area's extremely low average wages for poor communities, along with a regional education system that trails other parts of the country.
There are a few interesting takeaways from the study, besides the fact that the mayor can start pitching Dallas as on-par with Baltimore in his new office suite. One is that income inequality tends to be greater in larger regions. Individuals with the same level of education and similar jobs will earn more in smaller regions, as opposed to sprawling places like DFW (a downside, I suppose, to all those big things happening here). Also, inequality tends to be more pronounced in places where policy amplified segregation — and those policies were in no way isolated to the south, but have also caused disparity in Northeastern cities. And despite all the worry about gentrification, suburban neighborhoods still tend to be better off than urban neighborhoods. When it comes to  inner-city neighborhoods, the division between poor and wealthy enclaves tends to be physical:
A clear socioeconomic divide further exists within individual cities. The most advantaged neighborhoods within cities, while typically not as affluent as their wealthier suburban enclaves, remain much better off than poorer communities not too far away. The report notes that these types of neighborhoods are often divided by physical barriers, such as San Francisco Bay and Interstate 35 in Austin.
The sum total of all of these findings seems to emphasize the importance of access, both to education and employment, with regards to achieving success in America. One would hope that this would lead to an imperative on the part of our our city leaders to figure out ways to remove barriers to access, whether it be in the form of rethinking our transportation network, reforming our schools, or creating incentives for more mixed-income housing in new developments. In the meantime, a warning to all the kids out there harboring hopes of realizing a piece of the American Dream: try not to be born in the wrong part of town. (H/T: Asst. City Manager Theresa O'Donnell)
Get the D CEO Newsletter
Stay up to speed on DFW's fast-moving business community with weekly news reports, interviews, and insights.