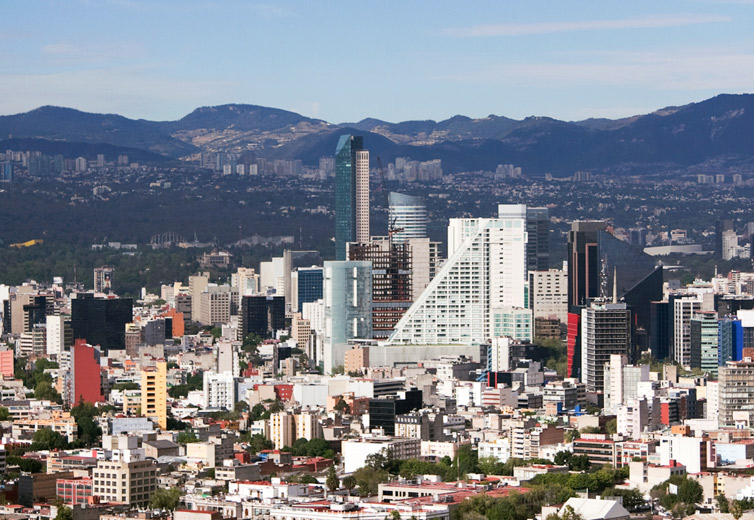 Mexico City, Mexico
From art museums and pop-up restaurants to campy Luche Libre, the sprawling megalopolis offers something for everyone.
With a population of more than 21 million, it's the largest metropolitan area in the western hemisphere—and the biggest Spanish-speaking city in the world. It's a sophisticated global capital, one that generates more than 15 percent of its country's GDP. But when I told people recently that a trip to Mexico City was on my agenda, all they could say was, "Is it really safe to go there? You'd better be careful!"
They needn't have worried. Just as the city's air is less polluted these days than it used to be, Mexico City's leadership has recently done a good job making the city more secure. Case in point: when one of my fellow travelers visited several years ago and stayed at the Four Seasons Hotel off the Paseo de la Reforma main drag—where my party stayed this time as well—she was told not to venture outside the hotel alone on foot after dark. But this time around, there were no such warnings. And the neighborhood surrounding the hotel—just steps from Chapultepec Park and the upscale Polanco district—seemed as safe as Uptown Dallas at 8 o'clock on a Friday night.
The 240-room Four Seasons, which recently underwent a $14 million upgrade, was a pleasantly luxurious home base for exploring the city. And, there's plenty for an adventurous visitor to explore, from fine museums and a cutting-edge food scene to more "populist" (or folk-oriented) offerings. One night, for example, we book-ended two of the latter around dinner at The Hidden Kitchen, a pop-up restaurant overseen by Parisian-trained chef Gerardo Aguilar. While a Mexican hip-hop track played softly in the background, we feasted on Aguilar's craft cocktails, white-fish ceviche, beef sweetbreads in organic honey, and a mousse of mamey fruit and dark chocolate.
Just before dining, we'd toured the Museo del Juguete Antiguo, a museum that houses a fascinating collection of antique toys. Situated inside an unglamorous, multi-story building in the dodgy Colonia Doctores district, the museum showcases about 60,000 pieces ranging from life-sized robots and historical posters to Barbie dolls and tiny action figures depicting the likes of El Santo, a famous Mexican "luchador enmascadero" (masked wrestler).
Following the pop-up dinner, we headed to Arena Mexico, also in Colonia Doctores, to see some "real" Mexican wrestling, known as Luche Libre. While a raucous packed house—university students as well as working people—clapped and shouted and laughed, a cast of professional wrestlers in masks and Spandex costumes preened and strutted in the ring. Although the campy performances were carefully choreographed, real skill and dangerous athleticism were involved. One wrestler was carted off on a stretcher after appearing to snap his neck.
At the opposite end of the cultural scale, Mexico City boasts more than 180 art galleries and more than 150 museums—the world's greatest concentration of museums in a single metropolitan area. The most fascinating, to me, was the home of Frida Kahlo, a renowned surrealist painter who was married to the great avante-garde muralist Diego Rivera. The day we visited the blue-walled Museo Frida Kahlo, the line to get in stretched around the block. Inside you walked through Frida's studio, the bedroom of her husband, and the peaceful courtyard garden that inspired her. Other first-rate museums include the contemporary Museo Jumex and the nearby Museo Soumaya, opened in 2011 by Mexican billionaire Carlos Slim Helu. Named after Slim's wife, and free to the public, the Soumaya showcases 66,000 pieces including works by Rodin, Cezanne, Renoir, and Van Gogh.
Interestingly, Slim is said to be a member at Piso 51 (Floor 51), a swank private business club located near our hotel in Torre Mayor, one of the tallest skyscrapers in Mexico. Boasting spectacular views of the sprawling metropolis, the exclusive, members-only club features an excellent restaurant, a bar, spas, and meeting rooms. The facility, by the way, is part of Dallas-based ClubCorp's international private-clubs network. And, it's a great place to wrap up your Mexico City adventure over drinks, the city lights twinkling in every direction far, far below.
Trip provided by Mexico City Tourism Promotion Fund.