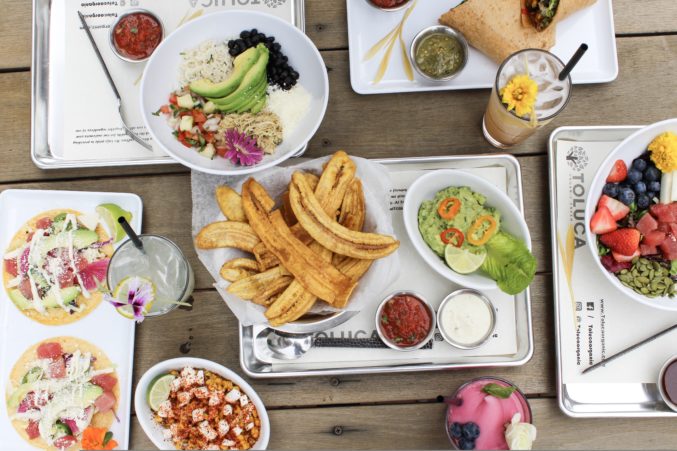 First Take: Toluca Organic, Uptown's New Fast Casual Restaurant, Serves Healthy Mexican to Vegans and Carnivores Alike
The restaurant's health-conscious menu features burritos, bowls, standout cocktails, and more.
Toluca Organic received buzz before its doors even opened in November. Boasting a menu fit for vegetarians and vegans (and meat options, too!), the restaurant, nestled on Cedar Springs, quickly earned a following. We paid Toluca a visit just a few weeks after its launch, and the healthy, vibrant menu and fun vibe did not disappoint. Here's our first take.
The Ambience
Inside, colorful tables are enveloped by trees, and vivid colors everywhere are reminiscent of traditional Mexican decor. Other diners ranged from a family with young children to a group of twenty-somethings. A bartender shook cocktails for a young couple sitting on lime green stools at the welcoming black-and-white tiled bar near the front entrance. A window into the kitchen showcased the chefs and encouraged diners to take a peek inside. Outside, a rotunda and patio seating are ideal for sunny days or breezy evenings.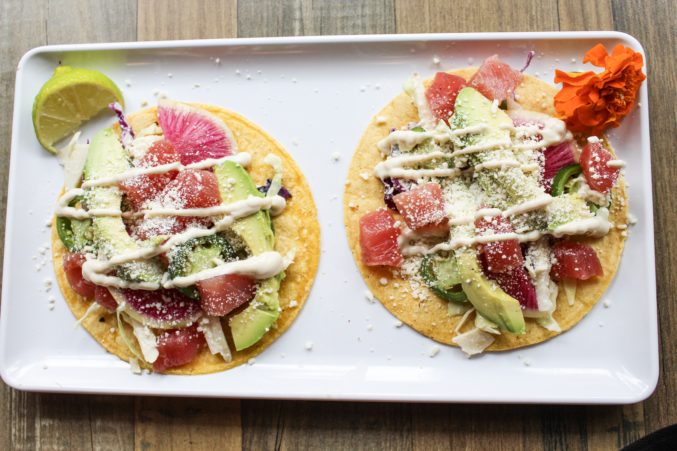 The Concept
The restaurant's namesake is Toluca, Mexico; the founders explain that the city's health-conscious vibe and the longevity of its residents inspired them.
At Toluca, produce is organic, sustainable, and locally sourced whenever possible, and seasonal offerings showcase the brightest and freshest fruits and vegetables available.
Transparency is at the heart of Toluca's mission. The menu is conscious of all diets, from gluten-free to low sodium. Patrons are encouraged to ask questions about the menu, especially plant-based options; the staff is eager to describe the vegan barbacoa, for example, to ease customers into the unfamiliar concept.
Online ordering is Toluca's biggest hit so far, both with food delivery apps (like Uber Eats) and online order pickup. A touch screen ordering system just inside the door offers another option for a quick to-go meal.
But no need to rush—take a seat and stay awhile. Three designated parking spots and a free parking garage ensure you'll never search for a spot. You're welcome to ride up on your bike or walk over with your dog (who will promptly be treated to fresh water). Whether you want a quick, healthy meal or are looking for a new spot for date night, Toluca is an ideal choice.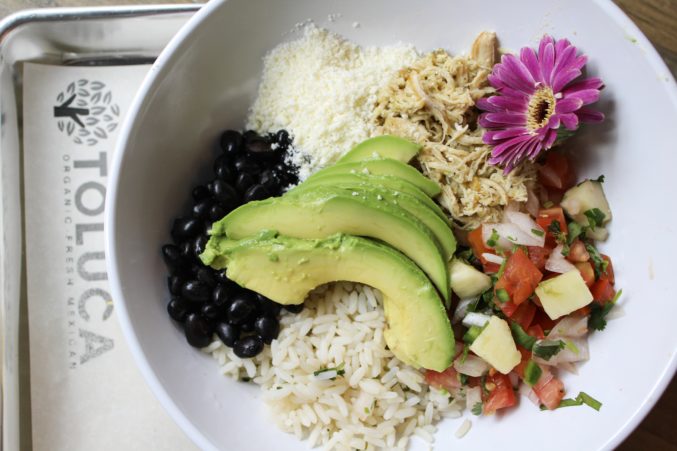 The Food
The base of each menu item at Toluca is vegan; guests can then customize to add cheese, protein, or other toppings to create their ideal meal. (Meat eaters will love options like barbacoa, salsa verde chicken, ahi tuna, and short rib). We tasted some of the most popular options; our favorites included elotes, vegetarian "chorizo," plantain chips and guac, and burritos.
Elotes
To start, we dug into elotes—they were gone within seconds. Vegan mayo had an identically creamy mouthfeel to the real thing, and plant-based queso fresco crumbled on top offered a tanginess that perfectly mingled with the Tajin and charred corn. This plant-based appetizer was exactly as good—perhaps better—than traditional elotes made with heavy mayonnaise and Cotjia cheese.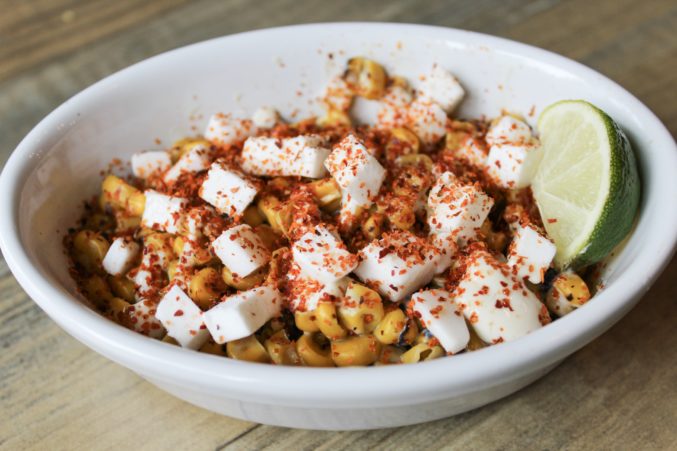 Plant-Based Meats
Toluca's plant-based meat selection will wow anyone, vegan or not. The "chorizo" was our favorite; it mimicked the distinct crumble of ground red meat, and its flavoring suggested nothing other than high-quality pork. No soy aftertaste, no nutty undertones or vegetable flavor—just the true, bright bite of well-seasoned chorizo. Other offerings included "barbacoa," with fall-off-the-fork tenderness and that slight smoky flavor, and roasted portobellos, well-cooked, delicious, and embracing their natural flavor and texture.
Apps and Sides
A basket of plantain chips was paired with pepper-and-radish-adorned guacamole, vegan ranch, and vegan crumbled cheese. Crispy yet chewy, and with a slightly savory taste, the plantain chips were a perfect foil to the smooth guacamole. A slight bite in the guac's aftertaste showcased subtle incorporation of peppers. The star of the show here (and perhaps the star of the entire meal) was the vegan ranch. Creamy and tangy, the ranch was impeccably light yet flavorful. We drizzled it generously onto every menu item we tried.
Burritos
We tried a Sierra Madre burrito, filled with spicy refried beans, veggies, rice, and more. It was light yet substantial, made even better with a side of salsa verde. The tortilla was what really won us over. When a tortilla is average, it's simply a vessel for its contents. But when a tortilla is masterfully crafted, it shows. Toluca serves the sort of tortilla that's almost translucent around the filling, but boasts a light crispy burn on the folds.
The Drinks
Toluca's drink menu includes four signature cocktails—a seasonal cocktail made with Holy Kombucha, a Tolucarita (Toluca's version of a traditional marg), a Mexican blueberry mojito, and a spicy Paloma. Also available: organic wine, beer, iced teas, and agua frescas. We tried a few sips of several and chose our favorites.
Mexican Blueberry Mojito (Frozen)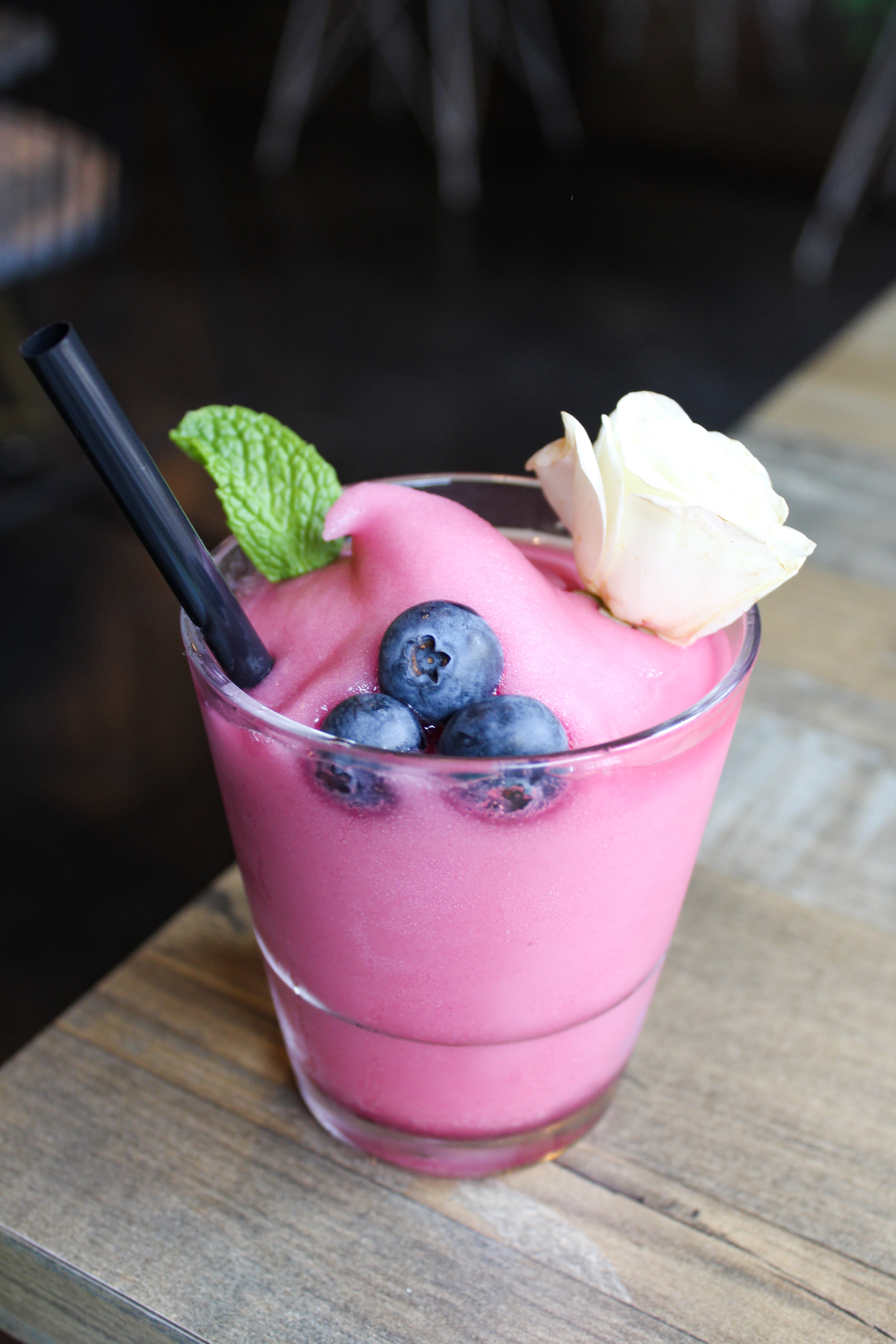 This vibrant, purple blend was swirled into a glass and topped with fresh mint sprigs and blueberries. Light citrus notes mingled with cool mint, and the blueberry base was unexpected but delicious with the Texas-made Piña Loca Tequila.
Spicy Paloma
Toluca's take on a Paloma incorporated a medley of flavors: house-made jalapeño cane sugar reduction, fresh-squeezed lime and grapefruit juices, 100% Blue Weber Agave Blanco Tequila, and a splash of Topo Chico. Fans of heat may find that this fiery drink is their favorite.
Check out Toluca's full menu here, and learn more about the restaurant here.