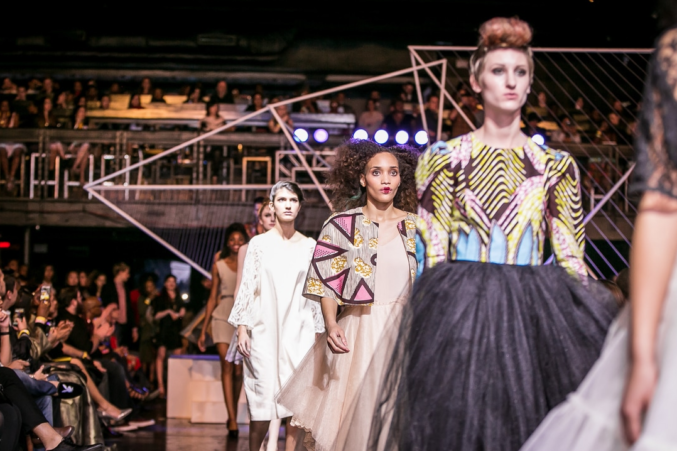 A Look Back at 10 Years of The Pin Show
The Dallas fashion show blends established and emerging designers (plus great music), and returns to Deep Ellum tomorrow.
Ahead of The Pin Show's tenth anniversary, set to take over The Bomb Factory this Saturday, we caught up with founder and producer Julie McCullough to discuss her journey through the past decade.
Tell me a bit about how The Pin Show got started.
The very first show was in 2007 and was held at The Door in Deep Ellum. We weren't really sure what to expect or if it would be well attended, but we were pleasantly surprised. There weren't many options for independent designers to showcase their work, and we were seeing a lot of club and bar shows. So we sat down and really thought out how we could harness all of those things but keep it very affordable for the designers. We wanted to answer a different calling, to create an experience that could be enjoyed by both the fashion industry and those not in the industry.
What are some of your favorite designers you've seen come out of The Pin Show?
We have been so lucky to serve as a platform to some of Dallas' best designers and models. Some favorites of our designers are Nha Khahn, Nine Muses, Isabella Varella, Levinity, and Charmaine Marshall.
When we started this show in 2007 we saw so many designers leaving Dallas to go to New York or Los Angeles in order to make it in fashion, but recently, we've been seeing more and more designers stay to making a name for themselves here.
Any particular backstage stories come to mind from the past 10 years?
We didn't sell many pre-sale tickets the very first year. We had really relied on word of mouth, and many people weren't sure if what we were doing would work. I remember being inside and running around, and doors had opened. I was told that we may have an issue, that I should go outside, and I really just hoped that at least 400 people would show up for this event.  Well, the line was five blocks long in Deep Ellum, every ATM was out of cash. This is before we could take credit cards on our phones! We finally had to get the show started, and the fire marshal came thinking we were having some kind of out-of-control concert, but it was just a fashion show.
I will never forget that night, and I try each year to recreate the first show to match that energy.
Most rewarding thing about producing The Pin Show? Most challenging?
The most rewarding thing will always be what we can do for the designers — being able to build a show for them that provides them with a large production generally reserved for very established designers.
How do you go about choosing which designers will be in The Pin Show?
Every August, The Pin Show launches online designer applications. We have a panel of industry professionals who choose the applicants that might best fit the show. Then we hold interviews with about 40 of those 60+ applicants, and from there, we build a show based on what we see from each designer. The show is never the same and the number of designers is never a set number. It is always inspired by what we see in those interviews.
Is there a particular look or trend you try and showcase every year?
This year, we're seeing some very strong and personal messaging through the collections that we haven't seen in past years. Though it wasn't planned, we're seeing a theme of reflection of self and society, and we've designed a runway that harnesses that messaging.