Jazmine Robinson didn't grow up fishing, but her ex-boyfriend, a Dallas police officer, did. Their date nights often ended up at the side of a pond or a lake, fishing poles in hand. She was impatient at first, frustrated with both the lack of a pull on her line and the lack of romantic evenings on the town with a cocktail and someone else's catch of the day. "But I found the beauty in just being among the elements and relaxing," she says. "Eventually, I started catching fish. Once you start catching them, it's kind of addictive. Unfortunately, he and I didn't work out, but we are still good friends."
After the breakup, and in between jobs as an insurance adjuster, she focused her energies on her new love, learning more advanced techniques and starting an Instagram page for others—especially women of color like her—who are new to the sport.
"In the inner city, you don't find a lot of women who go fishing," she says. "It's intimidating to a lot of people in general but especially women, because you have to know how to hold certain fish. You have to just have control. I have a video of myself years ago, where I was afraid to touch a bluegill. It was this big [she holds her hands close together], and I was terrified. So it's amazing to see how far I've come. But that's the thing with it, just getting past that fear and being consistent with it."
The Oak Cliff native (and current Duncanville resident) was an active only child, playing basketball and volleyball at Justin F. Kimball High School. She went on to major in radio and television at Stephen F. Austin State University in Nacogdoches, where she co-hosted a radio sports show. So it's no surprise that she's already set her sights on competing in the Bassmaster Elite Series, the Super Bowl of fishing.
Bassmaster fields are made up of pros and co-anglers (who fish off the back deck of the pros' boats); Robinson plans to start as a co-angler and eventually make her way to the pro side once she gets her own boat. In the meantime, she has launched her own line of Castaway Jaz merch and has been named a Texas Parks and Wildlife Foundation "We Will Not Be Tamed" ambassador for 2022.
"I think that's my mission: to get more women involved in the sport," Robinson says. "Because all you see in the competitions are men. You never see women. So I think that's what I'm trying to shed light on. Just angling from a woman's perspective, and going on that journey to get there."
The Fishing Report
Robinson shares the deets on her favorite fish, where to find them, and how to hook them.
The Texas Parks & Wildlife website is your source for reel talk. As a general rule, anglers 17 and older will need a fishing license and freshwater fishing stamp before casting a line (resident freshwater license, $30). Fishing is free, however, in state parks and on the first Saturday of June (June 4 this year). Check the website for up-to-date stocking schedules and reports, and for daily bag and length limits.
Texas Parks & Wildlife stocks many smaller neighborhood ponds every two to four weeks during the summer and winter seasons. At these neighborhood ponds, you can keep what you catch, regardless of size (with the exception of the month of August), but there's a daily five-fish limit. And don't get pole happy; you can't stake out more than two.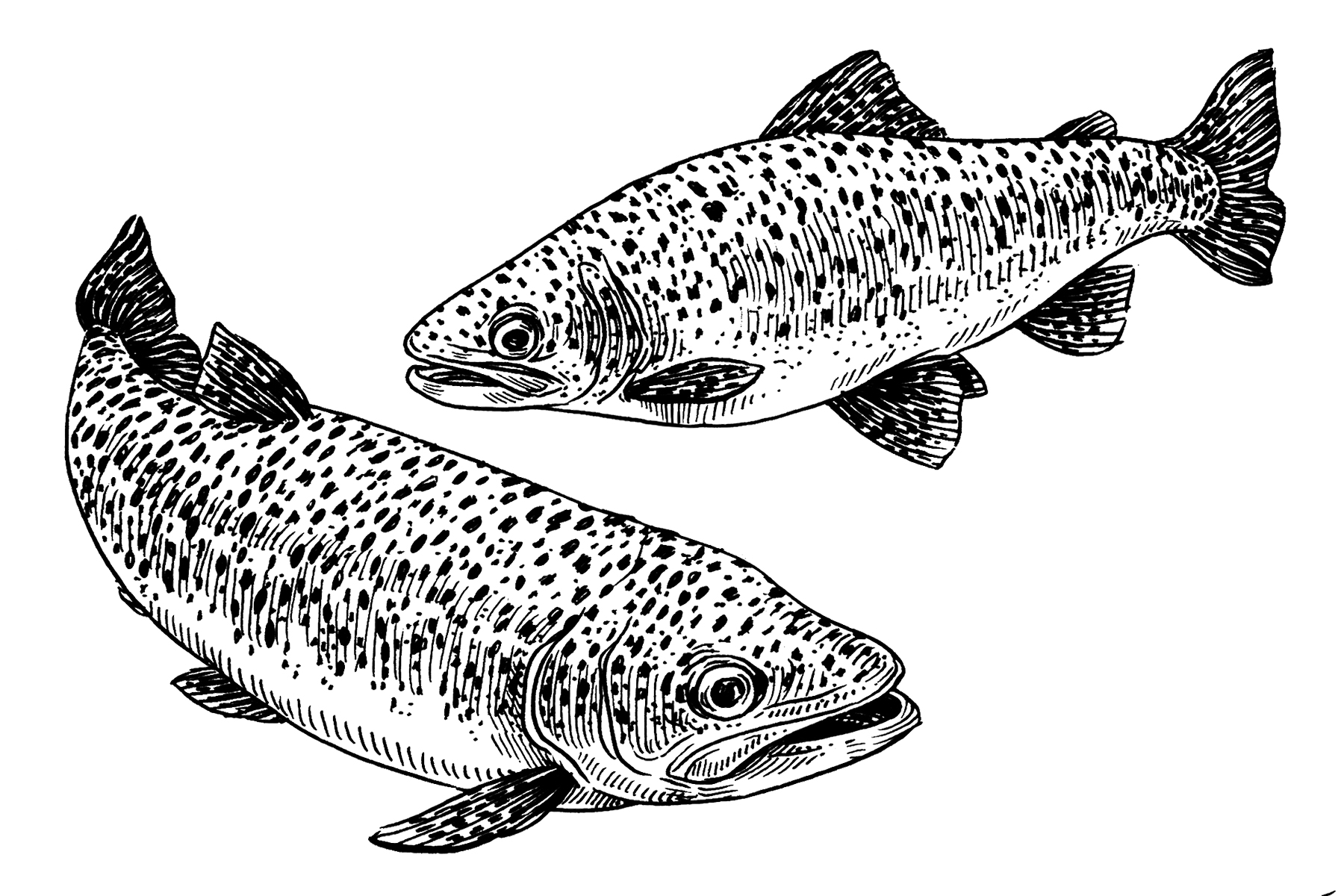 Rainbow Trout
"These predators are members of the salmon family," Robinson says. "They can be white, pink, orange, or dark red in color, depending on the habitat." They are native to fresh waters west of the Rocky Mountains but have been introduced into lakes and streams in Texas.
Habitat: Rainbow trout can't reproduce in high temperatures and rarely survive the Texas summer heat, so the best time to find them locally is after they have been stocked in lakes during the winter. "Look for trees, coves, and fairly shallow water," Robinson says.
Bait: Trout aren't picky. They'll respond to worms, real or artificial salmon eggs, trout mini jigs, colorful PowerBait—even canned corn. You can also make your own dough bait using a mix of flour, cornmeal, and processed cheese or garlic powder.
Gear: Use an ultralight, light, or medium light spinning rod with a 4- to 6-pound test line. (Fluorocarbon is Robinson's preference.) Use a small J hook or treble hook for dough baits.
Where to Find Them: Lakeside Park, Duncanville; Pearson Park Pond, Red Oak; Katherine Rose Park, Mansfield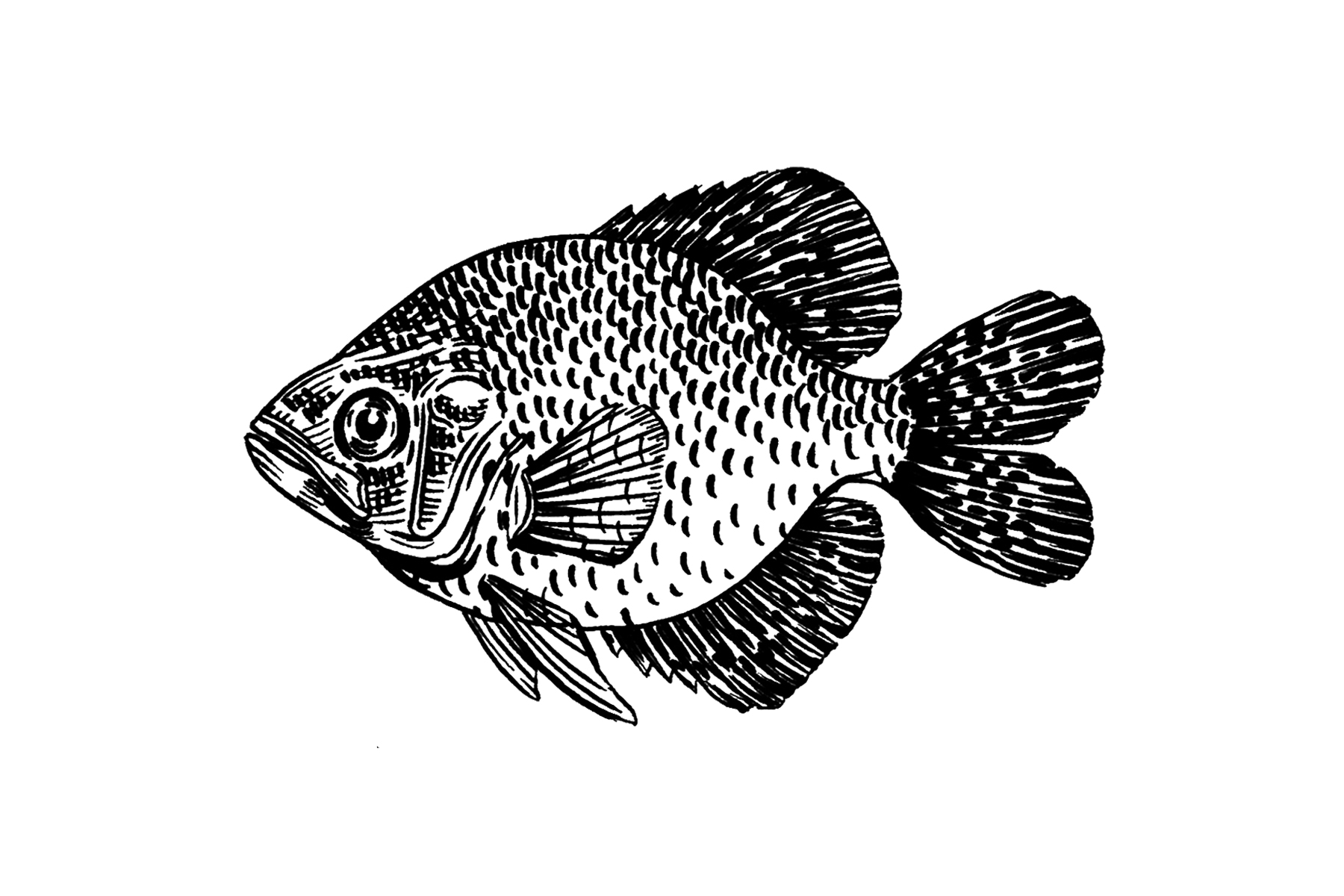 Crappie
The unfortunate moniker can be blamed on French Canadians, who first called them crapet. But don't dismiss them; they are one of the most delicious freshwater fish. They can be caught year-round in any temperature and at any depth. But spring, their spawning time, is a popular season.
Habitat: "At Joe Pool and other lakes, the water level is high, we're talking about 50 feet," Robinson says. "So there are full trees under the water. Crappie like to hide in trees, and they don't go anywhere else. They don't roam." They hide in these areas for shelter and to feed on bait fish.
Bait: "Crappie eyes are bigger than any other freshwater fish, so bait and color selection are very important," Robinson says. "Their eyes are the main source to find and see food. So choose baits with unique color and action. Jig heads with jigs or live minnows are best."
Gear: Use any lightweight fast-action rod, 6 to 7 feet in length, with a spinning reel. A 4- to 6-pound test line will be sufficient; fluorocarbon is her preference.
Where to Find Them: Joe Pool Lake, Lake Fork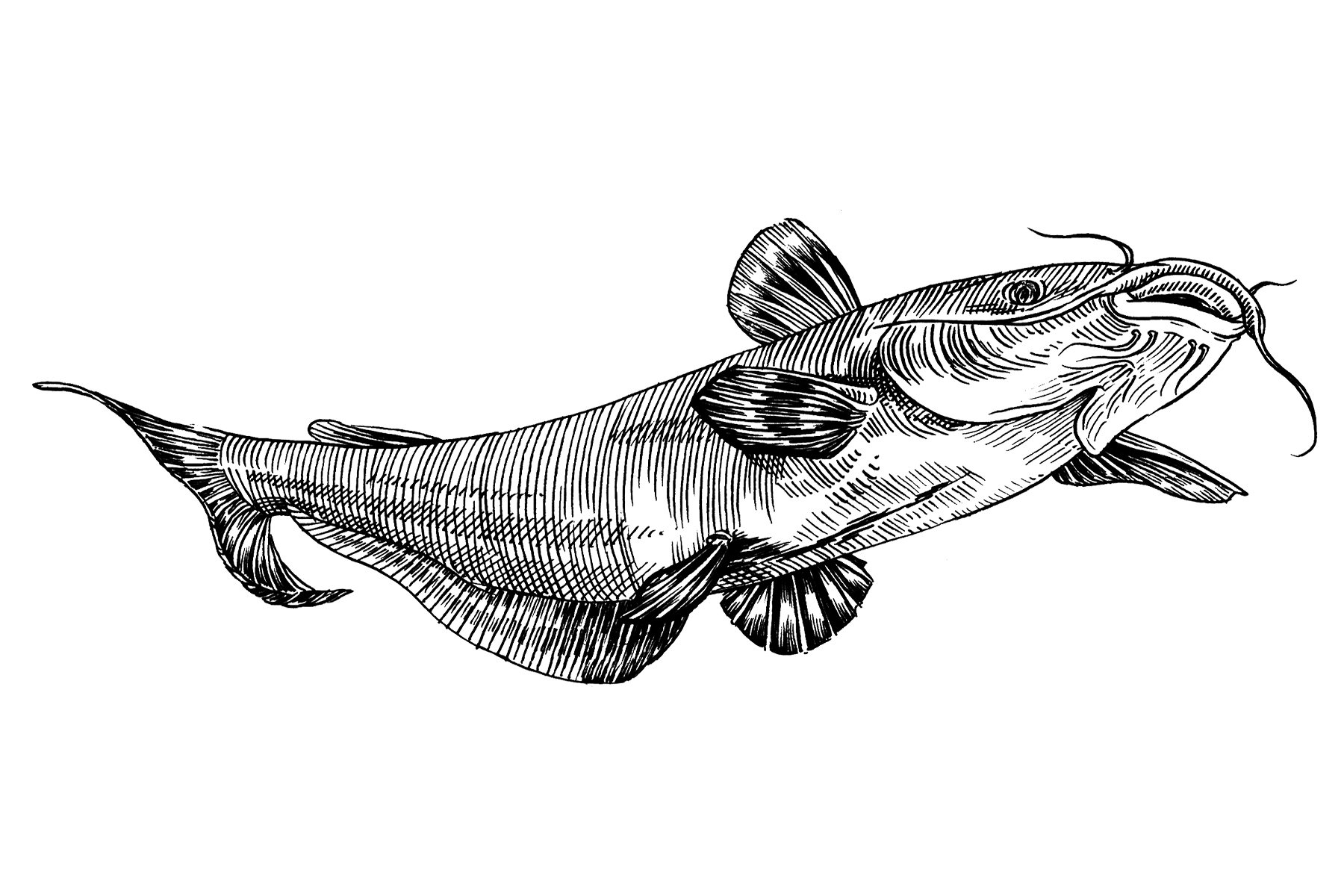 Catfish
Catfish are the only freshwater fish without scales. Adaptable fish, they thrive in extremes, in both very cold and very warm water. They tend to be more active, however, during summer months.
Habitat: Catfish are found in rivers, lakes, and ponds with sandy or muddy bottoms. "They are lazy," Robinson says. "They don't roam. Whenever they approach an area, if they smell something that stinks, they'll stop like, Oh, let me see what that is."
Bait: "The most effective catfish baits are natural baits," Robinson says. "Nightcrawlers or worms, live or cut blue gill, cut carp, cut or live shad, and shrimp. Alternative baits include stink bait, dough bait, raw chicken breast or liver, and hot dogs—they are great soaked in strawberry Jell-O for extra flavor."
Gear: Use a medium heavy to heavy action rod that's at least 7 feet in length. (The longer the rod, the farther you can cast.) You'll need a heavy 30- to 50-pound monofilament line or a 40-plus-pound braided line. Spinning reels and baitcaster reels will handle these heavier lines.
Where to Find Them: Lake Tawakoni, Lake Fork, White Rock Lake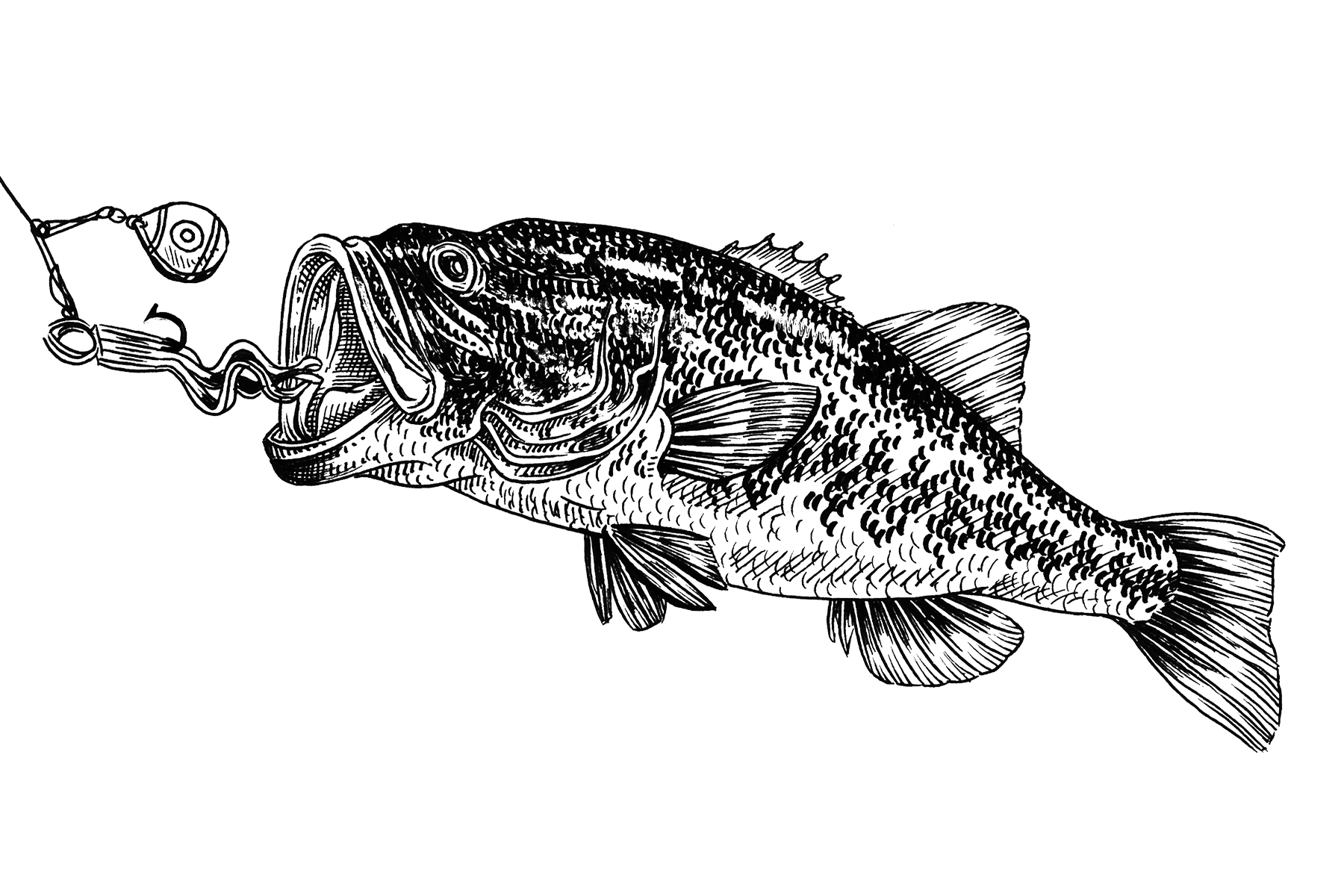 Largemouth Bass
"Bass grow according to food type and volume, not age. A 3-pound bass can be the same age as a 9-pound bass," Robinson says. "Their average life expectancy is about 15 years." They are a top predator, feeding almost exclusively on other fish and crawfish as adults.
Habitat: "The reason why you see bass fishermen walking lakes and driving around is because bass are hunters," Robinson says. "So they roam looking for food." They can usually be found around vegetation, rocks, docks, and deeper water. In the spring, they tend to migrate to shallow water to spawn.
Bait: The best options for live bait include minnows, shad, worms, and crawfish. Artificial baits that mimic the normal prey of largemouth bass are also effective, so choose naturally colored jigs, crank baits, swimbaits, or frogs. "My favorite artificial bait is plastic worms," Robinson says. "Texas rigged!" (See "The Origin of the Texas Rig" on p.86 for more on what she's talking about.)
Gear: Use a medium action rod, 6 to 7 feet in length, with a spinning or baitcaster reel. Robinson's preferred line is a 16- to 20-pound flourocarbon (invisible in water) or a 20-pound braided line (very thin, durable, and can tie and hold very strong knots).
Where to Find Them: Joe Pool Lake, Lake Fork, White Rock Lake, Lake Lewisville
Jaz's Honey Holes
Robinson's North Texas faves range from neighborhood ponds to the state's biggest trophy bass lake.
Lake Lewisville
White crappie and white bass are common here, and you can also find largemouth bass, hybrid striped bass, and blue and channel catfish. White bass tend to school in the main lake; for a cheap fish finder, simply follow the seagulls. Head to Hickory Creek near the city of Lake Dallas for hybrid striped bass, or to the northwest fork of the lake (the original Lake Dallas) for catfish.
White Rock Lake
8300 E. Lawther Dr.
This 1,015-acre urban lake has a 9.9-horsepower limit on boat motors; anglers may use electric trolling motors. You are most likely to find largemouth bass in the reed beds around the edges of the lake, at the entrances to the feeder creeks, and farther up the Dickson Branch on the eastern side. White crappie are a strong bet in spring, and catfish are a decent option year-round.
Lake Fork
This 27,264-acre reservoir, located 80 miles east of Dallas, is one of the country's premier trophy bass lakes. Of the Texas Top 50 Largemouth Bass list on the Texas Parks & Wildlife site—including the current state record—more than 65 percent were caught here. You'll also find crappie under the lake's many bridges, white and yellow bass, bluegill, and channel catfish. Try nightfishing here during the hot summer months.
Katherine Rose Memorial Park Pond
303 N. Walnut Creek Dr., Mansfield
Named in honor of the former landowner's wife, this park was originally a pecan orchard. Trout are stocked in December, and intro to fishing classes for kids are offered at nearby Oliver Nature Park. The next one is June 18 (ages 3–16, $10).
Red Oak Municipal Lake, Pearson Park 
200 Lakeview Pkwy., Red Oak
Fishing is by pole and line only, and there's a limit of two poles per angler. You'll find largemouth bass, blue and channel catfish, and sunfishes (bluegill, redear, and longear). Every January, the pond is stocked with several thousand trout.
Lakeside Park Pond
515 Hill City Dr., Duncanville
You'll find the pond on the northwest corner of this 51-acre park. There's a covered pavillion nearby with picnic tables and grills for use. Channel catfish and trout are stocked every two to four weeks during summer and winter.
Joe Pool Lake
Situated between Cedar Hill and Grand Prairie, this 6,469-acre lake has a depth of 75 feet. White bass, white crappie, and channel catfish are common here, but largemouth bass are the most popular with anglers. The bulk of the submerged timber—the largemouth bass's preferred habitat—is in the upper third, where it was left when the lake was filled. You'll find crappie under the two bridges, and white bass clustered in the southernmost tip.
Lake Tawakoni
10822 FM 2475, Wills Point
Predominant fish species in this 37,879-acre reservoir include striped and hybrid striped bass (which are stocked annually), white bass, catfish, crappie, and largemouth bass. Cover such as piers, boathouses, vegetation, and trees is limited, which means largemouth bass tend to congregate around what's there. Especially during the winter, you've got a good shot at a trophy blue catfish.
The Origin of the Texas Rig
The now ubiquitous rubber worm started life in 1949 in the Akron, Ohio, basement of Cosma and Nick Creme. At the time, "worms" were predominantly live bait. Other inventors had tried their hands at stiff rubber re-creations, but Nick saw potential in new chemical compounds being created by DuPont in Cleveland. Through trial and error, the Cremes developed a polymer mix that had the wriggle of a real nightcrawler. The original purple Wiggle Worm came with a three-hook harness, but customers could also buy replacement worms sans hooks. Both options were quickly available via mail order.
The same year the Cremes invented their lure in Ohio, Lake Tyler was created in Texas. When the reservoir was dammed, it flooded acres of the Piney Woods, providing perfect cover for bass. The only problem was that hooks would get hung up on the branches of the submerged trees. The story goes that an adroit angler took one of the hookless Wiggle Worms and devised what came to be known as the Texas rig: he poked the hook through the nose of the worm, pulled it through the other side, then rotated it and tucked the barb back into the lure's belly. Then he attached a bullet weight to the line just above the nose of the worm. Brush was suddenly no bother, and the bass couldn't resist it.
Within a decade, the Cremes followed their lure to Tyler, which, after the state's construction of many more large reservoirs, had become the center of the bass fishing universe. After Nick's death, the Creme Lure Company merged with Knight Manufacturing, another family-owned business in town. You can still buy the original Scoundrel design, but it now comes in dozens of colors, ranging from Pumpkin Seed to Disco Violet.
Where to Get Your Gear
Angler's Pro Tackle & Outdoors
After corporate careers, Patty and Rick Wallace opened their paddlesport and fishing biz in 2009. Pick up a NuCanoe, a Shimano spinner, and a Savage Gear 3D Suicide Duck.
6238 Rufe Snow Dr., North Richland Hills. 817-503-2333.
Bass Pro Shops Outdoor World
The Grapevine outpost came first, but the Garland one sits right on Lake Ray Hubbard. The biggest lures? A 13,000-gallon saltwater aquarium and the boating center, where you can get yourself a flat-bottom fishing boat (or party barge).
2501 Bass Pro Dr., Grapevine. 972-724-2018; 5001 Bass Pro Dr., Garland. 469-221-2600.
The Colony Scheels
This chain opened its only Texas location—and, at 331,000 square feet, the world's largest sporting goods store—in The Colony in 2020. In addition to finding all your fishing gear, you can hit the arcade, play a round of rollerball, and ride the 65-foot Ferris wheel.
4450 Destination Dr., The Colony. 469-854-7500.
Fishin' World
In 2013, Robert Carter bought the business from Key Puckett (who started it in 1970) and moved it across the street. Carter carries rods, reels, and freshwater tackle. But he's all about the bass.
4402 W. Lovers Ln. 214-358-4941.
Joe's Bait & Tackle
Joe Flowers opened his shop in March 2020. He offers up live bait, hard bait, custom bait, and weekly Facebook Live videos full of fish tales. Pick up a gift bag packed with goodies for Father's Day.
206 W. Hundley Dr., Lake Dallas. 214-897-5040.
Southwestern Parts & Service
This family-owned operation, with more than four decades of experience, has grown into one of the largest fishing reel repair companies in the world. They can source the part you need or have a technician set your reel to rights.
605 W. Mockingbird Ln. 214-630-8161.
recipe
Jaz's Skillet-Fried Crappie
Ingredients:
2/3 cup yellow cornmeal
1/3 cup flour
1/4 teaspoon paprika
1/4 teaspoon freshly ground black pepper
1/4 teaspoon garlic powder
1/2 teaspoon salt
5–6 fresh crappie (or catfish) fillets
1/2 cup yellow mustard
Canola oil for frying
Lemon wedges for serving
Directions:
Combine first six ingredients in a bowl. Spread mustard over fish fillets and then coat them with the dry mixture in the bowl. Heat oil in cast-iron skillet to 380–390 degrees. Drop fillets in oil a couple at a time and cook for about 3 minutes on each side until golden-brown and cooked through. Transfer to a paper-towel lined plate. Serve with a squeeze of lemon.
Get the FrontRow Newsletter
Get a front row seat to the best shows, arts, and things to do across North Texas. Never miss a beat.
Author
Kathy Wise has been the executive editor of D Magazine since 2016. At various points before that, she was a…