Travel to the End of the Rainbow
This month, the Japan-born, Dallas-based artist Nishiki Sugawara-Beda will have a solo exhibition, "Pot of Soot at the End of the Rainbow," at Cris Worley Fine Arts. The SMU professor works with traditional sumi ink, which is made from fine carbon soot. "It's often used in calligraphy," Worley says. "Her practice revolves around its usage and honoring this longtime tradition." Through Aug. 20.
Cris Worley Fine Arts, 1845 E. Levee St., Ste. 110. 214-745-1415.
Host a House Party
"House parties are totally underrated, but post-COVID they are a great way for people to get back into being social without being overwhelmed by too many people," Worley says. "They foster more meaningful conversations and binding opportunities between people. I've always said that you can have the most fun in the smallest places. And if you throw in the idea of a potluck, it makes people share on a really basic level that is communal and fun." Her shared dish of choice is a childhood favorite. "I grew up eating tomato aspic, which is this weird gelatin tomato salad. That probably sounds really gross to some people, but it's actually really good cold on a hot summer day."
Get Animated
Artist Celia Eberle, represented by Worley's gallery, currently has an installation titled "Waiting for Robot" in the public gallery at the Nasher Sculpture Center. "It's where the shop used to be when you first walk into the Nasher on the left-hand side," Worley says. "The installation revolves around the rise of robotics and artificial intelligence. What's kind of funny is that the way she articulates all this is through very lo-fi animatronics. These little tiny dancers are dancing around this giant hand that is conducting them like a puppetmaster. And when I say 'dancers,' they're like really quirky, strange little mutant-looking toys that she's put together with all these various found materials and motors." July 23–Oct. 2.
Nasher Sculpture Center, 2001 Flora St. 214-242-5100.
Update Your Playlist
"I recommend trying out music that is unfamiliar to you. During COVID, I came across a jazz ensemble that's been around for a long time but that's kind of obscure: Bohren & Der Club of Gore. The name sounds like it's heavy metal goth music, but it's not—it's actually really smooth, a genre they call dark jazz, which is inspired by composers like Angelo Badalamenti. Badalamenti was David Lynch's go-to composer for a lot of his films in the '90s and his series Twin Peaks."
Find Your Signature Fragrance

 
Worley suggests stopping by The Conservatory on Two at Highland Park Village for a personal consultation with Shasa Mitcham, the "Master of Nose." Among his curated collection of candles and fragrances, she discovered her favorite scent, Terroni by Orto Parisi, which has an earthy profile inspired by the volcanic soil around Mount Vesuvius in Italy. "I have a secondary passion for fragrance," she says. "It's just a hobby that I really started to hone during COVID. It's kind of like wine, except way less calories. I think you can be a connoisseur of fragrance, too. It touches on some of the same senses in a way, because our palate and our olfactory senses are so interconnected."
The Conservatory on Two, 100 Highland Park Village, Ste. 205. 972-863-8590. 
Try an Obscure Mezcal
"If you do want to get out and in the heat, I recommend the mezcal bar over in Fair Park called Las Almas Rotas," Worley says. "It's been around for several years, but it's really turned out to be a neighborhood staple over there. They offer mezcal choices that are kind of obscure. So kind of like an obscure fragrance, you can get obscure versions of mezcal. But I recommend if you do go, please take an Uber or Lyft."
3615 Parry Ave. 972-685-5666.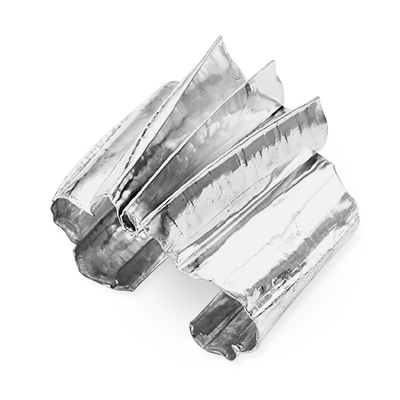 Buy an Original Design

 
"Elizabeth Hooper [O'Mahony] is local to Dallas and has been in the fashion world for many years," Worley says. "At the end of 2019, she launched her jewelry line, which is currently available online. She has some really unusual and beautiful pieces that are all her original designs. They're chunky, and some of them feel '80s inspired, but they're all fairly high fashion."
Pleat cuff, $1,425
Buy at Elizabeth Hooper
Get the FrontRow Newsletter
Get a front row seat to the best shows, arts, and things to do across North Texas. Never miss a beat.
Author
Taylor Crumpton is the former online arts editor for FrontRow, D Magazine's arts and entertainment blog. She is a proud…