Jessica Burnham, a friendly but no-nonsense woman in her mid-20s, arrived at the corner of Elm Street and Good-Latimer Expressway a few minutes ahead of schedule. It was a sunny spring day, and the intersection looked much like it does every weekday after lunchtime. Cars hustled up and down the six-lane divided boulevard that cuts through the far western edge of Deep Ellum. Behind Burnham, a homeless man milled about the parking lot at a corner 7-Eleven, while across the street, the sidewalks in front of a block of early 20th-century brick storefronts sat empty on their way to the elevated I-345 spur. 
That elevated highway today creates a boundary, but the road actually runs directly over the spot where Elm Street and the old Central Track railway once converged. It was the corner where, in the 1920s, Blind Lemon Jefferson would sit and play his guitar, and where the famed Gypsy Tea Room incubated Deep Ellum's legendary early music scene.
For years, DART wasn't sure how to pay for the thing. It began preliminary planning for the line in 2007 but placed it on the back burner when the financial crisis hit. 
But Burnham wasn't waiting on the corner that afternoon to root out the cultural history that lies buried beneath a tangle of city streets and highways. She was there to demonstrate how a new piece of infrastructure—an extension of the Dallas Area Rapid Transit's downtown light rail line—would impact this mishmash of concrete islands surrounded by swirling currents of traffic. With a newly minted MFA in Innovation Studies and Applied Design Research from the University of North Texas, Burnham became the executive director of the Deep Ellum Foundation in June 2015. After an alignment approved last fall by the Dallas City Council and DART board showed the new downtown rail line swooping under I-345 and up Good-Latimer, Burnham began wondering how, exactly, that was all going to work. So she contacted Stephen Knobbe, an engineering consultant working on the downtown line, as well as DART project managers Ernie Martinez and Renee Esses, and DART community affairs representative Chris Walters. She invited them to come stand on the corner with her and explain how a light rail line could possibly fit into this crowded intersection.
As they watched the traffic, Burnham pointed out details the engineers might miss. In the mornings and afternoons, cars queue up on Elm Street and turn onto Good-Latimer after dropping off and picking up students at the nearby Uplift Luna Preparatory academy. At night, the popular Prophet Bar on the west side of Good-Latimer continues to draw more pedestrians to Deep Ellum's outer edges. She spoke about the conversations she has been having with Downtown Dallas Inc. about improving connectivity under I-345. She suggested the DART line would be yet another obstacle.
"Does this get better or worse at night?" one of the engineers asked as they watched the steady stream of traffic.
"A million times worse," Burnham said. "This is an entertainment district!"
As they watched the intersection, everyone took notes. Later, Martinez would report in an email that "our meeting was at 1 pm, which was not peak hours, and we still witnessed very congested roads, pedestrian traffic, and almost one very bad accident." Burnham came away from the meeting with the feeling that she had managed to get DART's attention, but she was also concerned. The plans for the new downtown light rail line had already been submitted to the Federal Transport Authority as part of a grant application. That alignment had been drafted after years of conversation and compromise between DART, city officials, and downtown stakeholders. And yet it seemed like one of the project's most obvious challenges—how to link the new line with the existing Deep Ellum station—hadn't even been considered. 
"It was a little disconcerting," she says. "It was like they had only looked at Google Maps."
There is no more pressing infrastructure project facing Dallas today than the development of the second downtown DART light rail alignment, which is referred to by transit planners simply as "D2." The best evidence of its importance is that everyone—Dallas city government, DART bureaucrats, downtown neighborhood activists, suburban mayors, regional economic boosters—agrees it is needed. DART's light rail system was designed in such a way that all of its various lines, which now stretch from DFW Airport to Rowlett, Carrollton to South Oak Cliff, run though a single choke point in downtown Dallas. As a result, DART's rail system, the longest in the nation, has already reached capacity.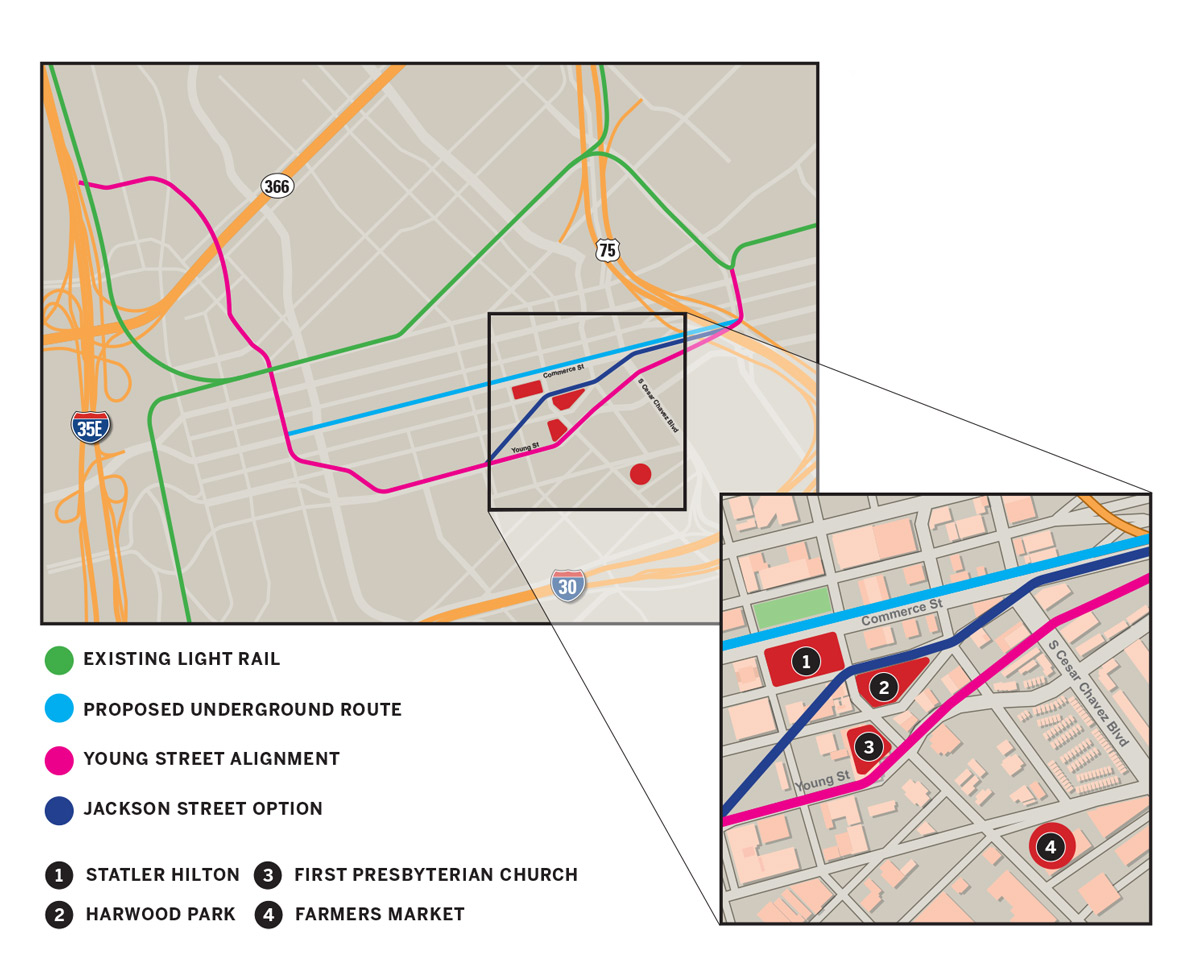 A second downtown alignment will allow faster and more frequent service throughout the system, but it has also been lauded as a way to drive development to neglected corners of the Central Business District, a way to connect DART to a planned high-speed rail terminal, a way to finally give Dallas' city center something like a well-functioning rail-based public transit system. D2 should be a win-win-win for city, region, and DART—but for, of course, the money. 

For years, DART wasn't sure how to pay for the thing. It began preliminary planning for the line in 2007 but placed it on the back burner when the financial crisis hit. During that time, it was revealed that cost overruns resulting from DART's race to deliver light rail to all of its suburban member cities had drained the agency of roughly $1 billion in capital reserves, the equivalent of more than twice DART's entire annual operations budget. In March 2010, the agency completed a draft environmental impact statement for D2. It was a plan, but funding projections kept pushing back its completion date until some hazy horizon around 2030 or beyond. 

In early 2015, however, a window opened. The Federal Transit Administration announced a grant program that would dole out roughly $2 billion each year through 2020. Although the program was created to help some of the nation's oldest public transportation systems, DART officials recognized that the D2 project met many of the grant's requirements. It was a long shot, but DART president and executive director Gary Thomas believed DART's best chance lay in getting its application in early, when competition for the funds would be lighter. DART created a plan that lumped three projects costing nearly $1 billion into a package that included D2, a downtown streetcar, and an extension of existing station platforms to allow DART to run longer trains. It submitted applications for D2 and the platform extensions to the FTA in 2015. 

DART did have an advantage. Its plan was relatively cheap, and it already had a draft environmental impact statement that was completed in 2010. To get the application ready for the feds, all the agency would have to do is run that plan through a public meeting process and get the Dallas City Council and the DART board to sign off. D2, once lying on a distant horizon, suddenly looked like it was within reach.

The first time the Rev. Joe Clifford, pastor at First Presbyterian Church, heard about D2, it was little more than a spiderweb of multicolored lines running this way and that through the largely forgotten section of downtown where his church has sat for more than 100 years. Located at the corner of Young and Harwood streets, First Presbyterian is at the literal and metaphoric crossroads of the history of downtown. Its neoclassical facade is one of a number of historic buildings on Harwood that hearken back to the days when the neighborhood was on the developing frontier of a bustling and rapidly expanding city. Today, First Presbyterian sits a couple of blocks south of the Statler Hilton, the high water mark of downtown's urban renaissance, and a few blocks north of the Farmers Market, which exists like a colony of urban pioneers dwelling in cookie-cutter townhomes sprouting from virgin dirt once occupied only by vegetable vendors and vagrants.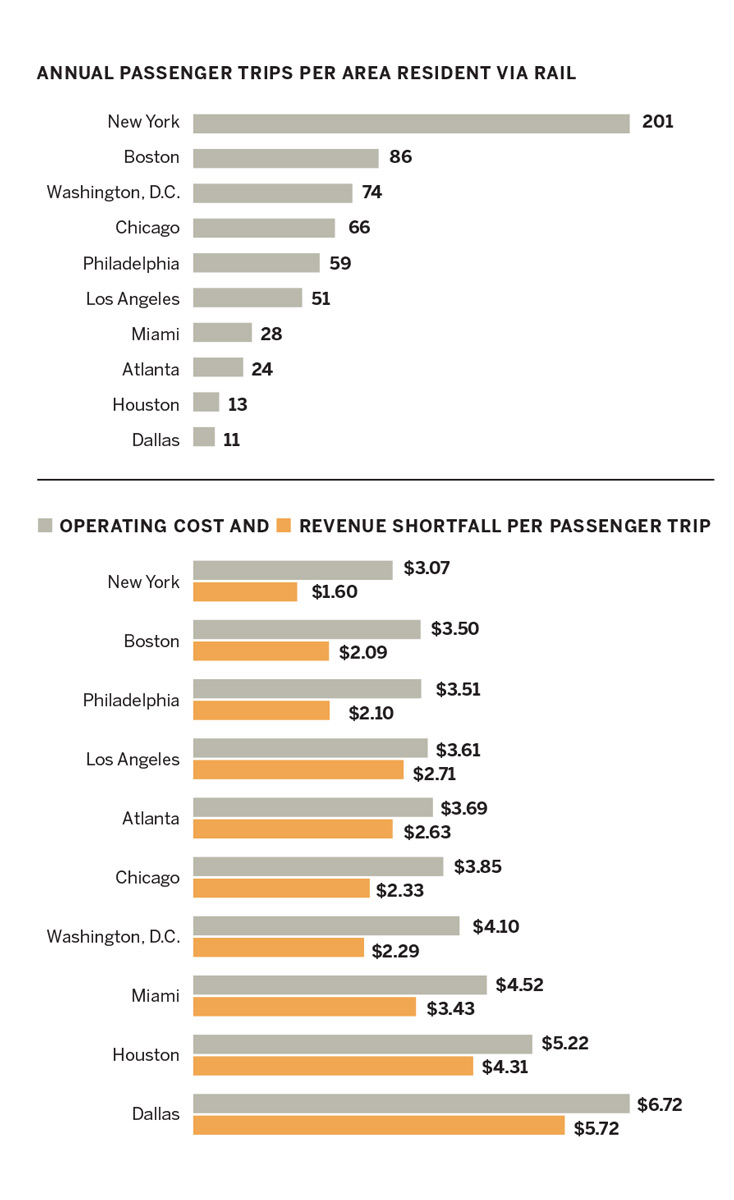 From 30,000 feet, First Presbyterian's corner doesn't look like much. But on the ground there's a lot going on: a soup kitchen, a homeless resource center, an outdoor amphitheater, and plans for a street culture museum located in some old warehouses, including the former Warner Bros. distribution center that once served as a makeshift studio where bluesman Robert Johnson recorded a few tracks that transformed music history. (Disclosure: the wife of D Magazine editor Tim Rogers does PR for the soup kitchen, which is called The Stewpot.) But when DART planners looked at the downtown map, they saw how Young Street gently curves past the empty lots and mothballed relics of Dallas' low-regarded history. It was as if some traffic engineer in the 1970s had pre-designed the road to accommodate a future rail line. 
The Young Street alignment would be a disaster for First Presbyterian. It would force the church to surrender a parking garage and abandon several classrooms and meeting rooms to make way for trains. The line would separate the church sanctuary and offices from its homeless-outreach facilities across the street. Others, too, would lose property. Residents living in a brand-new strip of townhomes farther down on Young, near the Farmers Market, would be forced to surrender their homes to make way for the DART line. 
Tanya Ragan, a Farmers Market property owner and co-founder of a downtown neighborhood coalition, says that in the years since DART completed its environmental impact statement and pieced together its federal grant application, the situation on the ground changed dramatically. "We were looking at maps that were so old," Ragan says. "They were going off of aerials that show dirt where now there is development."
In Rev. Clifford and Ragan, DART found worthy foes. Thomas, the DART president, received a letter from Attorney General Ken Paxton equating preservation of First Presbyterian's property to the church's right to protection under the separation of church and state clause of the U.S. Constitution. Ragan rallied neighbors, who swarmed public meetings in matching red shirts. One Farmers Market resident, Ed Lopategui, an aerospace engineer, showed up to a stakeholder meeting with a map he'd made showing a potential compromise, a route that swung D2 two blocks north of First Presbyterian and the Farmers Market homes. And even though Downtown Dallas Inc.'s transportation committee, stacked with local business interests, endorsed the Young Street plan, when the matter finally reached the Dallas City Council, in September, Lopategui's so-called Jackson Street compromise was deemed the "locally preferred alternative." 
It represented a bit of a crisis for both DART and the downtown business community. The transit agency had hardly studied Lopategui's Jackson Street option, and the proposed route had the DART rail line running along the backside of the $175 million Statler Hilton redo. Still, all but one city council member voted in favor of Jackson. The holdout vote, downtown representative Philip Kingston, didn't prefer the Young Street option, the one that would hit the church. He just couldn't get over a simple question: why can't DART avoid everyone altogether by running the new line underground?
The idea of building a subway in downtown Dallas is as old as DART itself. In the 1980s, as the nascent transit organization flirted with retrofitting a region defined by sprawl with a rail-based public transit system, two distinct approaches emerged. One group looked to cities like San Francisco and Toronto, arguing that a heavy rail (subway) network should be built out to parts of Dallas that had enough density to support public transit. A system with high ridership, they argued, would facilitate a dense and vibrant urban core. The other group advocated laying less expensive light rail down existing right-of-ways to create a commuter rail system that could help relieve congestion on the region's highways. 
John Tatum, a real estate developer who was on DART's board of directors in the 1980s and advocated for going with a subway, says they ran into tough opposition not only from suburban politicians but from North Dallas leaders who saw the city's future tied up in the steady northward march of growth. "Downtown was seen as a competitor with the suburbs," Tatum says. "The point was, get as many miles of rail to the suburbs as fast as possible."
In 1987, Tatum and eight other members of the DART board were ousted from their seats. The agency would move forward with the light rail plan, but a compromise was struck with Dallas. The 1990 interlocal agreement between DART and Dallas set certain thresholds—ridership numbers, train frequencies—that would trigger the construction of a subway along Elm Street. Each year, DART was to set aside money in its general budget so that by 2006 there would be enough money to take the trains underground. Until then, DART's trains would pass through a street-level route running behind office buildings and parking garages, traveling through existing intersections, stopping at stoplights, and sharing some blocks with cars as they made their slow journey through downtown on their way back out to the suburbs. 
Light rail construction started in 1990 and continued steadily for 25 years, racing out along existing 19th-century rail right-of-ways to far-flung corners of the sprawling region. Today, with 90-plus miles of rail, the light rail system is the nation's largest. It is also the nation's most inefficient. In a peer-to-peer comparison study compiled by a Chicago-based transit agency, Dallas ranked at or near the bottom in terms of passenger trips, operating cost per mile, and fare recovery rate among 10 major U.S. cities. In terms of total miles ridden by passengers, the longest light rail system in the country came in dead last. 
Even infrequent DART users encounter frustrations that stem from what seem to be common sense oversights. Why, for example, does DART run along the edge of Dallas Love Field, and yet there is no way to directly access the airport from the train? Former Dallas city council member Angela Hunt says these decisions boil down to a logic that has driven DART's policy and vision from the early years. In applying for federal grants, the agency keeps its wish list for projects short and modest, lest those projects get overlooked completely. "It is a little fearmongering—playing on fear of inadequacy and fear of losing out—and it works every single time," Hunt says. "But it makes more sense not to go forward and get easy money than to make a billion-dollar error in transportation planning."
DART, however, doesn't see the lack of service at Love Field as a billion-dollar error. Since 1999, the agency has commissioned a steady stream of reports by UNT economists that laud DART's impact on economic development in the region. The reports cite the agency's capital expenditures and ongoing development near DART stations to claim huge growth. The latest report, which came out in 2014, trumpeted $3.8 billion in upcoming developments that can be attributed to the presence of DART rail stations. 
What the reports don't make clear is the distinction between growth driven by DART and growth driven by the rail line's proximity to an ever-expanding highway network. In fact, off the record, real estate developers love to talk about how a succession of owners of DART's most celebrated transit-oriented development (TOD), Mockingbird Station, have all failed to make a profit. 
DART's Thomas admits that the agency's rapid growth comes with a challenge. The existing network, he says, points toward a potential for how the region could grow in the future. Urbanized pockets of growth around light rail stations, particularly in suburban communities, could help the region slow or reverse its half-century pattern of sprawl. It's another reason why D2 is so important. A second downtown line will improve service and reliability in a system that has expanded to its geographical limits, helping the agency turn its attention away from expansion and toward ridership and efficiency. 
But even if that is all true, there's one big problem: downtown Dallas. 
"Look at what the Bank of America tower is having to do," says Tatum, the developer and former DART board member. "They are building a garage the same size as the existing garage—1,600 cars—because that is what you have to do to put new leases in that tower." If DART is supposed to drive economic development and incentivize the use of multiple forms of mobility, Tatum wonders, then why hasn't more than 25 years of rail expansion translated into a downtown boom? "Why is downtown still a lost opportunity?" he asks. "Why is it not the grandest TOD in the region?"
On September 9, 2015, the Dallas City Council rubber-stamped Lopategui's Jackson Street alternative to the Young Street alignment as the only "locally preferred alternative," or LPA, but what DART officials knew that day—and what they told the Council and DART's board—was that nothing was set in stone. DART officials knew that there are Oncor utility vaults buried under Jackson that will be expensive to move and that the turns added to the tracks to route trains two blocks away from First Presbyterian increased costs so much that stations had to be eliminated from the plans. But most important was what DART officials didn't know: everything else about Lopategui's idea, including what a real design, as opposed to a line that Lopategui had drawn on a map, would cost when environmental reviews and engineering were taken into account.
But the City Council's approval of the Jackson Street alignment changed the dynamic of the discussion over D2. It raised the interests of a number of downtown players who hadn't yet actively engaged in the public meeting process. Property owners like Scott Rohrman and Newt Walker, who have both been acquiring land in the vicinity of Young Street, began to wonder how $1 billion of new street-level infrastructure would impact their investment. Rohrman, one of Deep Ellum's biggest property owners, was concerned that the light rail would tear up the neighborhood. Their conversations caught the attention of the Coalition for a New Dallas, a super PAC run by D Magazine publisher Wick Allison that is advocating for the removal of I-345. The super PAC wanted to know, if the light rail cuts under I-345 at street level, would it prevent the removal of that highway and ruin their dream of stitching together downtown and Deep Ellum with a rebuilt street grid?
At meetings this spring, the new interests began raising their concerns. For people like Ragan, the Farmers Market property owner, the latecomers were a little frustrating. Where was everyone last year, when the neighbors were raising many of these same questions? But some of the questions pushed beyond the scope of the options DART had presented a year earlier. Why was DART pushing the process along so quickly? Why had they set the budget at an amount that allowed only for street-level options? Was street-level light rail the best choice for spurring downtown growth? Why was a subway off the table? Was it because DART, once again, valued the interests of the suburbs over the city? Was DART continuing to chase easy federal money to increase its system capacity, stepping all over urban interests in the process?
If you put these concerns to DART, you hear something of the rationale that led to the Love Field debacle. The feds put the money on the table. Why not grab it? They say a subway would cost $20,000 to $25,000 more per foot than a street-level alignment and point out that D2 will have some underground portions in the western section, where the only way to deal with the busy West End Station is to bury the second alignment. They also point to the fact that any subway system will have to come to street level at some point to connect to the existing alignments, potentially creating an even more divisive and obstructive trench. 
But as much as there is a complicated tangle of financial considerations facing D2, what it all really boils down to is time. "Up until last year, we didn't have a clear definition of what the project was going to look like or how to move forward," says Thomas, DART's president. "There's always flexibility, always change, always ways to make things happen. It just slows the process down. The question is, How quickly do we want a second alignment in place?"
Speed of construction is certainly high on DART's list of priorities. The system has not been able to increase the number of trains passing through downtown since 2010. That has placed the entire network in a bind. But time is viewed differently for downtown advocates. Since endorsing the Young Street alignment last fall, Downtown Dallas Inc. has changed its tune a little. DDI CEO John Crawford says that DART controls the timeline of the current plan to build D2, but that doesn't mean that downtown stakeholders shouldn't try to slow down the process and reconsider all the options. "What we don't want to do is rush into something and make a wrong decision," Crawford says.
That kind of thinking worries council member Lee Kleinman, who sits on the Council's Transportation Committee. Kleinman says he thought he had "washed my hands" of the decision when the Council voted on the Jackson Street alignment. "I don't want to say the train has left the station," Kleinman says. "I'm open to broad advocacy, but I'm not open to the same two people screaming the same thing day after day." It's a once-in-a-generation infrastructure project framed in a new debate about the relationship between the city and the region it spawned, but for Kleinman it all comes down to a value judgment regarding time and money. "It is kind of like a bird in the hand vs. two in the bush. We can dream about something better, and maybe we'll get it and maybe we won't."
All those UNT studies prepared for DART over the years that trumpet the agency's economic success aren't completely baseless. Outside of the evidence they offer that DART has had some economic impact—at the very least as a kind of urban ornament that boosts sprawl-driven development—the studies offer a compelling overview of the successes and failures of other attempts around the country at introducing public transit to car-driven cities. The reality is, not many places are getting it right. Houston ranks as low or sometimes lower than Dallas when it comes to ridership and efficiency. Atlanta's MARTA never fully realized its initial promise. San Francisco's BART staggered for decades before finding traction, and that's in a city that is as dense and economically vibrant as any in the world. And all you need to do is open the website IsMetroOnFire.com to get a taste of the dissatisfaction surrounding the chronically challenged Washington, D.C., system, which was once the most envied, well-financed public transit experiment in the nation. 
Perhaps more significant, the UNT studies point out that the poster child for newer public transit systems, Toronto, has benefited not only from the design of its system but from "strong development controls," a "broad range of public policies to encourage rail-ridership, including restraints on automobile use," "a density of development that's rare in urban areas in the U.S.," and "an almost complete absence of suburban highways."
In a peer-to-peer comparison study compiled by a Chicago-based transit agency, Dallas ranked at or near the bottom in terms of passenger trips, operating cost per mile, and fare recovery rate among 10 major U.S. cities. 
It is easy to imagine what a great public transit system would look like in Dallas. We can conjure up our pleasant experiences with public transit in other cities and drop them into Dallas. We can picture ourselves whooshing beneath downtown on our way from a concert at the Meyerson to the bars in Deep Ellum, or walking from the front steps of our downtown townhomes to a station that links straight to our jobs, allowing us to read the paper and catch up on email. But what we often don't do during this reverie is consider the political and historical climates that nurtured other cities' public transit systems. 
In light of the last 25 years of DART's expansion, it is easy to see D2 as a kind of Custer's Last Stand in an ideological warfare over public transit. But the fight over this bit of train track seems to lose itself too easily in a frustration that is bound up in one of the essential realities of living in a city. As city dwellers, we inherit the ideals, morals, and values of previous generations. Our environment takes its shape from the decisions made by our forebears. They built highways through historic neighborhoods and encircled downtown with them. They saw value and profit in sprawl, in subsidizing suburban development in such a way that it lured investment out of downtown. They worked hard to wrestle DART's long-term vision away from the best interests of downtown Dallas and point it to the suburbs. 
There are a lot of people living in Dallas today who feel alienated by the previous generations' values, and there are many members of those generations who have come to see their own thinking as misguided. But when it comes to a massive investment like a public transit rail network, the reality is that reversing the trend will take more than burying one section of an already built-out system. It will require a fundamental shift in the way our city and region pursue self-interests. The obstacles to that kind of change are large because, as Tatum puts it, with his characteristic candor, "Maybe the guys who own this city like it the way it is."
Regardless of that more profound existential struggle with which Dallas seems to be forever engaged, this city has a tough and important decision to make. Over the course of the next year, we will find out if the federal government will offer DART enough money to build out some version of the D2 alignment. Will we hold out and try to build a subway, or will we attempt to design a half-buried system that minimizes its impact on downtown? Will we accept the money now, or will we invest in the future? A generation or two from now, Dallasites will live in the dreams that we had for them. Will we have given them that one bird, or will we have left them the entire bush?
Get the D CEO Newsletter
Stay up to speed on DFW's fast-moving business community with weekly news reports, interviews, and insights.