As resident after resident spoke into the microphone, their stories were nearly identical. Almost every hand shot into the air when Dale Wood asked who'd heard the thunder as their homes shook. There was fear and anger in their words, and a sense that if the earthquakes had come to Austin, things might be different. They pleaded with the commissioner, trying to reason with him. "It seems to me the only way to figure out for sure if the injection wells are the problem is to shut them down and see if the earthquakes stop," one woman said.
But when it became apparent that answers weren't coming, they slowly stood and walked out of the auditorium, the emptying rows a silent rebuke. McKee signaled to leave, and her niece and nephew escorted her out. "We knew we weren't going to accomplish anything."
But a week later, Porter made an announcement during a commission meeting that caused the residents of Reno and Azle to wonder if perhaps he had been listening after all. He'd heard their stories, he told his fellow commissioners, and now he pledged action to let them know the commission took the seismic activity in their towns seriously. He proposed hiring a staff seismologist to keep the commission abreast of ongoing research. "I would like to direct the executive director to immediately begin a comprehensive nationwide search to find the best candidate," Porter said, looking to his colleagues for a response. A few beats passed. "All right … thank you," Chairman Smitherman said. "Let's go to item 202."
• • •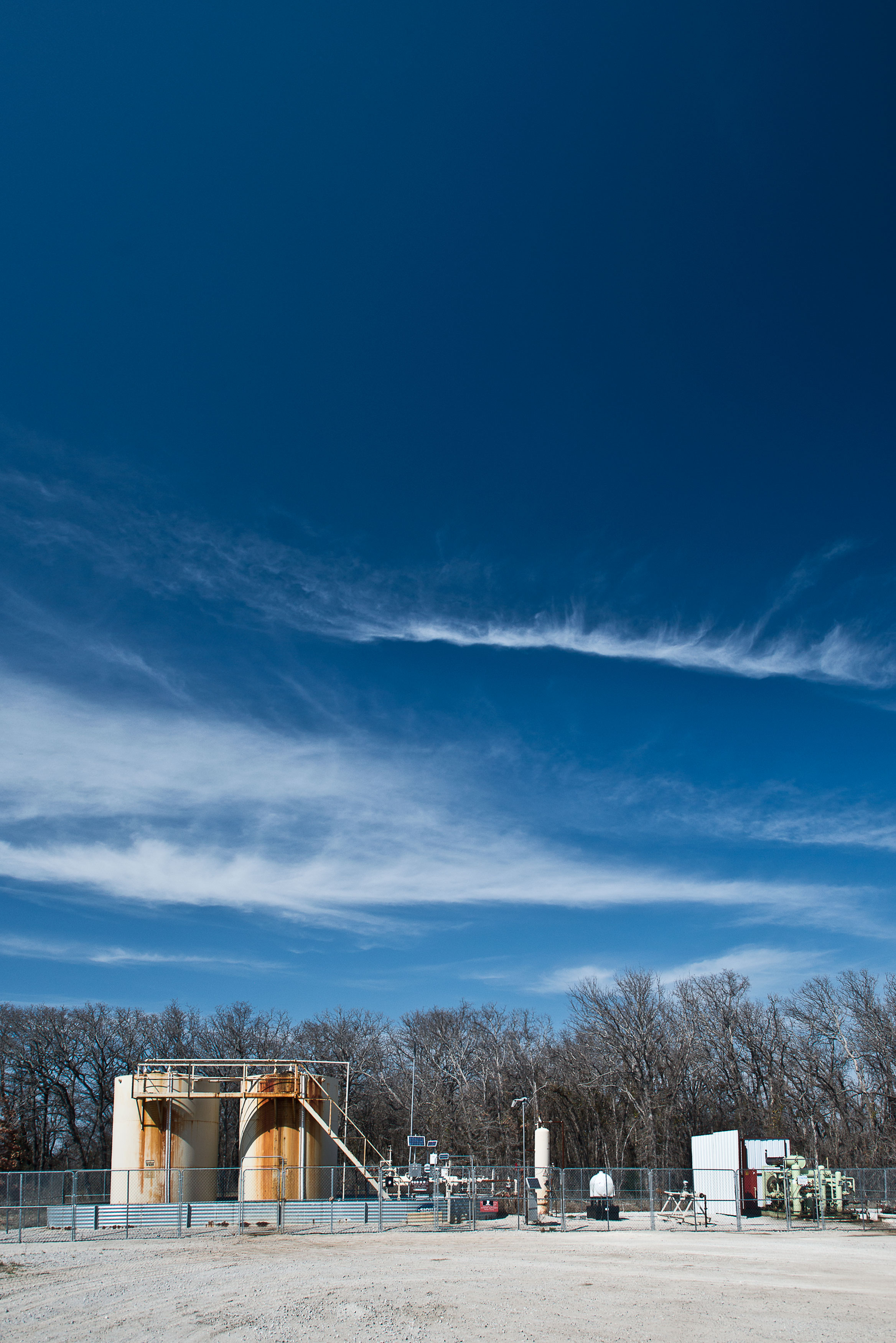 The Texas Miracle began about a mile beneath Wise County, on the other side of Eagle Mountain Lake from Georgianna McKee. George Phydias Mitchell, son of a Greek shoeshiner and considered the father of the shale boom, was then a methodical wildcatter with a geophysicist's taste for experimentation. In 1981, he sank C.W. Slay #1 down into the Barnett Shale and was intrigued by what he found. Under 5,000 square miles of North Texas lay the remains of the Iapetus Ocean, swallowed by the subducting advance of continents that no longer exist. Its organic life was buried hundreds of millions of years ago beneath thousands of feet of rock, and transformed by time into hydrocarbons encased in a hard black shale.

Mitchell saw vast potential and, over the next decade, drilled dozens of wells, probing the shale. He learned through trial and error how to coax natural gas from its pores by wielding the force of hydraulics to open long fractures, first with gels, then with hundreds of thousands—even millions—of gallons of water laced with sand and chemicals. His three-dimensional seismic surveys mapped up to 500 square miles, hunting for the sweet spots where the shale was thick and isolated between boundaries of limestone. Experience taught him to avoid the Ellenburger, a water-bearing formation below the Barnett into which his fractures emptied their pressurized hydraulic power. It was a geologic dead end with no gas but plenty of useless brine.

The Ellenburger did, however, have one very useful feature. The Barnett is a sodden play. When it is completed, a typical gas well may produce 2 million gallons of frack fluid and brine bubbling up from the formation. After that, the flow subsides somewhat. Still, for the rest of its productive life it can yield as many as 1,300 gallons of brine per day. This water is five times as salty as the ocean, and a spill would poison rivers and render land barren for generations, like the fields of Carthage. Handling vast volumes of it is the eternal struggle in the oil and gas fields.

But the Ellenburger, as a reservoir, has an almost inexhaustible storage capacity for the stuff.

"If we didn't have this method of re-injecting saltwater, we could not produce the gas in the Barnett Shale or the oil in the Permian Basin or the Eagle Ford or anywhere else," says Jim Finley of Finley Resources, which operates oil, gas, and wastewater disposal wells across Texas. "It's paramount to produce."

As hydraulic fracturing moved to tight-oil formations in South and West Texas, and to dry gas shale in East Texas, it created a gargantuan waste stream—3.5 billion barrels in 2011, up from 46 million in 2005. Its cheap, effective disposal into deep subterranean realms enabled an energy renaissance in Texas. The state comptroller collected nearly $4.5 billion in oil and gas production taxes last year.  This unlocking of once-untouchable reserves of hydrocarbons has caught on in Arkansas, Pennsylvania, and North Dakota, among other states.

For the first time in 20 years, the United States is producing more crude oil than it imports. Natural gas is cheap, and the supply is plentiful. Terminals for its import are being retrofitted for export. Transporting natural gas via pipeline made billionaires of Dallasites like Ray Davis, the majority owner of the Texas Rangers, and Kelcy Warren, Klyde Warren Park's benefactor. Acquiring mineral rights and interests in exploratory wells and flipping them to majors like Devon Energy put Trevor Rees-Jones, a Highland Park boy, on Forbes' list of the 400 richest Americans.

And none of this would have been possible if the EPA hadn't granted the industry's waste a landmark exemption from the Safe
Drinking Water Act in 1988. The fluid is laced with acids, solvents, and diesel, yet for regulatory purposes is considered non-hazardous. The benzene in the fertilizer industry's waste is regulated as a danger to groundwater. The same compound in oil and gas wastewater is not. A quarter-century later, Texas' regulatory environment could not have been more ideally suited for an oil and gas boom requiring the expedient and inexpensive disposal of billions of gallons of waste. Without it, there is no Texas Miracle.

• • •

For a time, the derrick lights shone in the Azle skyline. The drillers cleared pad sites. They lined up batteries of roaring diesel generators. They trucked in trailers full of sand and excavated acres of freshwater pits. They drilled near the high school and into the golf course. They burrowed beneath the municipal wastewater treatment plant. And the fruits of their work paid for at least half of the town's $4 million fire station. The royalties and lease bonuses paid down more than $2 million on the note for Azle's 18-hole golf course. It covered much of the tab for the town's new animal shelter.
"While you are doing your studies, I would like to ask you to shut these wells downrnand not make us, the citizens of Azle and Reno, the guinea pigs for the study."
And all the while, tanker trucks hauled the wastewater away, per the road repair agreement. XTO Energy would ferry it in 8,000-gallon loads to a disposal well less than half a mile from Reno's northern border. Down it would go, as deep as 10,000 feet, absorbed by the interstices of the Ellenburger limestone, flaring in a teardrop pattern through the formation, pinched at the top and ever widening at the bottom. It would spread outward slowly but inexorably, long after the last truck had emptied its tank.
And the question that the thousands living on this moving land had no answer for was this: did the byproduct of Texas' good fortune find some ancient plate boundary and release energies building for millennia beneath Alan Brundrett's Azle?
Brundrett thought someone had kicked the back of his chair at a city council meeting the first time he felt one. The room went silent. "I think that was an earthquake," he finally told the dumbstruck people gathered in the chambers. The second time, he was watching a scary movie. The windows clattered, and Brundrett swore he leapt a foot out his chair. "I thought it was an explosion."
The 911 call center was inundated. City Hall's phones rang constantly. "At first we're like, 'What exactly do you want me to do?' It's like complaining about a tornado. But once we started doing some research, our eyes got opened."
Years after Brundrett had invited the industry into his town as a councilman, he sat across a table from representatives of XTO Energy as Azle's mayor. The company men told him they'd need proof—hard scientific data—that their well was causing seismic activity. They would require a firmer connection than proximity to the epicenter before XTO would consider plugging an essential piece of infrastructure that cost millions to construct. He began to understand that answers and solutions would be slow in coming.
In late February, the insurance agent and part-time mayor sat in a remodeled church, his desk where the pulpit once stood. His office was decorated with the kind of curios you'd find in a chain shop like Spencer's: a busty mannequin, a life-size green alien, a unicorn sculpture. He rattled off numbers, localities, and magnitudes by memory—a history of vital statistics for what academics refer to as "induced seismicity."
"Common sense says these earthquakes are caused by injection wells," he said. "And if that's the case, they need to be shut down."
His constituents understand massive industry. Many of them worked for blue chips like BNSF Railway and Lockheed Martin. But the packed high school auditorium proved to him that there was a limit to the consequences they were willing to accept. The bewildering appearance of earthquakes had taken a leap past that line. So Brundrett took his case to the Railroad Commission. He met with geophysicists from SMU. He even appeared on The Rachel Maddow Show to vent his frustration over a town hall meeting that he believed had "done more harm than good."
But, in fact, three weeks after the town hall, the residents' disappointment had galvanized them.
To Brundrett's north, Reno Mayor Lyndamyrth Stokes boarded a bus bound for Austin before dawn. Born in Iowa, Stokes is plainspoken and sports a faint dogleg scar on her upper lip, inflicted by an irritable cocker spaniel. She found herself in a curious position. "I didn't ask to get tossed into the ring as an environmentalist." Yet the trainer of dogs and barrel-racing horses was with dozens of anti-drilling activists and locals, headed for the state capitol to bring their case before the Railroad Commission. 
The first chance she got, Stokes strode to the microphone and politely scolded the commissioners. "While you are doing your studies, I would like to ask you to shut these wells down and not make us, the citizens of Azle and Reno, the guinea pigs for the study," she said. "Our houses are not built to earthquake specs. We have no earthquake insurance. We are the ones who suffer the damage. So, please, please shut these down. For once make people more important than an industry."
The others told stories of sinkholes deepening on their land and foundation problems canting their once-plumb homes. One man strummed a guitar as he warbled an interpretation of an Elvis Presley classic: "I'm in Azle … I'm all shook up!" But their audience seemed skeptical.
"This is an area with a lot of karsts in it, which is an interesting geological formation," said Commission Executive Director Milton Rister. "There are other things going on there. We've been experiencing an extreme drought in the state of Texas. I don't know whether that plays a part. I think that needs to be examined. The size of the lake has been greatly reduced. Lakes do have an impact on seismic activity."
Chairman Smitherman informed them that all disposal wells within a 15-mile radius of the earthquakes had passed inspection, save one, and it was miles from the epicenter. They would continue to operate, he said, because nothing in Texas law gave the commission the authority to address earthquakes.
The experience was a punch to the gut for the traveling protest. Stokes boarded the bus home feeling deflated.
On a recent evening, she walks past the warren of offices in Reno's tiny city hall and into council chambers. "We're just Reno," she says. "Just a little bitty spot." She toes a hairline fracture that runs the length of the tile floor and jogs up the wall to the ceiling. Some of the other cracks have been fixed, but she won't let them touch this one.
"I know they won't do anything about it, but I'm not gonna just sit here and wait to get shook apart," she says. "I'm gonna let 'em know every time a home is damaged, every time a new study comes out."
Stokes appraises the crack and decides she might stencil "Earthquake 2013" next to it.
"You know, it's odd," she says. "In Cleburne, when they stopped injecting wastewater, the earthquakes went away. In Ohio and Arkansas, they went away. But I can't get them to stop here."
• • •
Get the D CEO Newsletter
Stay up to speed on DFW's fast-moving business community with weekly news reports, interviews, and insights.