The 10 Most Beautiful Homes in Dallas 2015
Our eighth annual salute to the most striking curb appeal in the city.
Have you seen us? Cruising by slowly in our cars, jotting down your address, snapping photos with our cell phones, nearly rear-ending parked cars as we stare slack-jawed at your gorgeous abode? Have you wondered if perhaps you have a stalker? Have no fear! It's (likely) just us, scouring the city for the most beautiful houses in Dallas. Every year, the editors of D Home literally take to the streets to compile our annual list, and we're pleased to bring you the results of our 2015 search. Next time you see us, feel free to give us a friendly wave. We mean well.
All housing information is from dallascad.org or verified by homeowner.
---
4707 Chapel Hill Rd.
Why we chose it: This English Tudor-style home clocks in at a shade under 10,000 square feet and is situated on more than an acre of pristine land. Though it is but a stone's throw from White Rock Lake, it boasts its own bodies of water in the form of a pool and spa. But we do not judge. We agree that more is more. Like with fireplaces: Why have one when you can have five?
4319 Belclaire Ave.
Why we chose it: We can't deny it. Every time we drive by this house, we start to hum the tune "California Dreamin'." And you can see why. The spacious outdoor areas, minimalist landscaping, tile roof, and arched windows transport us to the West Coast. We know we'd be infinitely cooler if we lived here. But for now, we'll just dream of sipping Chardonnay on the steps while jamming to The Mamas & the Papas.
4428 N. Versailles Ave.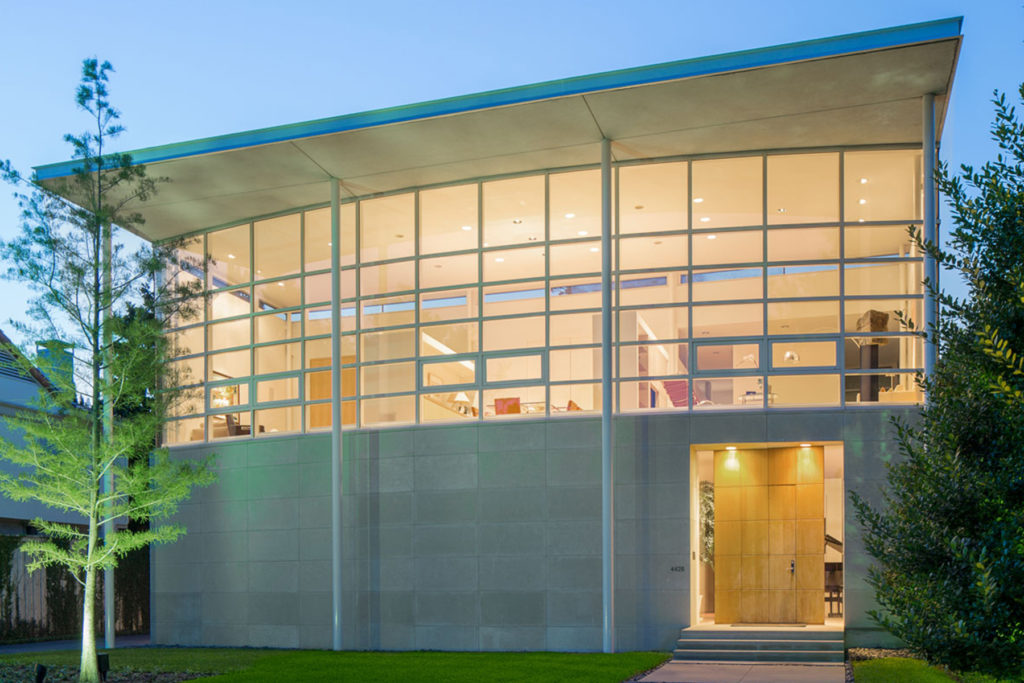 Why we chose it: We drove past this house several times because it's super beautiful—and unexpected—in a sea of pretty homes. The mix of solid masonry and glass with the aluminum roof and wood door makes for a modern house that is more iconic than industrial. Even though this is all about the exterior, we would give the very dear sum of $672.31 (a certain someone's checking account balance) for the chance to see inside.
4342 Manning Ln.
Why we chose it: This house will not be put in a box. Labeled. Characterized. Classified. And if you—like this house—are a bit indecisive, you will love the mashup of styles presented before you: a Mediterranean stucco exterior, a Southern-style veranda and shutters, a Palm Beach-patterned railing, and a modern aluminum roof. And you know what? It works.
1545 W. Colorado Blvd.
Why we chose it: There are many things to love about this house—the way it's situated on a hill; the detail above the first-floor windows; the way the front door is tucked into that rounded entry; the tiled roof; the lovely second-floor balcony. But for us, it's all about that staircase. Every time you walked up those stairs—even if you were carrying groceries—you'd say to yourself, "I am big! It's the pictures that got small."
8422 Forest Hills Blvd.
Why we chose it: An inviting porch? Check. Dormers? It's got those too. A glance around the side of the home even reveals a white picket fence. This Forest Hills farmhouse really has every charming feature imaginable packed into one pristine property. Combined with its beautifully manicured landscaping and the pair of mature trees that perfectly frame it from the street, this house may just be the most adorable in all of Dallas.
3705 Crescent Ave.
Why we chose it: Is there anything quainter than this lovely cottage tucked behind all manner of vines, flowers, and trees? We think not. And the owners of this house know how much people love this place. In fact, they are obviously worried that once you set foot on the property, you may never want to leave. This is the only explanation for the complete
and total lack of bedrooms here according to DCAD.
5354 Wenonah Dr.
Why we chose it: What if we told you that you could take a trip to Martha's Vineyard every day? And what if we told you that trip was just a jaunt up your driveway and into your front door? You would say, "Pass the chowdah, please." We love this home so much we featured the interior in our November/December 2013 issue. And yes, it's just as beach-y and classic on the inside.
4231 Armstrong Pkwy.
Why we chose it: Running for public office is hard. People want to know who you've slept with, your college GPA, and whether you paid the nanny under the table. Why go through all that when you can live in your very own White House on one of the prettiest streets in Dallas? Here, we imagine, it would be rewarding to lord over the folks of Highland Park from the war room in your very own Neoclassical Federal home. Bonus: There are three fireplaces here, so you don't need to bother with shredding compromising documents; you can just burn them.
8359 San Fernando Way
Why we chose it: We D Home-ies love a good modern house. But so many of them start to look alike once you've canvassed the city looking at one after another. Not this singular sensation. The blockish abode utilizes colors (seafoam green!) and materials you don't typically see in modern architecture. And a pass-through that affords a view straight into the backyard from the street just makes us want to stroll right on in for a BBQ. We won't. But we want to.