For the second year in a row, Texas Paint & Wallpaper has teamed with D Home for our annual Life in Color contest. In April, we put the design community on notice that we were on the hunt for smart, fun, cool—and most importantly, colorful—rooms. They delivered. Many of the city's top designers showed off their ingenuity in a host of hues. We saw serene neutrals, lively limes, vivid violets, radiant yellows, and every color in between. The selection process was difficult—some colorful language was even employed—but in the end, five designers stand victorious. In addition to bragging rights, these champions of coloration win membership cards and additional perks from Texas Paint & Wallpaper, and you can see the fruits of their labor on these very pages. 
Blue is the Warmest Color
Location of Project: Pemberton Heights, Austin, Texas
"I have always loved rooms that are deep and dark after coming out of rooms that are light. It changes the mood," says designer Jan Showers. This dining room, completed a few years ago, is in a house of mainly pastel rooms. "The dining room is sort of off unto itself, so color made sense. The homeowner loves navy, and I do, too," Jan says. "We chose Hale Navy by Benjamin Moore, and we went with a light rug. You have to be sure that you have plenty of light in a room like this." Jan says the art plays off all of the colors. "Everything fell into place. All the glass brings light—the chandelier does the same."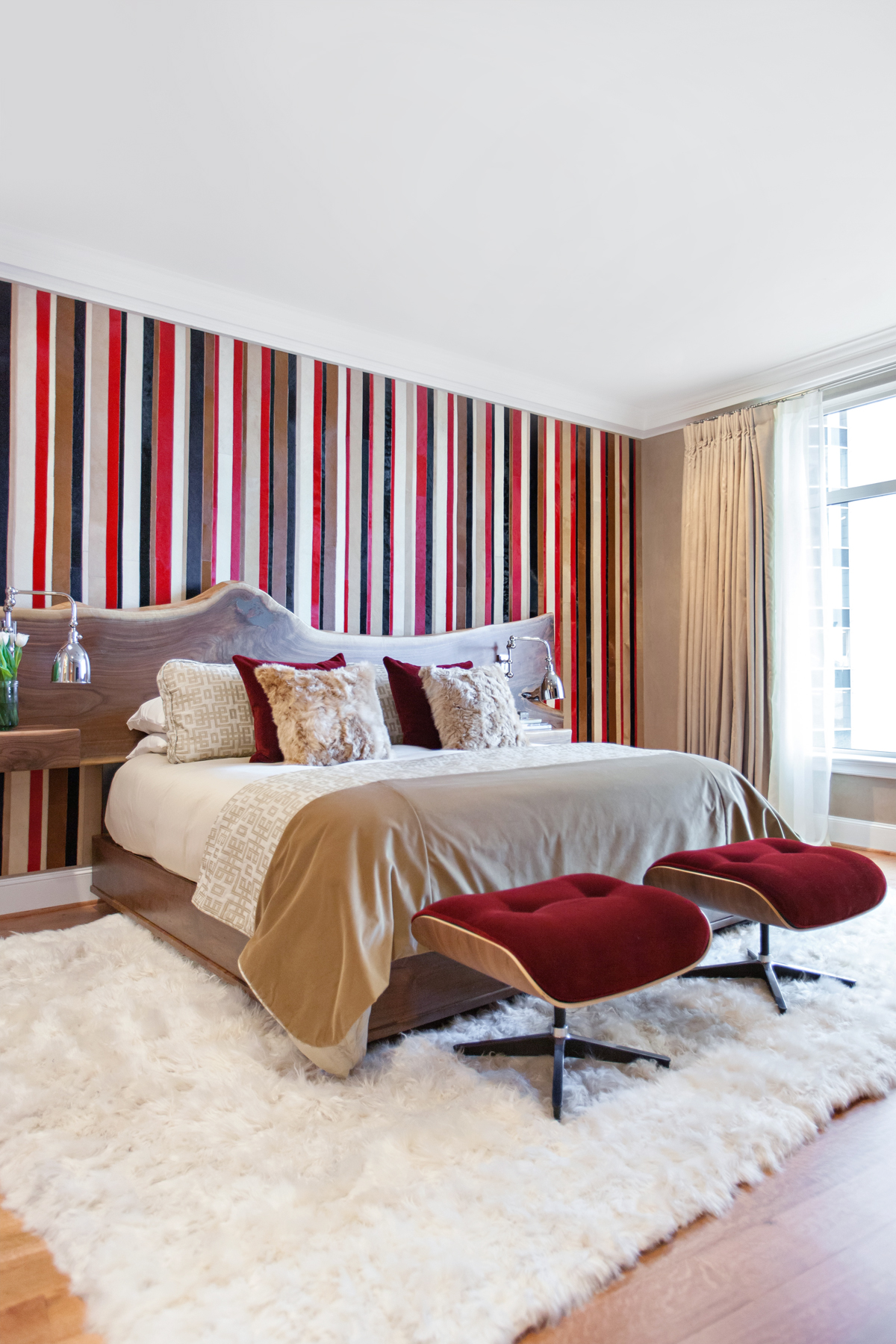 Red Dawn
Location of Project: The Tower Residences at the Ritz-Carlton, Dallas, Texas
When Abbe Fenimore's client told her that his favorite color was red, she wasn't super excited. "It is my least favorite color," she says. "Red can be wrong in a lot of ways if it's not done right." So she went to work, creating a back wall crafted from cowhide by Edelman Leather. In the event that he might sell the condo one day, the homeowner didn't want the leather permanently attached to the wall. "We used some major staples. A team comes in occasionally to readjust it because it pulls," Abbe says. "He loves textures. He's a car dealer. He's very into topstitching, and he's very particular about textures and fabrics."
White Nights
Location of Project: Park Cities, Dallas, Texas
"Older homes in the Park Cities tend to be a bit dark," says designer Tracy Hardenburg. "We wanted to lighten it up and refresh it." So the house—and this room in particular—got a major makeover. The result is a tranquil, calming living area, which probably comes in handy. "The homeowner has four very small children," Tracy says with a laugh. She can't say how order is maintained with so many little ones running the halls, but she can attest to her favorite thing in the room: the art. "I love mixing mediums. I really like pairing photography with an oil."
Into the Lime Light
Location of Project: Upper East Side, New York, New York
Michelle Nussbaumer created this space for the American Hospital of Paris Foundation's 2003 International Designer Showhouse. "It was the first time I had ever worked in New York. They gave me this really small space, and I needed to create a 'wow' moment. You looked through those windows, and you saw a big, beautiful English garden. I wanted to bring the garden inside," Michelle remembers. "Bill Cunningham came and took a picture, and my room was in The New York Times. Everything started for me there."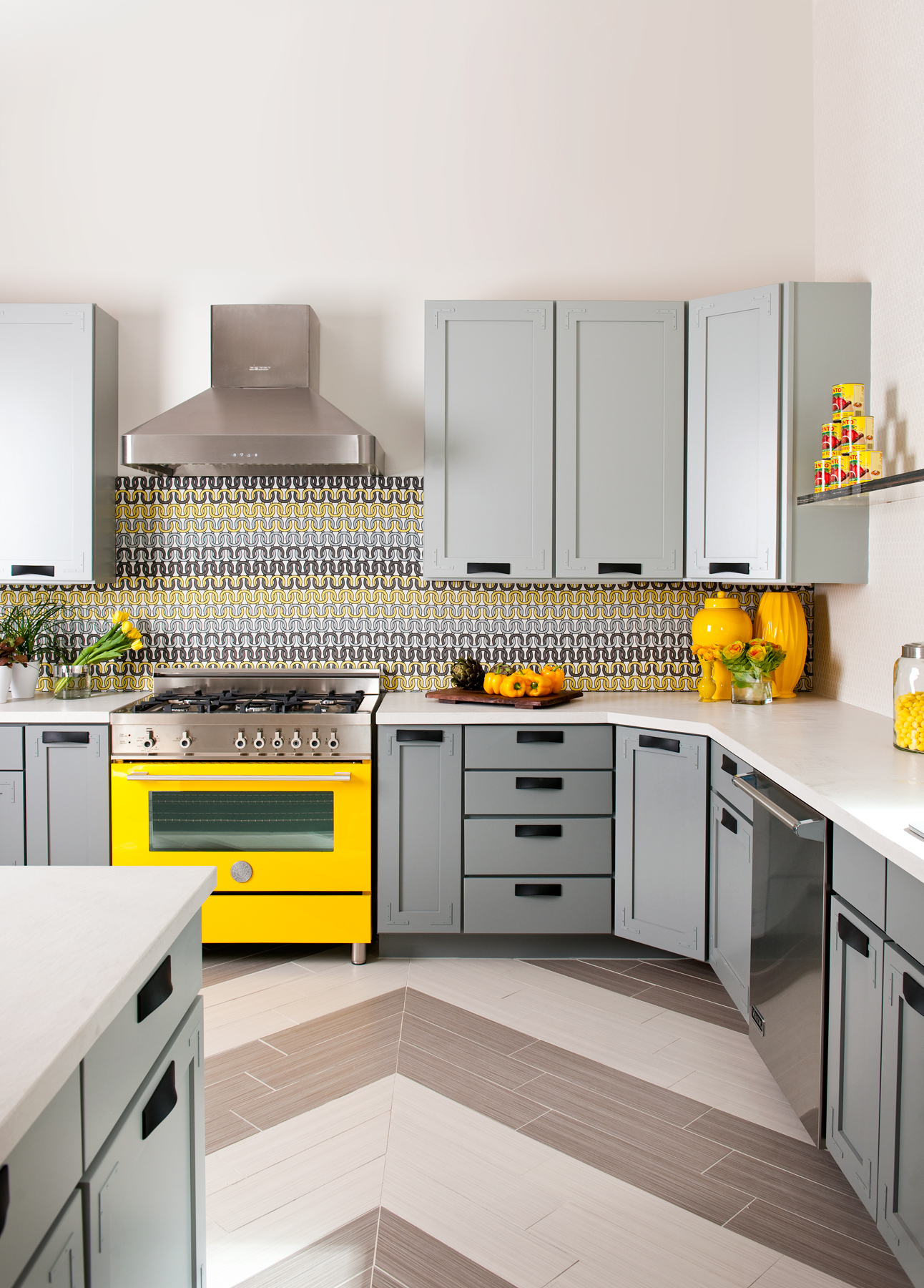 Sunshine State
Location of Project: State Fair of Texas, Dallas, Texas
When Denise McGaha designed this space two years ago for the State Fair of Texas showhouse, she incorporated the trends happening in fashion at the time. To that end, the backsplash is made of outdoor fabric by Trina Turk for Schumacher and covered with glass sheets crafted by Fashion Glass & Mirror. "The idea was that if you got tired of it, you could replace it with a different fabric," she explains. Add elements such as black leather handles on the cabinets, gray campaign brackets, and a sunny Bertazzoni oven, and you've got a fashion-forward space. It's worth noting that this room was built in a tent. 
Get the AtHome Newsletter
Enjoy Dallas' best trends, hot properties, and tips from local designers to help you nest in style delivered weekly.