Just west of the British Virgin Islands in the Caribbean, Saint Barthélemy—or, as it's more commonly known, St. Barts—is a small, French island paradise with about 10,000 residents. Its capital, Gustavia, is an intimate affair best viewed on foot. Rows of high-end restaurants and shops are complemented by views of turquoise waters dotted with yachts and bordered by white sand beaches. Hôtel Barrière Le Carl Gustaf is nestled in a hillside among red-roofed white villas. The only hotel in Gustavía that boasts views of the port, it's known for its French sophistication.
Reimagined by luxury French hotel group Barrière (known for properties such as Les Neiges in Courchevel and Le Royal in La Baule), the hotel reopened in 2020, following renovation after the devastating hurricanes in 2017. Renowned designers Gilles & Boissier created a simple yet welcoming atmosphere by combining a tropical spirit with a hint of the French Riviera and bright and neutral fabrics. (Fun fact: the designers say they went into the project with a metaphorical sailboat in mind).
Steps from the iconic Shell Beach, Le Carl Gustaf hosts a collection of bungalows and suites (including the penthouse) and Villa Diane, a five-bedroom residence with two terraces and an infinity pool that looks over Gustavia Bay, as well as a butler and majordomo.
During a recent visit, I stayed in one of the bungalows and was impressed by the attention to detail. The terraces, roofs, and pergolas allow guests to enjoy the breeze and create the perfect environment for rest and relaxation. Other details include a pillow bar (so guests can pick their favorite options), private decks with plunge pools, and marble bathrooms with luxurious L'Officine Universelle Buly 1803 bath products.
Hotel amenities include yoga classes (which my friends and I enjoyed on a private deck), a gym, and Spa Diane Barrière. There, I opted for the facial, which comes with a personalized skin assessment. The continental breakfast included with your stay is extensive; try the French toast and crepes with salted caramel, if you're up to it. For additional dining on site, you can choose between a lively, Mediterranean-style eatery on the beach called Shellona (try the truffle pizza), and Le Fouquet's, a Michelin-starred Parisian restaurant from chef Pierre Gagnaire.
Le Fouquet's is an experience itself. The wrap-around porch blurs the divide between indoor and outdoor dining. It is almost impossible to pick a standout dish from Gagnaire's menu, which uses local spices and flavors to put a fresh spin on French classics. But it might just be the charred octopus and the truffle pasta. Be sure to participate in the sensory experience of a perfume cocktail (fragrance-inspired drinks), crafted by Emanuele Balestra, the hotel's mixologist and botanist.
Chris Converse's St. Barts Travel Tips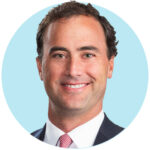 Foley & Lardner attorney Chris Converse discovered St. Barts on a trip with his brother a dozen years ago and fell in love with the beauty and privacy of its pristine beaches. "You can feel as though you're all by yourself," he says. He has made a few return visits since and is planning another with his wife and children this summer. Converse typically rents a villa overlooking the water and makes time for two of his favorite spots: at Le Select where he gets one of its famous cheeseburgers (rumored to be the inspiration for Jimmy Buffett's song "Cheeseburger in Paradise") and a nightclub called Le Ti. "I'm not by any means a nightclubber," he says, "but it's very unique." He recommends traveling to St. Barts during the summer off-season to escape the hot Texas climate and experience the seclusion the island provides. —Kelsey J. Vanderschoot
As for island exploits, I recommend renting a yacht or catamaran and spending the day snorkeling in the crystal-clear waters. Stop into M'Bolo for a bottle of vanilla rum, and head to Le Select Café for one of its famous cheeseburgers. If you are flying in and out of St. Martin, check your bags, head over to Maho Beach, and watch the planes land.
Get the TravelClub Newsletter
Explore the best deals, inspiration, and opportunities for your next travel destination to escape in style.
Author
Bianca Montes formerly served as online managing editor of D CEO, the business title of D Magazine Partners.