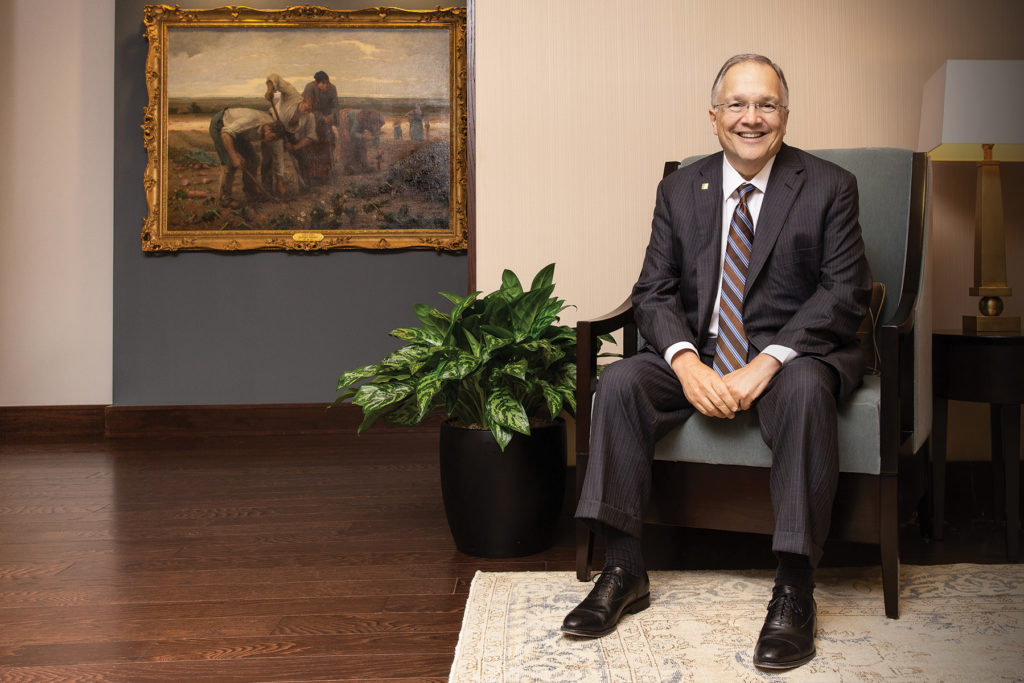 John Carona's Steady Climb to $1 Billion
He founded Associa 40 years ago with a few thousand bucks. He's built it into a property management giant.
John Carona traces his multimillion-dollar business success back to a 1967 Lawn-Boy mower. As an entrepreneurial 12-year-old, Carona bought the signature green mower from a neighbor, the owner of Circle Equipment in Preston Center, on a $10-a-week payment plan. He needed the mower because he needed a job to help support his family.
"I would run to his house every Saturday evening and pay him that week's installment, and he would keep a tab on a little piece of paper that he kept in his house" Carona says.
"I had to do it. My mother and my stepfather didn't have any money. Up until the day they died they never owned their own home and struggled month-to-month, literally, to keep the utilities on. So, I learned from a very early age if you wanted anything, you'd better be prepared to go out and get it yourself."
That's exactly what Carona has done at Associa, a company he founded 40 years ago with only a few thousand bucks. The same passion and grit the former Bryan Adams High School lineman brought to his adolescent landscaping enterprise—and his longtime tenure in the Texas legislature—has helped him turn Associa into one of the largest residential community management firms in the nation.
From the company's low-profile headquarters on North Central Expressway, Carona has been leading Associa on a steady expansion tear, gobbling up 150 other companies in the past 20 years and now managing 12,000 communities where about 4 million people reside. Associa has grown from Carona and a gal Friday to an industry giant with 10,000 on its global payroll. Its 190 branch offices in the United States, Canada, and Mexico control $5 billion in purchasing for its communities, buying everything from sand boxes to street lights.
Associa's revenues have nearly doubled from a reported $400 million in 2010 to $700 million in 2018. Carona expects to hit $1 billion within the next three years.
"I learned from a very early age if you wanted anything, you'd better be prepared to go out and get it yourself."

John Carona
Tom Skiba, CEO of the Community Associations Institute, calls Associa "very active as a leader in our industry." The CAI is a nonprofit that was formed in 1973 to foster competent community associations through education and research. "[Associa is] doing some unique things," Skiba says. "I see a company that is obviously committed to its clients, to its staff."
Associa is a property management company that makes sure homeowner association fees are collected, building boilers function, and swimming pools are clean. To achieve rapid growth, it became an M&A firm and high-tech startup, too. Carona hired former executives from PepsiCo, Humana, and other Fortune 500 companies to help him expand Associa—people picked precisely because they didn't work in the HOA industry, so they could bring fresh, big-scale ideas to his family-owned operation.
Under their guidance, Associa is spending millions on technology and has a team of about 100 techies working at its 10,000-square-foot digital services center in Richardson. At the center, MIT grads evaluate robotics, automation, data strategies, and business development opportunities. Associa also is spending $5 million a year on training to support its growing number of employees, cutting the turnover rate by 25 percent since 2015 in a high-stress industry, making it one of the "best and the brightest" companies to work for, according to a national business group.
"I didn't know this industry existed; I didn't understand the size and scope of the market and its growth,"  says Andrew Brock, executive vice president and chief information officer. He joined Associa six years ago after working on PepsiCo's $3.5 billion systems application products. "This is no shrinking market. It is constantly evolving. While a lot of markets and industries are shrinking, this is one that is constantly growing. Coming here has opened my eyes."
'Always Say Yes'
For Carona, it came down to risk-taking, and being at the right place at the right time. After graduating from The University of Texas at Austin with a double major in real estate and insurance in 1978, Carona returned to Dallas to start his own property management company. It was a comfortable fit for the lawn boy who once pushed a Lawn-Boy.
He financed his startup by borrowing $2,500 against his wife's blue Datsun b210 hatchback, something his wife's parents had given her before their marriage. Carona says he also used credit cards and anything else that would help him defer expenses. "This business was built on nothing," he says.
The company started out with one employee. Carona brought in a steady stream of clients. Then, one day, a Dallas developer who had built two new projects on Skillman Avenue called. They looked like apartments, but they were condominiums, a fairly new concept in Dallas.
Carona said he knew nothing about condominium management, but he took the two accounts anyway and went about figuring out how to "make a nickel" by following some sage advice he got from his father, a South Texas grocery store owner. "Always say yes," his dad told him. "Worry about how you're going to do it later, but always say yes."
A Type-A, list-making kind of guy, Carona figured out the only way to make money in homeowner association management was by volume. By accumulating accounts, you could automate backroom processes and earn investment-grade returns.
"I was so young I didn't really think about the fact that this is a risky proposition," he says. "This might just fail. But I never thought that way. I always thought this is going to be a success no matter what, no matter how long it takes. I truly never thought about failure as an option."
Associa collected so many Dallas accounts, Carona decided to open a branch office in Fort Worth. After enjoying success there, he bought a firm in San Antonio—another good experience. That led him to buy another company, this time in Phoenix.
Carona had the good fortune of getting in the business at the infancy of the homeowner association management industry in the United States. Although the first known HOA was formed in Boston in 1844, they didn't begin to take off until the last several decades, with residents showing that they were willing, and able, to pay for additional amenities and control over their community, in an effort to protect their single biggest investment—their homes.
Improving Property Values
In 1970, there were roughly 10,000 community associations across the country, encompassing 700,000 housing units and 2.1 million people. At the end of 2017, according to CAI, there were nearly 350,000 associations representing 26.6 million housing units and roughly 70 million residents. Texas ranks No. 3 among U.S. states, with 20,000 associations representing more than 4 million residents.
Although association-related homes account for less than 20 percent of the nation's housing stock, it's estimated that up to 50 percent of the new housing construction is under HOAs, mostly in the suburban areas of states like Texas, California, and Florida.
"In these fast-growing states this is a common relationship," says Ron Cheung, a professor of economics at Oberlin College in Ohio who has written several academic articles on the trend. "If you want to live out in the suburbs, it is almost obligatory."
Developers like creating the associations because it gives them more control over their projects and allows them to put in common facilities such as clubhouses, tennis courts, and swimming pools, Cheung says. It is cheaper than putting all the amenities in every home.
Cash-strapped municipalities like them because developers build roads and parks and pass the costs along to the homeowners, Cheung says. Cities also like the fact that homes in HOA communities improved property values by 13 to 18 percent, one study notes.
"I think the big reason for their growth and popularity is that they improve property values," says Daniel Scheller, an associate professor in public administration at the University of Texas in El Paso. "You have to abide by certain rules. No cars in the front yard. Lawn mowed. But you won't have nuisance neighbors and you can realize the profit."
But with what Scheller refers to as a "quiet revolution" in the evolution of neighborhood associations, management complexity and more government scrutiny have also arrived.
Typically, developers turn over associations they form to nonprofit boards made up of homeowners elected by their neighbors. But those boards can quickly find themselves overwhelmed, especially when the community includes thousands of residences. As a result, more HOAs are outsourcing to professionals. Although there is no hard data, turning over the reins to companies like Associa is a growing trend, academics say.
"They are volunteers, and there's no money involved; it becomes like a full-time activity to monitor what is going on," says Jim Gaines, chief economist for the Texas A&M Real Estate Center. "It is an unbelievable burden, administratively."
And although there are random viral stories about a little old lady losing her home to foreclosure because she didn't pay her association dues, or a resident who got a ticket because the pizza delivery guy drove too fast through the neighborhood, most people who live in an HOA are happy.
According to a 2018 CAI survey, 85 percent of residents rate their overall community association experience as positive, refuting "the unfounded and unsubstantiated myth that the community association model of governance is failing to serve the best interests" of its members.
"You have to look at the numbers," Skiba says. "There are a lot of people in Congress who would kill for an 85 percent approval rating."
Carona has written two books on the flourishing of HOAs; the first is titled, In the Common Interest: Embracing the New American Community.  At first glance, Carona, a conservative Republican in a property-rights state, seems like an unlikely champion.
But he says living with an HOA is a conscious choice; if you don't want to join one, there are other neighborhoods you can call home. For many, though, it is in their "common interest" to join an HOA not only to protect their home's value, but a way of life, Carona says.
"Just like any decision, whether you are conservative or liberal, you have to look at all the facts," Carona says. "The minimal amount of conformity required to live in an association, versus the benefits you get, make the decision to accept the conformity a wise one."
Tough, Pragmatic Leader
Carona knows how to make a deal—and a decision. His time as a Texas lawmaker taught him to absorb a lot of information on complex issues and act on it. Carona served for 25 years in the House and the Senate, where he became known as a liberal Republican and built a reputation for being tough, sometimes brash, and always pragmatic. "Sometimes in a relationship you have to establish your territory before you can make things happen; I think that is part of legislating in general," Carona says. "It is not a place for the timid or the weak."
Those management strategies have carried into his leadership at Associa, says Brock: "Most meetings with John last 10 to 15 minutes. A lot of it comes from his time in the Legislature. 'Fill me in on a complex issue in bullet points. Help me understand what my decision points are.' We'll walk through the pros and cons, and he'll make a decision and move."
A great example of this is the implementation of TownSq (pronounced Town Square), an all-in-one app that allows residents to pay their bills, reserve meeting space, talk with management, and connect with neighbors at the press of a button.
After working with a Brazilian company to develop TownSq, Brock and his team walked the idea by board members on a Friday, and two business days later the full force of the company was behind it. Eighteen months later, TownSq was rolled out and put in the hands of 3 million homeowners. The app was so successful, Associa now hopes to sell it to others in the industry.
"The pace and scale of this is unlike anything in the industry," says Brock, the former PepsiCo executive. "I would say we are a very flat organization. There is not a lot of bureaucracy."
Carona's vision led to the creation of the shared services and digital services centers in Richardson where about 600 people work. Shared services provides centralized accounting services while geeks in the digital center push Associa's digital transformation.
"And that comes 100 percent from John. If it wasn't for John saying 'Go! Go! Go!' that entity would not be there. This is his focus and his value. Innovate. Drive. Lead," Brock says.
For Carona, who makes a list every day of things to do, long- and-short term—it's part of the job. "If you run a business of any size at all you're going to take daily risks," he says. "But I often say this around the office to our leaders: 'I would rather you make a decision that turns out to be wrong than to ignore a problem and make no decision at all.' "
Not Ruling Out More Public Service
Scattered throughout Carona's office are stands filled with walking canes. Carona owns at least 200, including a cane once owned by orator and politician Daniel Webster. But he says his favorites are the gadget or "system" canes from the 1800s, ones that do something else. One opens up into a world globe, another a pistol. A cane once owned by a dentist carries inside the drill bits that could be used to work on a patient on the fly.    
Carona loves them; just don't expect him to use one to walk off into retirement anytime soon. His hair is thinning and gray, but Carona's points out he's lost enough weight that he could still fit into his high school football uniform. He may be 63, but he considers himself a youthful 63.
"There are a lot of people in Congress who would kill for an 85 percent approval rating."

Tom Skiba, CAI
Although Carona doesn't totally rule out the idea of running for public office again—something he says he loves and misses nearly every day—his single biggest priority, outside of his family, is growing and maximizing the value of Associa. His lofty goals will require all of his energy. Carona hopes to expand the company to 20,000 communities within five to seven years, including a specific goal to add properties in Manhattan and surrounding boroughs, as well as foreign markets. He's already making technology plays in British Columbia, India, and Brazil.
Doing so will help Carona reach his other milestone—$1 billion in annual revenue.
Carona thinks it's all obtainable. Investment firms agree. It's why they've come knocking. "One of the things that tells me we are on the right track is that our company has been pursued by every major player on Wall Street," Carona says. "People have flown here out of New York to see what we are doing. They like the steady earnings. They like the ever-increasing top-line revenue. … Those are all attractive features to private equity and the large financial service companies."
But Carona, who will own 95 percent of Associa even after his top executive team is fully vested, plans to keep it all in the family. He works at the company with his wife and two oldest sons. "We absolutely are not for sale," he says. "We see the future of the company. We see the opportunity. And with a substantial portion of my net worth invested in the company, if I thought there was any risk, I'd be for some quick diversification.
"But just the opposite," Carona adds. "I couldn't be more bullish on where we are. I see us in a steady climb."