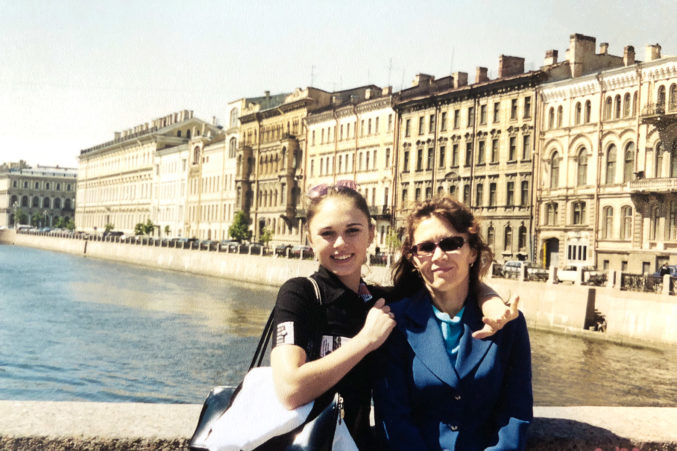 My Roots: Katya Evseev
The director of energy finance at CIT Bank on growing up a gymnast in Crimea.
By Katya Evseev as told to Nusaiba Mizan
Published in D CEO November 2018
Photography courtesy of Katya Evseev
"I was born and raised in Crimea. My parents met at the university there. Both of them studied engineering oceanography and were scientists. They separated when I was 6 years old—the same year the Soviet Union fell apart. Both of my parents lost their jobs. My mom raised my sister and me as a single mom. Times were really tough during the 1990s. We had scheduled power outages at night. Sometimes in the winter, the schools were not heated. I can remember a lot of nights when we'd do homework under candlelight. Despite the hardships, I can surely say that I had a very happy childhood. I got involved in gymnastics when I was 6. I went to school six days a week, Monday through Saturday, 8 a.m. until 2:30 p.m. Then, from 3 p.m. to 6:30 p.m. I had gymnastics practice. Once I started competing, around age 12, I started training twice a day. It certainly taught me discipline and great time management skills.
We moved to the United States when I was 15. I thought Texas would be desert, cowboys, and cacti. When we arrived—I remember it was June 17—and got off the plane, first of all the heat wave hits you. And we went and drove around Dallas, and I thought, "It's actually a city here!" I went to high school in Cedar Hill, then attended the University of Texas at Dallas, which has great academics. I studied finance and worked my entire way through college. I'm very thankful for my mom, and what she has done. I can't imagine taking two kids and moving them to a completely different country, where we don't know anyone and don't even speak the language. When we came here we had nothing, just one suitcase of clothes. And we just worked our way [to] where we are now. It's just unbelievable."