From D CEO May 2018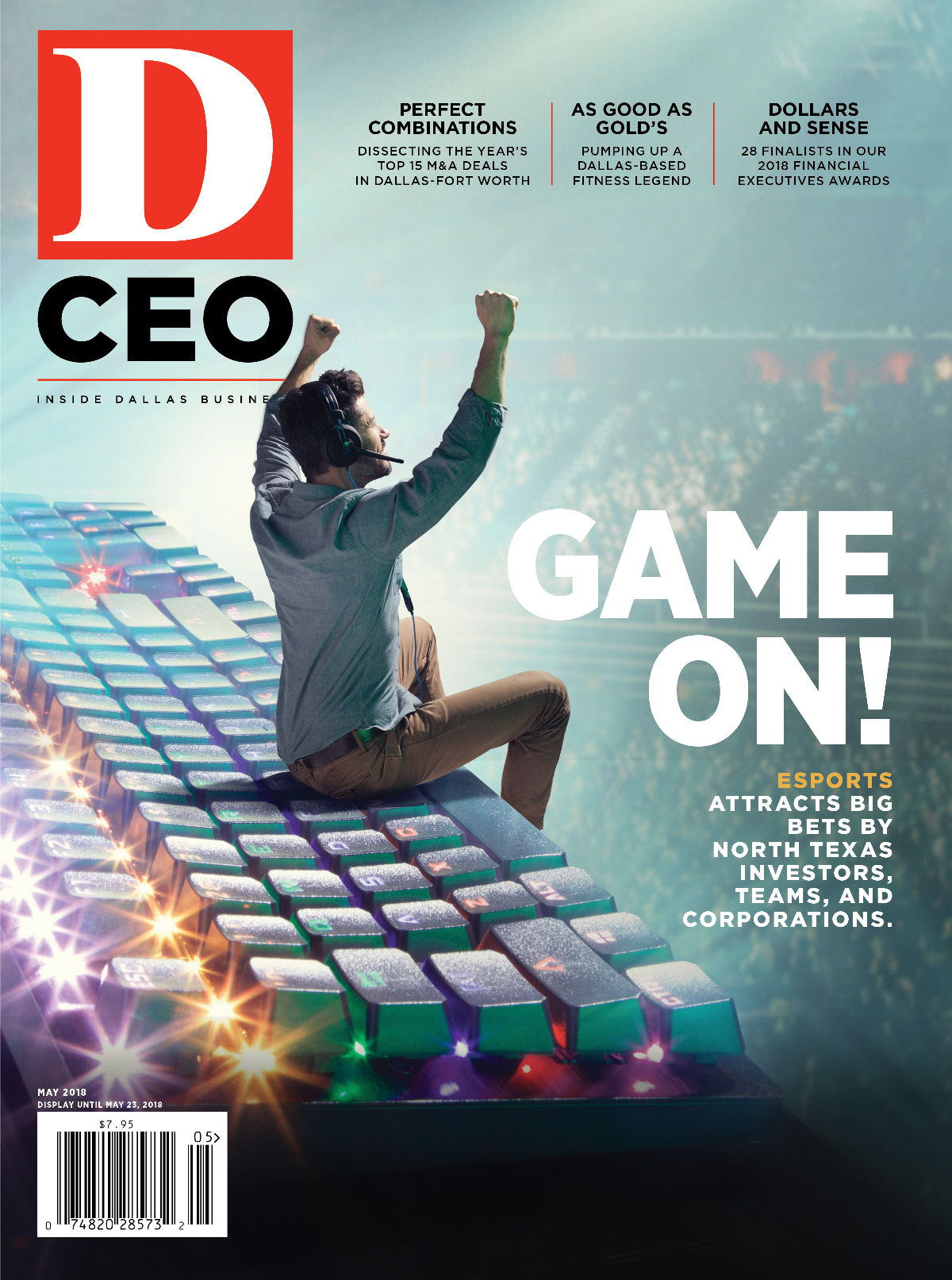 Subscribe
When Gold's Gym CEO Brandon Bean began searching for a new executive team to help him run the iconic, Dallas-based fitness brand two years ago, he handed each interviewee a blank sheet of paper. After more than half a century in business, Bean realized, the venerable brand had grown a bit stale.
So, he challenged each interviewee to write down their ideas on how they'd transform the fitness pioneer for the 21st century. Today, the six-member team Bean assembled has re-energized the brand with new clubs, new products and services, a revamped pricing structure that does away with annual contracts, a corporate wellness program, and a smart-phone exercise app.
Gold's Gym International now boasts 700 locations worldwide. That compares to 689 sites for Irvine, California-based LA Fitness, the nation's top-grossing U.S. health club, according to trade publication Club Industry, and 425 locations for No. 3-ranked 24 Hour Fitness USA, based in San Ramon, California. (Gold's, which is privately held, declines to provide its data to Club Industry and is not ranked on the publication's annual Top 100 Health Clubs list.)
"Strength and results are part of our ethos as a company, and always will be," Bean says of the company's revitalized approach. "It just takes a different form than it used to."
In The Beginning
Gold's Gym got its start in the 1960s in Southern California, just a stone's throw from the Venice Beach pier, where muscle men would gather to work out. One of them, bodybuilder Joe Gold, opened the first Gold's Gym in 1965—long before the term "fitness club" was part of the national lexicon. His small gym soon earned a reputation as a bodybuilding mecca.
Joe Gold sold the gym just five years later, and the club would change ownership multiple times in the ensuing years. In 1977, the docudrama "Pumping Iron" featured a young Arnold Schwarzenegger—a Gold's regular—and helped propel a cult following for the gym and its bodybuilding culture.
Private equity firm Brockway Moran & Partners became the Gold's majority shareholder in 1999, after it was approached by one of the gym's biggest and most profitable franchisees to support a bid to buy Gold's.
"We were immediately attracted to the brand, favorable industry dynamics, and the company's worldwide growth potential," Brockway Moran says on the Gold's Gym website. "However, it was clear that the company was undercapitalized and did not have a deep enough management team to realize its full potential."
During a five-year window, the PE firm bulked up the Southern California gym's corporate-owned footprint from its single location in Venice by adding 37 corporate sites and 100 new franchised sites, eventually bringing the total number of gyms to 500. It also focused heavily on branded products, licensing the Gold's name on 600 products ranging from equipment and clothing to nutritional supplements.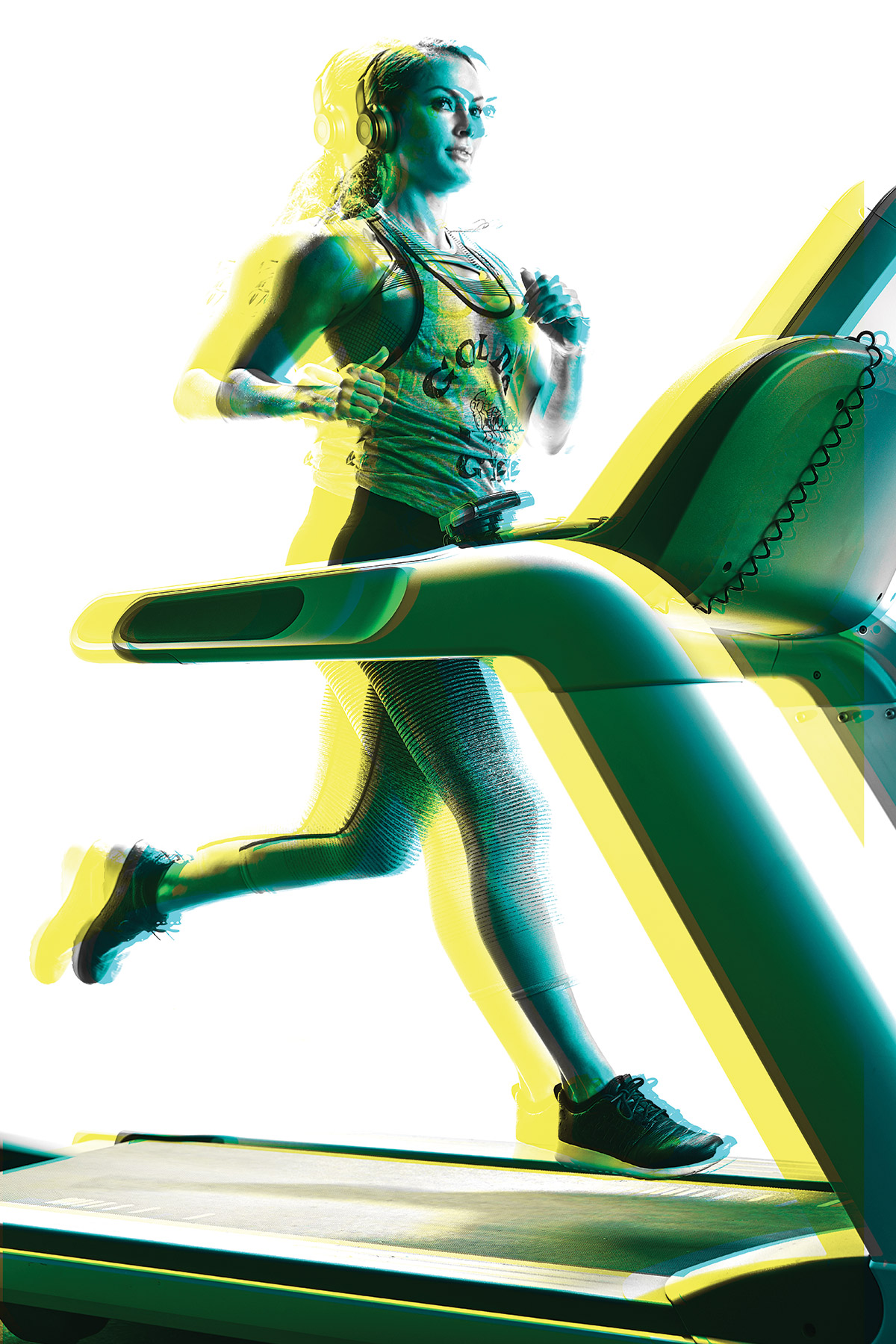 TRT Buys Gold's
In 2004, Brockway sold Gold's for $158 million to a group led by Dallas-based TRT Holdings Inc., the family-owned investment and holding company founded by Reese Rowling and his son, Dallas billionaire Robert Rowling. TRT, which also owns Dallas-based Omni Hotels & Resorts, got its start in the energy industry, eventually selling a portion of its holdings to Texaco (now Chevron). It still owns Tana Exploration and last year bought Origins Behavioral HealthCare, a provider of substance abuse treatment programs.
Bean and his wife, Amy, whom he met at The University of Texas at Austin, spent time in Dallas after graduating from college. But then they decided to "go explore" and headed to Boston, where he attended graduate school at MIT and she went to Harvard. They bought a brownstone and were enjoying the urban life when Amy got pregnant with twins. In 2007, the couple decided to return to Texas to be closer to family.
Bean got connected to TRT while looking for job opportunities with UTIMCO, the external investment corporation that oversees investments for The University of Texas and A&M University systems. Bean's brother was a friend of Robert Rowling, who was UTIMCO's chairman of the board at the time. Through that connection, Bean learned that TRT Holdings had an opening and eventually was hired to manage TRT's investments. He took the title of CFO not longer after and, in 2013, added chairman of Gold's Gym to his responsibilities.
Involvement in a customer-facing brand was something new for Bean, and the chairmanship offered an opportunity to take a more active role with management. By January 2016, he'd been named the company's CEO. "This was a big step for me, moving out of the finance role, which I'd done most of my life, into a CEO role," he says. "I love that it combines the analytical, which I love, with being creative, which I also love."
Actor/bodybuilder Lou Ferrigno, who was TV's "The Incredible Hulk," is just to the right of the woman sitting in the center in this 1977-era photo of club members at Gold's Gym's second location in Venice, California. ; The original Gold's Gym was located not far from Southern California's Venice Beach pier.
Brand Evolution
Bean began his new role by looking for great talent. He hired a whole new executive team, seeking skill sets from other industries that could be applied to the fitness industry. Ultimately, he only hired one executive who had any prior fitness-industry experience.
"One of the first things we set out to do was to figure out who we are, who we serve, and how we serve them," Bean says. "Part of that was creating a strategy around how we are going to compete." The goal: A defensible fitness product differentiated by people, processes, and programming.
From those strategy sessions, the team decided it could tap digital transformation to leverage its brand beyond the four gym walls. "Our true core competency is not building and operating gyms," Bean says. "Our true core competency is fitness. How do we take fitness to everyone who knows this brand around the world?"
They did it with a smartphone app introduced last October called Gold's AMP—marketed as "Your Digital Personal Trainer." The app provides Gold's Gym-certified coaches and a custom music library to offer the Gold's experience outside the gym's walls. Alternatively, members, if they wish, can use the app while working out at the gym. It costs $9.99 per month after a seven-day free trial. Three of Gold's four membership levels include the app in the membership. No Gold's Gym membership is required to subscribe to the app.
All the app's workouts are currently cardio-based, but strength training will be added in the future. While Bean won't disclose how many subscribers the app has, he says the company met and exceeded its initial six-month goal ahead of schedule. The fitness app genre is crowded and many can be found for free, but Gold's believes its offering stands out.
AMP is just one example of how Gold's is figuring out where it fits into the highly fragmented industry. Over the past decade, the fitness industry has matured and evolved. No longer is everyone building the same-sized gym with nearly identical equipment, amenities, and pricing. The offerings today include inexpensive, volume-oriented options such as Planet Fitness, the super-store approach of LA Fitness, and the luxury fitness boutique segment.
Keeping The Legacy Alive
Gold's legacy has been its reputation as a place to go for results, and the still-new team is working to build on that legacy. "People come to us for results. Our mission is to help people achieve their potential through fitness," Bean says. "Help is a key word. It's not, 'We are going to open our doors and allow you to use our equipment.' We are going to help you find your starting point. We are going to help show you the ropes."
While the gym still appeals to bodybuilders, its audience is far-reaching today and includes all generations. "The essence of who we are is still the same," Bean says. "The strength culture—and strength comes in many forms. It's not just muscle. It's, 'How do you get through the day? How do you get through the cold rain?' It's not just bodybuilding, but it's mental and emotional strength as well."
"We were the pioneers of the industry 53 years ago, and I think we are the pioneers again today."

Brandon Bean, Gold's Gym CEO
Waxahachie attorney Vance Hinds says he's found Gold's culture, especially the support of fellow gym members and coaches, extremely helpful in his weight-loss journey. Hinds tipped the scales at 475 pounds when he began working out regularly at Gold's Waxahachie in November. He's using social media (Twitter, Instagram, and Facebook) to chronicle his journey.
By mid-March, he'd lost more than 75 pounds. He swims on Monday nights, does aqua aerobics on Tuesdays and Thursdays, and recently added a Saturday Body Pump class. "The whole group up there has such a positive attitude," Hinds says. "My aqua aerobics coach, Carole Bradley-Helm, pushes me hard. We take a picture after every class [with the whole group] and post it on Facebook, Twitter, and Instagram. They expect me to be there."
Recently, a young, buff guy was walking out of the gym and passed Hinds, 53, who was entering. "He gave me a fist bump and said, 'I'm following you. Keep it up. Good job.' I swear, I swam a little harder that day."
The chain is in the process of retrofitting its company-owned stores to include what it's named Gold's Studio. The Gold's Studios typically offer two or three signature coach-led programs: Gold's Burn (heart-rate variability training), Gold's Fit (high-intensity interval training, or HIIT), and Gold's Cycle (a competitive, music-enhanced cycling experience). It's one way Gold's is competing against the onslaught of specialty fitness boutiques. Franchise locations have expressed interest in retrofitting, but, because Gold's Studio requires committed floor space, it's unlikely they'll be as aggressive in the rollout. All corporate locations are scheduled to be retrofitted within two years.
Gold's also decided to make joining easier. In January, the company did away with its membership contracts and introduced four levels of memberships to entice engagement. The levels start with a basic $40 per month membership, plus three others: $50, $80, and $100 a month levels offering additional services and programming.
About 2 million people are members of a Gold's Gym in the U.S., less than 5 percent of the fitness market. Close to 18 percent of the U.S. population holds a gym membership, up from between 10 percent and 12 percent 20 years ago, according to IHRSA, a fitness club industry trade group.
Gold's says it isn't as focused on membership numbers as engagement. It believes its new membership tiers should help with engagement numbers, and says nearly half its members are joining above the basic rate. "We're certainly excited, but it's also early," Bean notes. "At over 20 percent, our EBITDA margin is on the upper end in the franchise industry.
"I'd personally rather haver fewer members who are more engaged," Bean says. "We are not trying to serve everybody. We want to serve our niche and serve them really, really well."
While people of all ages join Gold's, the company believes its niche is 25- to 35-year-old millennials, both men and women, and that's where it's focusing its marketing efforts. "That millennial group likes to spend money on experiences," Bean says. "More of their disposable income is going toward experience, and we are trying to make Gold's and its coaching and its community an experience for them."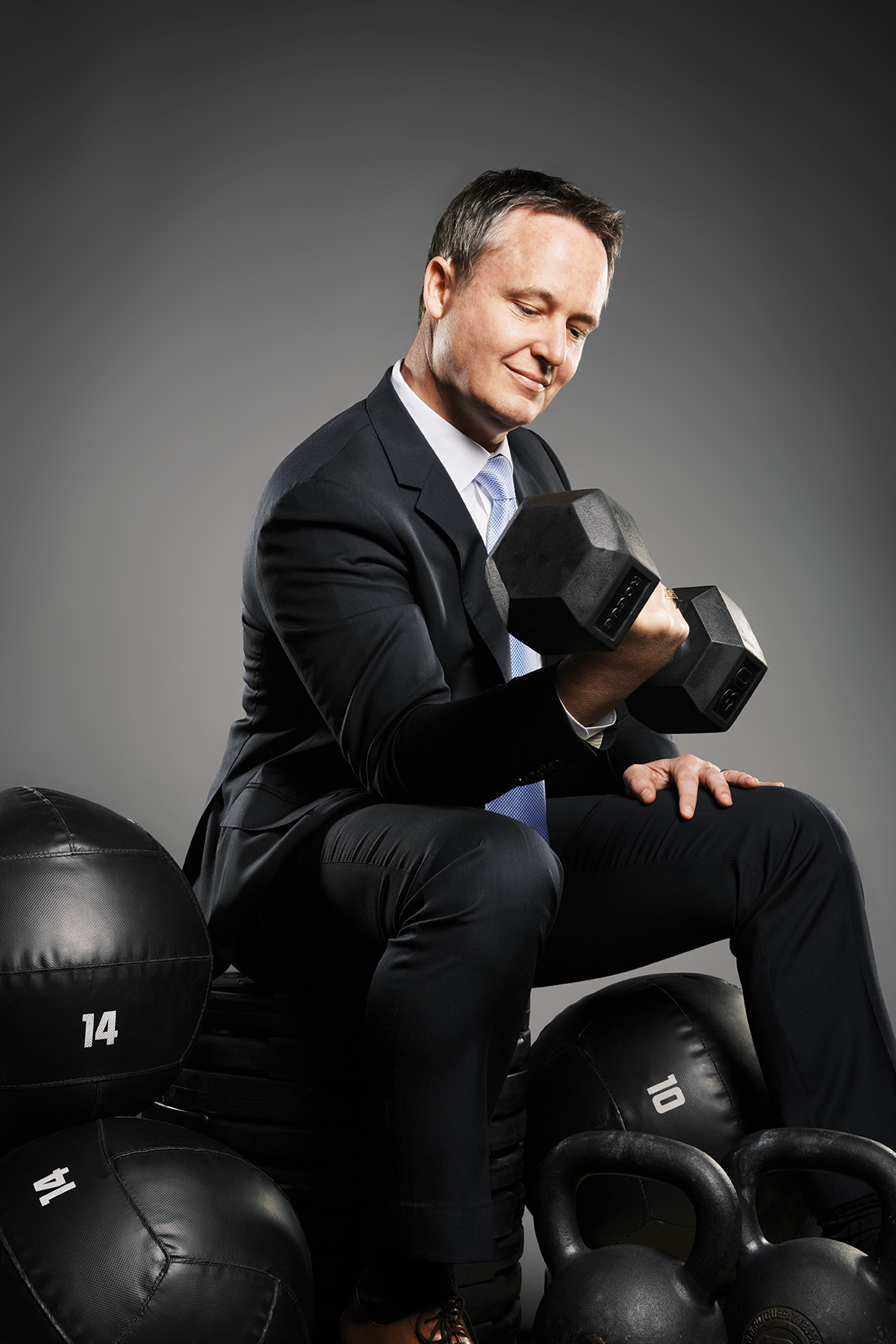 Attracting Corporate Interest
Another way Gold's hopes to leverage its brand is through a new corporate wellness program. The program, called Gold's Care, was beta-tested in Austin over the past six months and launched in a limited roll-out there in April. It's expected to move into a portion of San Antonio by summer. By year's end, all of Austin and San Antonio are expected to be offering Gold's Care with the expectation of taking it nationwide in 2019.
"We have a lot of exciting things going on, but this is one that is really exciting and aligns with our strategy of differentiating [ourselves] from other companies," Bean says. Competing fitness clubs don't have Gold's combination of existing corporate relationships, footprint, and coaching to compete, he contends.
Under the program, a member or nonmember comes into Gold's and receives a health assessment, which includes a pin-prick blood draw and a 3D body scan that measures a person's body mass index and body measurements. From there, the person is put into a green, yellow, or red bucket. Yellows and reds go through a 13-week nutrition and fitness program at Gold's, paid for by their insurance company after a $99 entry fee paid by the individual.
"Businesses and insurance companies are willing to pay for this to get their employees from a red to a yellow or a yellow to a green," Bean says. "The programming that we've put together has shown it can do that." It ultimately should save insurance companies, businesses, and the individuals money if participants exit the program more fit and with the tools to live a healthier life. Gold's is hopeful that individuals who go through the program will see such great results, they'll become Gold's Gym members at one of the higher, engaged membership levels.
Bean foresees the program connecting the dots in a disconnected healthcare system where individuals go to the doctor for lab tests and receive the results, but don't obtain any follow-up care.
Looking Ahead
The company has 75 locations in Texas—five in North Texas—including corporate and franchised stores. That's the most of any state besides California. Texas, Bean believes, has the ability to eventually support three to four times that many. The company is eyeing several sites in Dallas-Fort Worth and expects to begin expanding here soon.
Gold's also is making connections with private equity firms to explore expansion options around the U.S. and abroad. Building each Gold's Gym costs $4 million to $5 million, which makes it costly and often out of the reach of individual investors. Market demographics will dictate where the company expands.
"Given the shifting winds of retail, there is a lot of great second-generation space that has opened up," Bean notes. Fitness clubs, including Gold's, have become sought-after anchor tenants for these retail spots, something that wasn't occurring just a few years ago.
Bean, who admires GE's Jack Welch, says he's been regularly sharing a Welch quote with the management team as they work to bring new life to the venerable chain through a transformation that's now entering its third year.
"If the world outside is moving faster than the organization is moving, then the end is near," Bean says, quoting Welch. "I think that quote is very applicable to where a lot of people in this industry found themselves. There's so much great innovation going on with the apps, wearables, and boutique space, and the HVLT [high-volume, low-price] business model. The core of the industry was doing what they'd always done, so this great innovation on the outside has been a great force for change within the whole industry."
Gold's, Bean believes, has started to move faster than the world outside its gym doors. "We are doing things now that nobody else is doing, and that's been a really big cultural shift for us," he says. Gold's, in his opinion, had gotten behind the curve but has since caught up and surpassed the industry.
"We were the pioneers of the industry 53 years ago," Bean says, "and I think we are the pioneers again today. We're just scratching the surface of what is possible."
Get the D CEO Newsletter
Stay up to speed on DFW's fast-moving business community with weekly news reports, interviews, and insights.