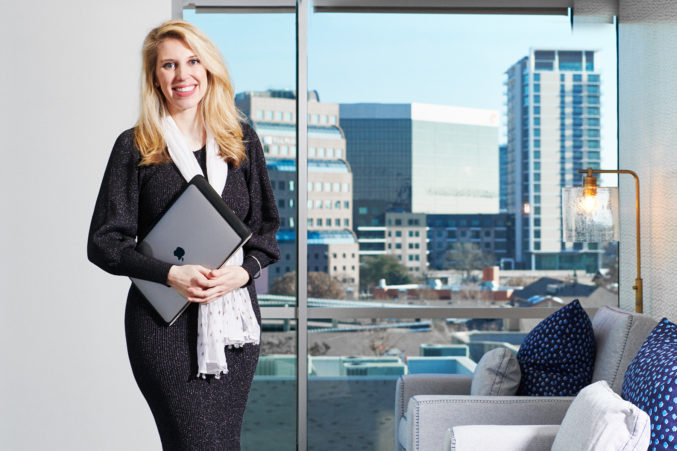 Paige Robinson Turns Traditional Recruiting On Its Head
Her all-women job placement firm aims to put candidates where they're happiest.
Paige Robinson is fascinated by vocation.
"This side of heaven is when you see someone doing what they were meant to do," she says. "There's nothing better than when skills and passion align with a need in the world. And it happens so rarely for people."
Robinson, 30, has always seen herself as an entrepreneur. She watched her father start two healthcare tech companies. Growing up, she was always selling something. 
She attended Texas A&M University and, as part of a business class, partnered with an entrepreneur to launch a frozen yogurt company. After college she worked as a management consultant for Alvarez & Marsal, but it wasn't long before she wanted to build something of her own. She wondered if there was a way to combine her passion for vocation with a company that could service the growing tech industry.
After months of testing, Will Reed Jobs was born in June 2015. Essentially a job placement firm, Will Reed services venture capitalist-backed tech companies positioning to IPO or be acquired by strategic buyers. These companies are usually in the Series C or D stages of funding, with 1,000 to 2,000 employees. In many cases, they're looking to scale quickly, and they need salespeople to talk about their products.
"Often, the difference between a company reaching its next goals and not is all in the sales function," Robinson says. "It's about how quickly they can hire good people and retain them."
Will Reed, she explains, gains its competitive advantage by flipping the model of a typical recruitment firm. Though her revenue comes from the hiring company (which pays a percentage of the salesperson's salary when Will Reed facilitates a hire), Robinson gears the job search experience around the candidate. She wants to see people placed where they'll be happiest—which is ultimately good for business.
Will Reed Jobs services Dallas, Austin, Denver, and Houston. According to Robinson, her investor-backed business has consistently doubled its revenue every year since the start. Will Reed has also grown to an all-women staff of eight, with plans to double by the end of '18. Will Reed places hundreds of candidates each year.
Since starting Will Reed, Robinson has seen a consistent demand for saleswomen—but has noticed a lack of candidates to fill the roles. In 2018, she plans to create a women's internship program at Will Reed.
"The goal is to develop women sales leaders, specifically in tech sales," Robinson says. "Our hope is that Will Reed can be part of creating a sales movement for women."
 For Robinson, it's another opportunity to help people find their calling.