From D CEO May 2017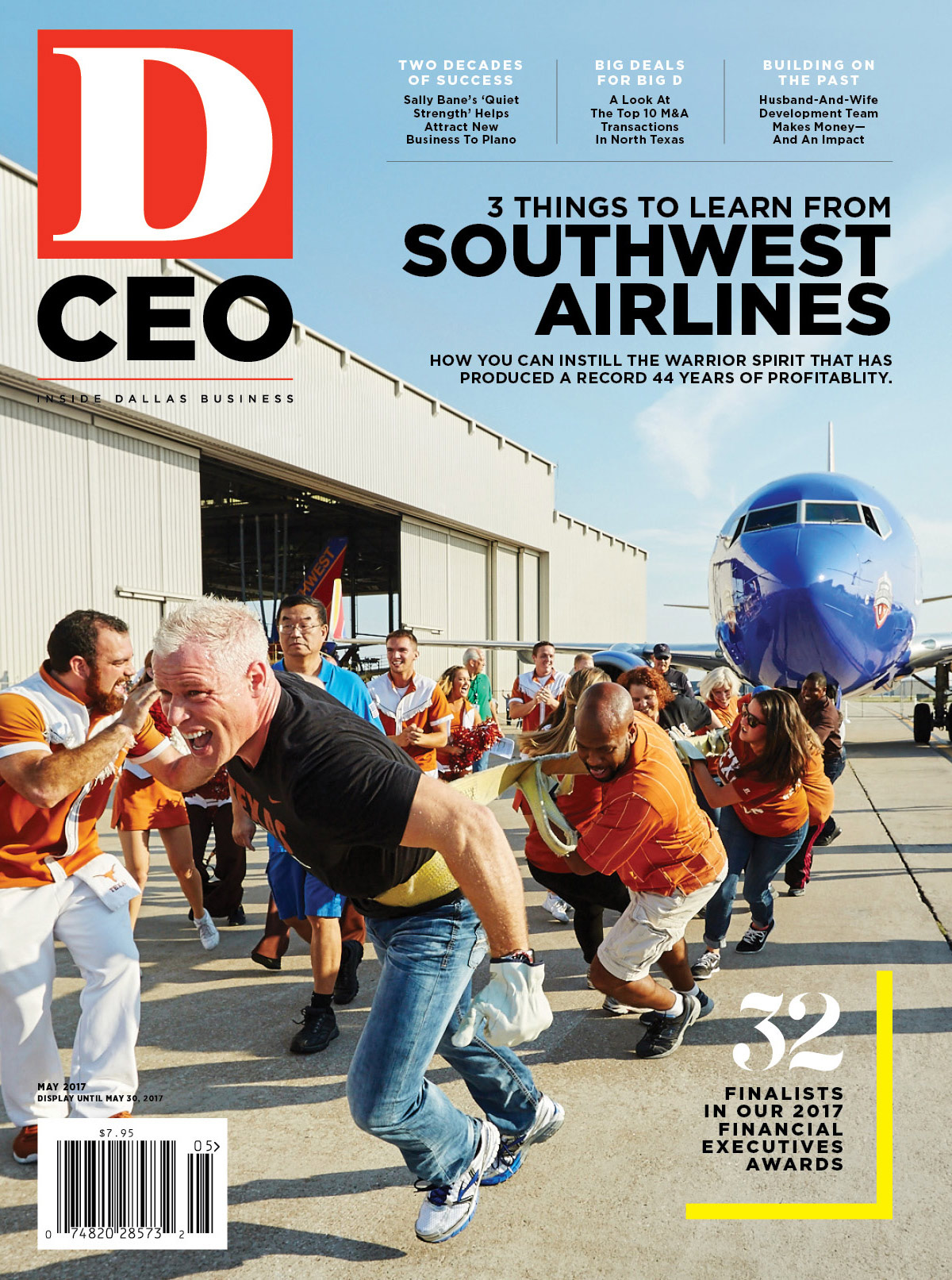 Subscribe
For many North Texas companies considering mergers or acquisitions last year, a complication arose from an unlikely source: the presidential campaign. Taxation, regulation, immigration, trade—all became variables in ways they hadn't been before Donald Trump and Hillary Clinton received the Republican and Democratic nominations in the spring.
"Investment patterns were put on hold," says Sylvia Steinheiser, executive vice president at NTT Data's Plano-based Americas unit. Then, "with the administration change in November, there was more certainty that some things would be changing."
Uncertainty tops the list of CEOs' pet peeves, simply because it makes planning difficult. This is especially true in M&A, as ambiguity about a company's market or regulatory requirements can alter a deal's price tag or terms—or even kill it outright.
This was the environment that prevailed as, once again, we selected the outstanding companies and dealmakers to honor in our annual Mergers and Acquisitions Awards, presented by D CEO and the Association for Corporate Growth. Information about the finalists for these awards appears beginning on page 58, and we'll reveal the winners at an event in May. Judges for the 2017 awards program were Tony Banks, director, business development, Hein & Associates LLP; David N. Fuller, president and founder, Value Inc.; Jeff Peterson, managing director, A.G. Hill Partners LLC; and Preston Roush, vice president, relationship manager, Texas Capital Bank.
Of course, the Trump-Clinton battle didn't impact every deal last year. One case in point: NTT Data's roughly $3 billion purchase in November of Dell Services, a unit of Austin computing giant Dell that began life as Plano's Perot Systems. But Republican vows to repeal and replace the Affordable Care Act did create questions for healthcare organizations that are customers of Dell Services. "People had been investing in businesses built around a set of criteria that assumed the legislation would be in place," says NTT's Steinheiser, who's one of our 2017 finalists for M&A Dealmaker of the Year.
The populist movement that buoyed Trump in the U.S. also provided surprises for Dallas-Fort Worth businesses that were trying to get transactions done in other countries. Wooden Camera, an Oak Cliff-based maker and retailer of accessories for photography, film, and video, got a curve ball in June when the British voted to leave the European Union.
Ryan and Elizabeth Schorman, the husband-and-wife team who founded Wooden in 2011, were in talks to sell the business to an English photography giant, the Vitec Group. The so-called Brexit vote sent the British pound down 11 percent against the dollar in one day, sharply increasing Wooden's price tag in 24 hours.
Ultimately, the deal closed for $20 million, with another $15 million available depending on Wooden's performance over the next three years. The transaction—which is nominated in our awards' Small Deal category—will make Wooden products available through Vitec's large distributor network, according to Taylor Curtis, a Dallas-based managing director at investment bank MHT Partners, who represented Wooden.
Thanks partly to a store the Schormans opened in Burbank, Calif., in 2015, Wooden wares already have made their way onto the sets of Hollywood productions like "House of Cards," "The Expendables," and the eighth installment of the "Fast and Furious" franchise. "Wooden Camera already had strong international sales prior to the transaction," Curtis says. "Vitec's global presence and relationships with major customers and distributors worldwide should boost Wooden's international business."
Hoping for Tax Reform
Though some CEOs had strong opinions about Trump and/or Clinton, most were less concerned with politics and more worried about rules their businesses would have to follow post-election, experts say. Now, Republican control of the White House and Capitol Hill creates the prospect of tax reform. Some observers believe that might encourage large companies to shift back into the U.S. capital they had moved offshore to avoid America's corporate taxes.
"A key component of enhanced deal activity will be business owners getting comfortable with favorable tax treatment from Washington," says Tony Banks, a Dallas-based director of business development at the accountancy Hein & Associates. "Any discussion or action from Washington that is pro-business will improve the M&A market."
Uncertainty tops the list of CEOs' pet peeves, because it makes planning difficult. This is especially true in M&A, as ambiguity can alter price.
In early 2017, one emerging area of strength in local M&A was the middle market, according to Robert Little, a Dallas-based partner at Gibson, Dunn & Crutcher LLP. Last year, Little handled some of North Texas' biggest deals, including bankrupt Luminant Holdings' $1.3 billion purchase of natural-gas generation facilities from NextEra Energy. "Competition is fierce to acquire high-performing middle-market businesses of all types," says Little, another of our finalists for Dealmaker of the Year. "Dallas is home to a diversified group of these companies, and this bodes well for local deal-making."
The flip side is that as both strategic and financial buyers plumb the middle market for opportunities, more disputes are arising, both before and after the transactions take place. Would-be deals get vetting they might not have undergone just five years ago, according to Mark Solomon, managing partner in the Dallas office of Andrews Kurth Kenyon LLP.
Perhaps as a result, Solomon is seeing more deals fall apart, both because of what the due diligence turns up and the related impact on the valuation a business receives. "It's a competitive marketplace," notes Solomon, another Dealmaker of the Year finalist. "The deal may not happen with one group, but it might with somebody else."
And, with the middle market a hot space, the scales have tipped in favor of that segment's businesses that want to sell, according to Josh Bammel, principal at Dallas-based Kratos Capital. For one thing, many private equity firms are sitting on "dry powder"—capital they must put to work or return to their investors by a given deadline. In addition, corporate buyers are feeling pressure to grow revenue, a job that's been difficult to achieve organically in the past few years.
However, a recent poll of Kratos clients found more than six out of 10 sellers fear a significant financial crisis over the next three years. "The general sentiment was that the window of opportunity for the right deal was beginning to close, and could slam shut, because of a major downturn," Bammel says.
Dampening of Healthcare Deals
While mid-market deals were popping in early 2017, healthcare M&A remained tepid, owing to Washington's early indecision about what, if anything, it might do on Obamacare. The 2010 law spurred a wave of deals, creating consolidation in everything from retail pharmacies to drug manufacturers, according to John Amos, CEO of Orix Healthcare Capital, an arm of the Dallas-based U.S. unit of the financial services giant.
But uncertainty from the election campaign reduced transactions in healthcare services like hospitals. "The issues around drug pricing slowed down some M&A as well," Amos says. The Senate's February confirmation of a leading Obamacare critic, Tom Price, as health secretary means the investment community should see "some movement" on the healthcare economy, Amos added.
Although many aspects of the health law may face attack, Trump may well be inclined to avoid touching a provision that allows children to remain on their parents' health insurance until age 26, says Hunter Peterson, a Dallas-based partner at The Riverside Co., a private equity firm that targets mid-market businesses.
That provision spurred a wave of transactions in behavioral health, as it meant coverage for young people with psychiatric or additional issues, Peterson says. "There has been an avalanche of new patients who now qualify for treatment," he adds. "It seems like a beneficial arrangement for all parties, since parents are paying for these policies and insurance companies enjoy premiums for a [generally] healthy population."
In addition to behavioral health, investment firms will continue dealmaking in health areas like dentistry, ophthalmology, fertility, and dermatology, Peterson says.These fields feature large cash-pay components, the chance to up-sell client services, or attractive payment rates from commercial insurance, he says.
Firming Prices Fuel Energy
Although the presidential election threw a wet blanket on healthcare M&A in 2016, dealmaking somewhat revived in energy. One active group was "midstream" companies, which provide pipes and facilities for shipping and storing oil and gas.
A number of midstream businesses used M&A last year to modify or abandon their corporate structures, called "master limited partnerships," or MLPs. These structures require firms to return most of their cash flow to their shareholders (or "unit owners"), according to Bruce Bullock, director of the Maguire Energy Institute at Southern Methodist University.
The MLP structure provides midstream firms a tax-advantaged way to raise capital when the businesses are growing and generating strong cash flow. But when oil prices fell, that structure provided less cushion to make debt payments while paying dividends to unit holders. "To address these issues, companies have simplified their structures," Bullock says.
Meanwhile, large and mid-sized independent producers used the upticking price of oil in early 2016 to sell assets they'd deemed "non-core" to their businesses, according to Jason Wilcox, founder and managing director of Wilcox Swartzwelder & Co., an Irving-based investment bank. In addition, more players are using transactions to get into the Permian Basin in West Texas and southeastern New Mexico. "It's the hot area," Wilcox says.
Earlier this year, money managers and hedge funds were placing bets in futures markets on a forthcoming rise in energy prices, says Christina Kitchens, Dallas-based group managing director, national energy finance at East West Bank.
With large and mid-cap producers having largely sold the assets they considered outside their primary focus, 2017's M&A will likely center on a higher volume of smaller transactions, Kitchens says. Sellers could include private firms that survived oil's downturn but still face a long road in mending their balance sheets. A number of buyers could emerge, from the oil majors to emerging companies with private equity backing.
This year may also see more consolidation in oilfield services, such as the companies that help producers in drilling and completing wells. Says Kitchens: "I see 2017 as a robust M&A marketplace across nearly all energy segments."
The Top 10 M&A Deals
Introducing the transactions and the challenges that set the pace in our 2017 M&A Awards.
Small Deals
Teakwood Capital's Growth Capital Investment in iiPay Ltd.
Parties involved: Dallas-based private-equity firm Teakwood Capital; iiPay, a global payroll services company, whose headquarters was moved from the U.K. to Dallas as part of the deal
When: Announced March 1, 2016, closed Feb. 23, 2016
Price tag: Between $10 million and $15 million
Toughest challenge: "The global aspect, given the added complexity of performing operational and legal due diligence at a multicountry level." —Shawn Kelly, managing director, Teakwood
Wooden Camera Inc.'s Sale to The Vitec Group PLC
Parties: Dallas-based Wooden Camera, a professional camera accessories company; U.K.-based The Vitec Group, which manufactures and supplies camera equipment and systems
When: Announced and closed Sept. 20, 2016
Price tag: $20 million plus $15 million based on performance
Toughest challenge: "The Brexit vote knocked the pound down 11-plus percent against the dollar in one day. This made Wooden Camera more expensive." —Taylor Curtis of MHT Partners
Midsized Deals
PCORE Exploration & Production LLC Asset Sale to Parsley Energy Inc.
Parties: Dallas-based PCORE Exploration & Production, an oil and natural gas company; Austin-based Parsley Energy, also an oil and natural gas company
When: Announced Dec. 9, 2015, closed Jan. 8, 2016
Price tag: $148.5 million
Toughest challenge: "The deal was negotiated near $50 oil and closed at $30 oil. The deal closed without the price changing because of mutual trust and quality assets."  —Mark Hiduke, PCORE Co-founder
Texas Health Resources' Purchase of Forest Park Medical Center Fort Worth
Parties: Arlington-based Texas Health Resources, a nonprofit healthcare delivery system; Forest Park Medical Center Fort Worth, a doctor-owned luxury hospital
When: May 26, 2016
Price tag: $116.5 million plus $4.5 million to the operators
Toughest challenge: "This deal required us to go through a bank auction, which we don't typically do. That meant learning a lot of technical and legal processes." —Barclay Berdan, CEO, THR
Large Deals
Headwaters Inc. Buys Krestmark Industries
Parties: Headwaters Inc., a building-products manufacturer based in South Jordan, Utah; Dallas-based Krestmark Industries, which makes vinyl and aluminum windows and patio doors
When: Announced Aug. 2, 2016, closed Aug. 19, 2016
Price tag: $240 million
Toughest challenge: "Concerns about the cyclicality of the home construction industry." —John Grimes, managing director at Duff & Phelps, an investment bank that represented Krestmark
Service Experts LLC Sale to Buyer Group Led by EnerCare Inc.
Parties: Plano-based Service Experts, which sells, installs, and services HVAC equipment; Ontario, Canada-based EnerCare, a publicly traded home and commercial services and energy solutions company
When: Announced March 7, 2016, closed May 11, 2016
Price tag: $340.7 million
Toughest challenge: "The pace of the transaction, coupled with balancing parties' competing priorities—all while tending to day-to-day responsibilities." —Anne Crowe, Service Experts gen'l counsel
Billion-Dollar Deals
NTT Data Inc.'s Purchase of Dell Services From Dell
Parties: Plano-based NTT Data's Americas unit, part of Tokyo-based global IT company NTT Data; Plano-based Dell Services, an IT services provider; and Austin-based computer technology company Dell
When: Announced March 28, 2016, closed Nov. 2, 2016
Price tag: About $3 billion
Toughest challenge: "Dell had to reorganize to carve out the services businesses across 50-odd countries. It was the most complex deal I've worked on." —Sylvia Steinheiser, executive VP, NTT Data
Range Resources Corp. Merger With Memorial Resource Development Corp.
Parties: Fort Worth-based Range Resources, a petroleum and natural gas company; Houston-based Memorial Resource Development Corp., also an oil and gas company
When: Announced May 16, 2016, closed Sept. 16, 2016
Price tag: $4.4 billion
Toughest challenge: "At the signing, commodity prices had not stabilized. So both parties had to believe they were buying and selling at a fair valuation." —Steve Gill of Vinson & Elkins
Solera Holdings Inc.'s Sale to Vista Equity Partners, Koch Equity Development LLC, Goldman Sachs
Parties: Westlake-based Solera Holdings, a software firm; San Francisco-based private-equity firm Vista Equity Partners; Wichita, Kan.-based Koch Equity Development; Goldman Sachs
When: Announced Sept. 13, 2015, closed March 3, 2016
Price tag: $7.23 billion
Toughest challenge: "The financing markets had dried up by October 2015. Raising $4-plus billion was no small task." —Tony Aquila, Solera's founder, chairman, and CEO
Vizient Inc. Buys Two Segments of MedAssets from Pamplona Capital Management LLC
Parties: Irving-based Vizient Inc., a member-owned healthcare services firm; Alpharetta, Ga.-based MedAssets, a healthcare performance improvement firm; London-based Pamplona Capital Management
When: Announced Nov. 2, 2015, closed Feb. 11, 2016
Price tag: Less than $2.7 billion
Toughest challenge: "Pamplona purchased MedAssets, then sold two segments to Vizient. This required three parties to negotiate two billion-dollar transactions." —David Berry, chief counsel, Vizient
Get the D CEO Newsletter
Stay up to speed on DFW's fast-moving business community with weekly news reports, interviews, and insights.