From D CEO May 2017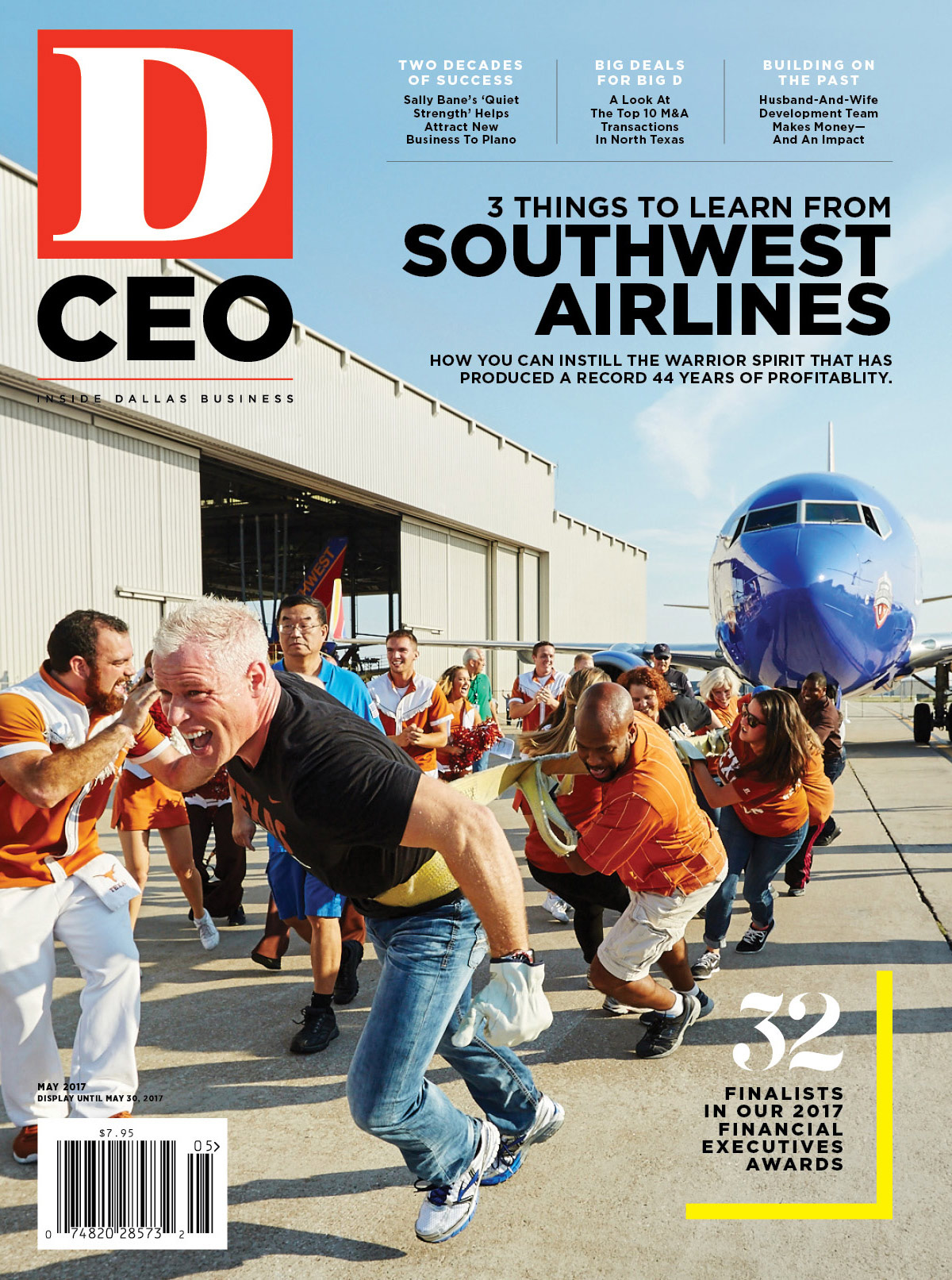 Subscribe
At age 13, Gen Fukunaga discovered the key to his future success after returning to his home country of Japan for a year. This key would become the center of a multimillion-dollar business, boost a relatively new television network, and introduce a new sector within the U.S. entertainment industry. It came in the form of his childhood pastime—cartoons.
"My first exposure to anime just blew me away," Fukunaga, now CEO of Flower Mound-based Funimation Entertainment, says about the Japanese animation art form (pronounced anna-may). "I couldn't believe how unique … and how much more complex the story lines were."
Once he returned to the U.S., however, Fukunaga could no longer watch his favorite program, "Space Battleship Yamato," or any anime, as such shows were not available in the states. He moved on, becoming an engineer at IBM and a product manager at Tandem Computers in Silicon Valley. But his interest in anime remained.
When Fukunaga began contemplating entrepreneurship in his early 30s, he remembered his boyhood interest and targeted a wide-open market. "We saw a problem in the Hollywood-style business," he says. "They spent a lot of money taking shots at the market with not much of an idea of whether it was going to succeed. So I flipped Hollywood's problems on their head."
For decades, anime had been wildly popular in Japan, as well as in countries including Mexico, Italy, and France. The shows were unlike anything in the U.S. children's entertainment market, building story lines episode by episode and covering issues relatable to all age groups. They also were more imaginative than most American children's shows, says Fukunaga, featuring everything from giant robots to aliens and Samurai. 
Introducing anime to the U.S. proved to be a sound strategy. Today, Funimation employs more than 200 people and generates more than $100 million in annual revenue. With a healthy cash flow, Fukunaga is aiming to expand Funimation's territories to include Australia, New Zealand, the U.K., Ireland, and South and Central America. He also expects to expand its digital offerings to add revenue streams and deepen its fan base, as well as start producing live-action films based off anime story lines.
To launch Funimation in 1994, Fukunaga hooked up with former IBM coworker Daniel Cocanougher, who helped run his grandfather's animal-feed business in Decatur, among other ventures. "It was the potential of getting the 'Dragon Ball Z' game … that got me excited," says Cocanougher, who'd profited off an investment in Corsicana arcade company Tradewest.
Fukunaga initially bought licensing rights to "Dragon Ball Z," the most successful anime title worldwide, through connections he made via his uncle, a director and producer at Tokyo-based Toei Animation. He made the purchase against expert opinion. "There was very much an anti-foreign-cartoon attitude in Hollywood," Fukunaga says. "'The quality of animation in the U.S. was much higher, and kids won't understand it,' [they said]. This broke all the rules."
To air the show, Funimation first had to edit the episodes—many scenes in the originals are restricted from airplay in the U.S. kids market—and record English voiceovers, which were handled briefly in Hollywood and Vancouver, Canada, before Funimation brought the process to its headquarters. "Dragon Ball Z" hit the syndicated market in 1996, catching the tail end of the crash of the children's sector as cable giants like Nickelodeon and Disney took over.
It landed in the top 5 percent of syndicated kids' shows. To mitigate risk, Fukunaga had help from Japanese-based companies such as Bandai, now Bandai Namco, and Pioneer, which helped Funimation produce figurines and video products.
The show then won over a "passionate advocate" at the newly launched cable channel Cartoon Network, says Fukunaga. On August 1998, the channel debuted "Dragon Ball Z." "I didn't know it was going to explode that fast," Fukunaga says. "Within the first six months, it was the top show [on the channel]."
The video business also took off, eventually becoming 80 percent of Funimation's revenue. Within a few years, Funimation was generating $65 million, allowing the company to buy additional anime licenses including titles for Cartoon Network's Adult Swim, which aired content for ages 18 and up. Anime helped Cartoon Network become a major cable network, Fukunaga says.
In 2005, Funimation attracted public media distributing company Navarre Corp., which snapped up the business for $128 million. Cocanougher cashed out to launch North Richland Hills-based startup Allcal, while Fukunaga remained as Funimation's president. But the Navarre deal was a dud for Funimation, he says, as Navarre Corp. used profits to help fund less successful ventures in its portfolio. As a result, Fukunaga linked up in 2011 with investors John A. Kuelbs, co-founder of Harley-Davidson parts manufacturer Chrome Specialties, and Dallas investors Darwin and Doug Deason to buy his company back for $24 million. "Both my son and daughter … were basically obsessed with it, so it was an easy thing to get interested in," says Doug Deason, who with his father Darwin, invested about $10 million. "The cash flows like crazy."
At age 56, Fukunaga has killed two birds with one stone. He's not only built a profitable business, but one that allows him to live through the eyes of his 13-year-old self. 
Get the FrontRow Newsletter
Get a front row seat to the best shows, arts, and things to do across North Texas. Never miss a beat.