Why You Need to Know Him:
Because as president and CEO of the Federal Reserve Bank of Dallas, Robert Steven "Rob" Kaplan oversees 1,200 Fed employees and, as a member of the Federal Open Market Committee, uses market intelligence provided by local businesspeople to formulate U.S. monetary policy.
Kaplan gathers the latter in part with a monthly round of calls to leaders of about 25 small, midsized, and large companies in a variety of industries throughout the Fed's 11th district, which includes Texas and parts of Louisiana and New Mexico. Each call lasts roughly half an hour, Kaplan says, and covers a variety of topics. Is the company growing or not growing? he'll ask. What are the executive's thoughts on regulation? Disruptive competitors? Access to capital? What's the most notable thing he or she is seeing in the marketplace?
Says Kaplan: "It pays to listen."
A former top Goldman Sachs executive and senior associate dean at the Harvard Business School, the 59-year-old Kaplan succeeded Richard Fisher as the Dallas Fed's 13th president and chief executive in 2015. In contrast to Fisher, who was an outspoken "inflation hawk," arguing in favor of higher interest rates to curb inflation, Kaplan said in a September interview that he considers himself a "centrist" on monetary matters. "As a former businessman, I'd say I'm a realist," he says. "You have to face reality, or you'll go out of business."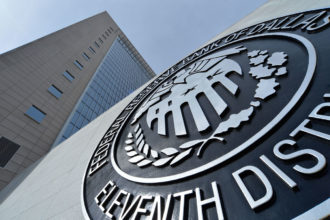 A native of Prairie Village, Kan., in the Kansas City area, Kaplan is no stranger to Texas. His father, Meyer, was a traveling jewelry salesman whose territory included the Lone Star State and parts of the Midwest. So Texas—and especially Dallas and Houston, home to the Zale and Gordon jewelry companies—was familiar territory for the younger Kaplan, who often accompanied his father on his sales trips.
Before heading east to earn his MBA at Harvard Business School, Kaplan won top honors in business administration at the University of Kansas, working in Dallas between his freshman and sophomore years as a summer intern at the Trammell Crow real estate company under Trammell's son, Harlan Crow.
"He was terrific," Crow says of Kaplan in those days. "He eventually found opportunities in the Northeast, but he was the kind we wished would have come back: a warm, vital, exciting, sparkling human who cares."
At Harvard, Kaplan befriended a classmate whose father ran Goldman Sachs. Kaplan was asked to join the iconic Wall Street firm and, over a 23-year career there, rose steadily through the ranks. Among his posts: head of the corporate finance division, head of the high-yield department in investment banking, and vice chairman of Goldman Sachs Group Inc., with global responsibility for the firm's investment banking and investment management divisions. He became a Goldman partner in 1990 and, when he left in the mid-2000s to teach at Harvard Business School, was given the honorary title of senior director.
At Harvard, Kaplan was the Martin Marshall Professor of Management Practice, teaching—and writing several books—about business leadership. (See story above.) He seems to have applied several of those leadership principles at the Dallas Fed, where he's had three main priorities: attracting, developing, and retaining outstanding Fed employees; elevating the district's research profile; and focusing on the bank's community leadership.
Toward those ends, Kaplan says, he's made it a point to seek advice or input from Fed employees every day. He has beefed up the district's energy practice and launched a periodic energy survey "that every Fed bank looks at," he says. He also has "pounded the pavement,"—traveling at least one or two days a week to meet people throughout the district—and launched a well-received "Global Perspectives" speaker's series.
One of the speakers has been Nitin Nohria, dean of the Harvard Business School, who says Kaplan "sets very high standards—starting with himself, which inspires others to raise their sights. He acts like an owner and takes personal responsibility for making all organizations he is associated with better."
Other speakers in the series so far include Larry Summers and Robert Rubin, both former U.S. treasury secretaries.
"I was a client person" at Goldman Sachs, Kaplan said at one point during our interview. And, a sort of client orientation still seems to motivate him, whether he's listening to feedback from Fed employees or gathering information from local businesspeople. "The clients' interests come first," Kaplan says. "If they succeed, our own interests will follow."
Get the D CEO Newsletter
Stay up to speed on DFW's fast-moving business community with weekly news reports, interviews, and insights.