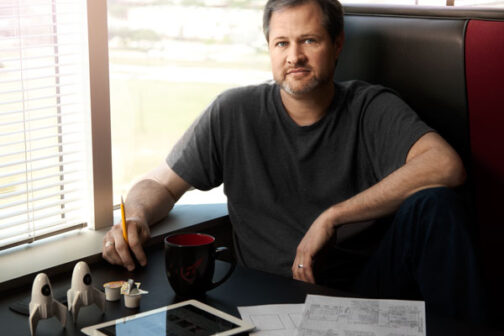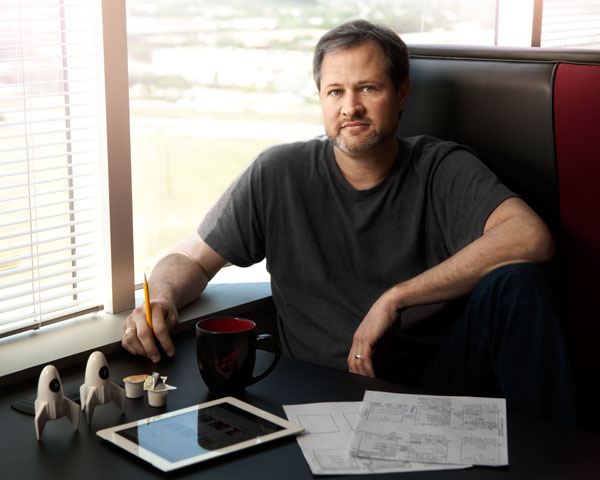 Calvin Carter
Bottle Rocket Apps // President
Only a handful of people likely remember where they were at 9 a.m. on March 7, 2008. Calvin Carter is one of them.
The day before, Apple Inc. chief executive Steve Jobs had announced that the technology giant would unveil an online store for software applications that run on the company's wireless devices like the iPhone.
Most people probably just thought, "Cool," and forgot about it. Carter thought, "Opportunity," and started forming a business to make high-end versions of those applications.
A little more than five years later, Carter's vision has become an Addison company called Bottle Rocket Apps, which has produced primarily consumer-focused software apps for the likes of National Public Radio, National Geographic, Food Network, and the X Factor television show.
With 142 employees—called "Rocketeers" in Bottle Rocket-speak—the company has roughly doubled in size every year since its inception, Carter says.
To put that in perspective, Bottle Rocket did $145,562 in revenue in 2008. It made the Inc. 500 last year after generating $6.1 million in 2011 sales.
"The market demand in general is phenomenal," Carter says. ¶ Being an early player in the app field is an advantage, he adds. "It has given us the ability to help craft the entire industry."
—Jeff Bounds

Peter Longo
Cantex Continuing Care Network // Principal and Managing Partner
Albert Longo
Cantex Continuing Care Network // Chairman
When Peter Longo joined the family business, no one was more surprised than he was.
His father and aunt started the company in Canada with a single nursing home that grew to become a chain. It was renamed Cantex Continuing Care Network when Longo's father, Albert Longo, invested in Texas in 1978. Today, the Carrollton-based company provides transitional and chronic in-patient care, home health, hospice, pharmacy, and rehabilitation services to more than 3,000 Texas patients. It has experienced 20 percent top-line growth for 10 years, Peter Longo says, but in the early 1980s, business wasn't so robust. His father called him and asked for help. "I was a corporate finance lawyer in New York at the time," Longo says. "But, I found that I was fascinated by this business."
Cantex faced many challenges, including older facilities that needed improvements, low reimbursement rates, a tort liability crisis, and almost no financing. In addition, business assets were over-mortgaged, and the company suffered from a lack of infrastructure and management talent.
With a green light from his father, he re-engineered the company and put a moratorium on expansion for 10 years. That dry spell is over. In addition to growing revenue, Cantex has broken ground on more than 1 million square feet of new facilities since 2005.
—Glenda Vosburgh

Gary Wojtaszek
CyrusOne Inc. // President and CEO
Gary Wojtaszek is psyched about the data center business he runs, Carrollton-based CyrusOne Inc. Talk to him for a few minutes about it, and you'll see why.
There is the January public share offering, which raised around $313.5 million. Not to mention the rising stock price (up more than 12 percent since the IPO, as of mid-May.)
Don't forget the revenue growth the 250-employee company is projecting for its fiscal 2013 year. Having seen sales climb 21.5 percent last year to $220.8 million, CyrusOne recently told Wall Street that it expected this year's sales to clock in at $260 million to $270 million, representing a ballooning of between 17.7 percent and 22.3 percent.
"It has been a great ride so far," Wojtaszek says.
His formula for keeping growth fast and smooth is offering white-glove service to Fortune 1000 companies, which he says are increasingly realizing that they can safely farm out their data center operations to CyrusOne. Data centers are heavy industrial buildings that house equipment like servers for storing and moving large volumes of data at high speeds.
Still, landing big customers is a challenge, Wojtaszek concedes. It took three years to persuade Halliburton to outsource its data center needs to CyrusOne.
"You've got to be consistent and persistent" with prospects, he says.
—Jeff Bounds

David M. Sokolsky
Daisy Brand LLC // CEO
Dallas-based Daisy Brand LLC has been in the family for four generations. David M. Sokolsky, CEO of the company, grew up hearing about the challenges of the business. But it wasn't until 1978, after graduating college, that he began working for the sour cream and cottage cheese company started by his great-grandfather and grandfather in Chicago in 1918.
Right off, he began making changes that impacted not just the company, but also the industry.
"The largest producer's sour cream tasted like an old barn," Sokolsky says. "One of the ways we affected behavior was to change the taste to the delicate flavor profile known as sour cream today."
Sokolsky's changes to the manufacturing process of sour cream and cottage cheese allowed the company to use pure and natural ingredients, while extending the shelf life of the products and reducing waste. Longer shelf life meant national distribution for the products. Today, Daisy Brand holds a 35 percent market share for sour cream and is the fastest-growing cottage cheese brand in the United States. Yet it proudly remains family-owned.
"In my 35 years, the company has never been close to being sold. I love this business," Sokolsky says. "The paradigms we've changed have affected the entire industry."
—Shashana Pearson-Hormillosa

Phil Rykhoek
Denbury Resources Inc. // Director, President, and CEO
Phil Rykhoek has spent most of his working life in the oil industry, starting with companies that did exploration. "That kind of work is exciting," he says. "Now, we're a much lower-risk play."
As head of independent oil and natural gas company Denbury Resources Inc., Rykhoek's work may not be as nail-bitingly exciting as exploration, but it brings its own kind of thrills.
For one thing, it's an industry where you don't know from one day to the next the price at which you'll be able to sell your product. The most exhilarating thing, Rykhoek says, is seeing the value that's created. Plano-based Denbury Resources' primary focus is on capturing carbon dioxide-stored underground to protect the environment, and transporting it to mature oil fields for tertiary recovery of oil.
Under Rykhoek's leadership, the company has completed its first major CO2 pipeline and started its second. It also has made strategic acquisitions and divestitures aimed at making it more competitive. Revenue for 2012 was about $2.5 billion, compared to $2.3 billion in 2011 and $1.9 billion in 2010.
"We think we have a winning strategy," Rykhoek says, adding that Denbury's success is a result of focusing on some core values: integrity, teamwork, respect, excellence, and innovation. "Everything we do is based on principle," he says.
—Glenda Vosburgh

Stephen Mooney
Conifer Health Solutions // President and CEO
Conifer Health Solutions is on track to post $800 million in revenue in 2013, up from $488 million in 2012 and $240 million in 2011. Launched in 2008 with 2,000 employees, the company provides business process management for healthcare providers. The company has 9,400 employees, serving more than 600 clients across the U.S.
Conifer is the brainchild of President and CEO Stephen Mooney. He had an idea that creating a company that focused on revenue cycle management would result in increased revenue for the hospitals.
Mooney pitched his idea to the CEO and board of directors of Tenet Healthcare over a four-year period. Conifer Health Care System, a division of Tenet, was formed in 2008. "We started the company at the beginning of the bad economy," Mooney says.
In May 2012, it announced a partnership with Catholic Health Initiatives—the nation's second-largest Catholic healthcare system—bringing 56 new hospital clients on board.
In the fourth quarter of 2012, Conifer acquired two companies: Dell's Revenue Cycle Solutions line of business for hospitals and healthcare systems, increasing the annual patient revenue Conifer manages for its client hospitals to $21 billion, and InforMed Health Care Solutions, including its 230 clients, more than 300 employees, extensive healthcare data, and proprietary technology.
—Glenda Vosburgh




Get the D CEO Newsletter
Stay up to speed on DFW's fast-moving business community with weekly news reports, interviews, and insights.