It's an early morning after a late night as I pull into the parking lot of The Original Pancake House on Lemmon Avenue. It's still dark across Dallas, which is fitting as just hours before the Texas Rangers blew two late-game leads that would have clinched the team's first World Series championship.
It seems like everyone in the city must have been up late, as the roads are empty during the short drive to the restaurant. I was among those watching too, but I have no chance to sleep in because I'm meeting Joel Allison, an extremely early riser.
The Baylor Health Care System CEO typically starts his day at 4 a.m., arriving at the Baylor Tom Landry Fitness Center for his morning workout about 10 minutes before its official opening time at 5 a.m. (He's able to let himself in.) He does an hour or so on the elliptical machine, maybe some weights, and then he's off to work.
It's all just a tiny bit tougher than usual this morning, he says, because he was rooting on the Rangers until nearly midnight. "I'll probably pay for it later today, but it was worth it. You're not going to see many games like that," he says.
After briefly stopping to chat with a fellow who works in the accounting department for Baylor, we make our way to a booth against the far wall of the restaurant. I compliment Allison on his dedication to his exercise regimen, which he adheres to six days a week.
"Do you exercise, work out? You look like you're in good shape," he says.
I laugh. "That's just genetics. I don't do much."
"I tell you what," he says in his abundantly agreeable manner. "The best thing you can do is have healthy parents."
We can't choose our genes, obviously. The four most important things a person can do to ensure his own health, according to Allison, are to eat healthily, exercise, manage stress, and don't smoke. He seems to be a shining example of these ideals himself. He orders a cup of decaffeinated coffee, a bowl of oatmeal with a side of blueberries, and a toasted English muffin.
"Several years ago, when I was talking to another CEO about being CEO, he said, 'I'll tell you one thing, Joel—to be CEO, you need to be in the shape of a marathon runner,'" Allison says.
Not a CEO myself, I order three of the restaurant's smallish pancakes and a side of bacon.
Baylor has long been pushing its employees to embrace healthier lifestyles, through a number of wellness initiatives. Now it's taking it even further: As of January 1, 2012, the company will not hire anyone who uses any form of tobacco.
"Is that legal?" I ask him, only half-serious.
"We would not do anything that would be considered illegal," he says, completely serious. "We're in the healthcare business, so we want people to practice good health."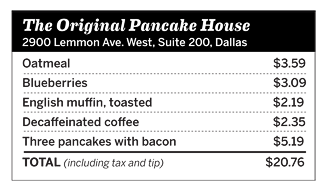 And if more Americans would embrace similar initiatives in their own lives, Allison believes, their health care costs would come way down. It would do even more than 2010's congressionally approved health care legislation—which he characterizes as some good, some bad, and some ugly—to change the system for the better.
After our food arrives, Allison stops mid-sentence as he's talking about Baylor's community wellness project in South Dallas to ask if he can bless our meal. He lowers his head and begins "Lord, we pause to give you thanks for this day and your many blessings …" He asks blessings upon our conversation and upon me and my family.
After completing the brief prayer, without skipping a beat, he launches right back into what he'd been telling me: "And our board pledged $15 million over five years …"
It makes sense that he can pull of such seamless conversational transitions, as he considers his work in hospital administration his own form of ministry.
When I ask him what special talents he brings to his position and to the industry, he demurs, preferring to talk about the many people who have helped him get where he is. It's something he reiterates in the parking lot, as we're saying our goodbyes.
"I'm not very smart, but I can hire smart people. I get people who are a whole lot smarter than me, and I don't have to work as hard," he says with a grin.
We shake hands and head to our cars. "And good luck to the Rangers," I call back.
"Go Rangers," is the last thing I hear him say.
Get the D CEO Newsletter
Stay up to speed on DFW's fast-moving business community with weekly news reports, interviews, and insights.