The Wilson Historic District is a Neighborhood of Nonprofits
The Meadows Foundation leases each Victorian house to a philanthropic business—for free.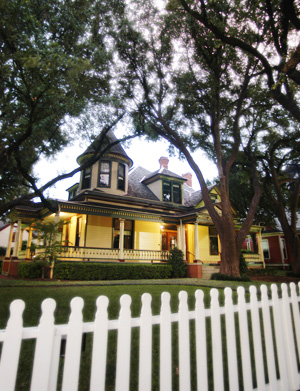 A mile northeast of downtown Dallas, past a sea of parking lots, vacant land, and the concrete tangle of Central Expressway, sits an unexpected counterpoint to the steel-and-glass towers nearby. Mature live oaks shade narrow boulevards; white picket fences enclose vibrant-green manicured lawns; and pastel-colored cottages—remnants of turn-of-the-century Victorian architecture all but bulldozed into Dallas history—stand in mint condition.
This storybook-like village, now called the Wilson Historic District, was saved from demolition when the Meadows Foundation purchased two square blocks of decaying and burned-out homes there in 1981 and began an intensive restoration campaign. The foundation returned the seven extant homes to their original condition and filled the remaining lots in the newly minted historic district with at-risk Queen Anne homes from other parts of the city.
Besides the original two blocks, 24 surrounding acres have since come under the aegis of the foundation, which provides rent- and maintenance-free office space to 37 local nonprofit groups—so long as they collaborate and work to improve governance. If they outgrow the quaint cottages before their 10-year leases expire, there are no hard feelings. The Meadows Foundation even pays moving expenses.