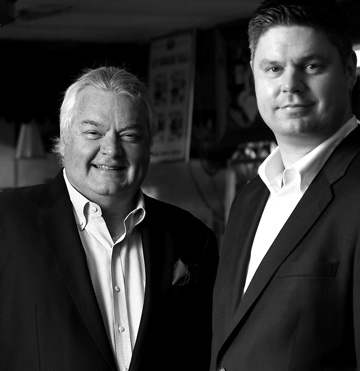 In the Lone Star State, barbecue isn't just food. It's a way of life. Consider the images of cowboys huddled together at night around the campfire. What are they eating? Barbecue. For Elizabeth Taylor to become a true Texan in the movie
Giant
, she had to go to a barbecue.
Not all of us still have steer herds in our front yards, but an awful lot of Texans have barbecue smokers, and most everyone has an opinion of what constitutes great barbecue. But no one has firmer opinions on the subject than Roland Dickey Sr., chairman of the eponymous Dickey's Barbecue Restaurants Inc.
When asked about a prevalent technique of preparing meat with the sauce on it, for example, Dickey says, "That's not barbecue. That's stew." Disdain drips from every word.
Dickey and his family waste no time letting you know what they think. Real barbecue is smoked every night on-site. Meat can't be generic or contain preservatives. It must be sourced from only the best producers and—this is important— teamed up with distribution companies to assure quality control in the national supply chain.
"Most little sausage makers in the Hill Country don't have their own trucks," says Roland Dickey Jr., president of the family owned, Dallas-based company. "For example, one company has been making our Polish-style sausage for 25 years. It's my grandfather's recipe—a blend of coarse ground black pepper, cumin, garlic, beef, and pork in a natural casing. We provide it across the nation because Sysco carries it countrywide for us."
The Dickey's business model can be summarized this way: ensure quality and consistency, and carefully push growth. "A company is either growing or shrinking," says Roland Jr. "We're blazing new trails. No one has ever done what we're doing. We are bringing barbecue across the country."
The company currently owns seven stores and oversees another 119 franchisees, or "owner-operators," as Dickey's calls them, in a total of 22 states. They say the restaurants are not "fast food," but "fast-casual" or "quick serve." Dickey's describes its competition as others in the hybrid category of fast-casual, like Pei Wei or Chipotle—not mom and pop barbecue joints or the few big national barbecue chains like Famous Dave's and Sonny's Real Pit Bar-B-Q.
"People want good food and a good value, but they don't have time to cook anymore," says Roland Jr. He believes there is a "serious void for barbecue," and he wants to convince you that barbecue is a cuisine.
Family Oriented
the dickey's business model also calls for careful devotion to the founder's original recipes, with flexibility in geographic areas. The family-oriented company is big on partnering aggressively with local schools, churches, and other community organizations as well.
The Dickeys pay close attention to location and price-point competition, and they compete hard for mostly male lunch traffic. Unlike other barbecue independents, or franchise operations like Subway, Dickey's also provides "meal replacement," an increasingly popular service among female customers from 4 p.m. to 7 p.m. "This was a dead time, and we've brought it to life," says Roland Jr. They also include catering in the strategy, aiming for 10 percent of a store's revenue to come from catering. Kids eat free on Sundays, and everyone always gets free ice cream.
With one of the fastest-growing chains in their category, if not the fastest-growing, the Dickeys dismiss independent mom and pop stores as inconsistent. "They generally start because they've been smoking meat, so they know how to do that," Roland Jr. says. "But the vegetables are unrecognizable, the bread is store bought, and the sauce is often store bought—too sweet, spicy, or greasy."
Dickey's still uses its original sauce recipe developed in 1941 and boasts about its distinct flavor. Roland Sr. has been all over the country tasting barbecue. "What was that dog s**t sauce I found in Florida?" he says. "I brought some back to my brother and he thought it was spoiled."
His brother T.D. Dickey, known as "Mr. T.D.," runs the seven company-owned stores, and the three Dickeys work collaboratively in an unusually close relationship. Roland Sr. and T.D.'s father, Travis, started the company in 1941, at Henderson Avenue and U.S. 75—a location that's still operating today. The founder died while Roland Sr. was in college, so the boys started working in the store to support their mom in 1968. Roland Jr. joined the company in 1999, after several years working elsewhere. Roland Jr. says his father told him: "If you want to come into the family business, I don't want the owner-operators to think you're a dumbass, so go work someplace else and, if you can make it there, you can come here.' "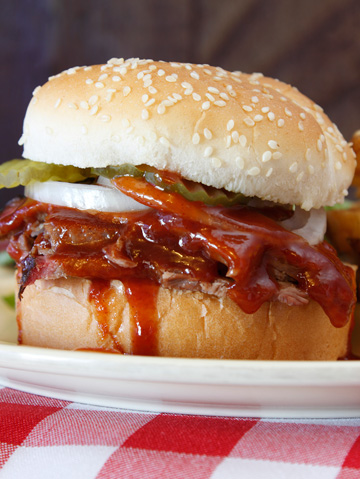 Growth Spurt
Dickey's revenues are projected to reach $112 million this year, with 10 percent compounded annual growth. The company's next growth target is 500 stores. "World domination, one store at a time," Roland Jr. says.
Customer loyalty remains high, the Dickeys say, and growth did not drop off during the recession. In fact, they're currently working on opening 46 stores in states ranging from Arizona, California, and Utah to Illinois, Pennsylvania, and New York. They're opening stores with little or no debt by decreasing start-up costs, asking landlords to put in more money to improve facilities, and focusing more on store conversions.
The Dickeys insist they can keep their "soul" while being a large chain, and they intend to be a national presence, pointing out that there's a great deal of good real estate available in today's economy. "When I proposed this to my dad he said, 'What are you? Insane?' And there was hesitation about going nationwide," Roland Jr. says. "But we've proven it can work."
When the Dickeys launched the national push, they were prepared. They'd made significant capital investments in information technology, marketing, advertising, construction, real estate management, logistics, accounting, and field operations support. Roland Jr. was the driving force in these investments, but Roland Sr. was clearly eager for his son to move the company forward.
The keys are location, recruiting the right owner-operators, and supporting them, the Dickeys say. Support begins with "Barbecue U," an intensive, two-week session where owner-operators learn how to run the restaurants from open to close. They spend a considerable amount of time at the company store on Wycliff Avenue, and end the session by catering a meal for the demanding corporate office.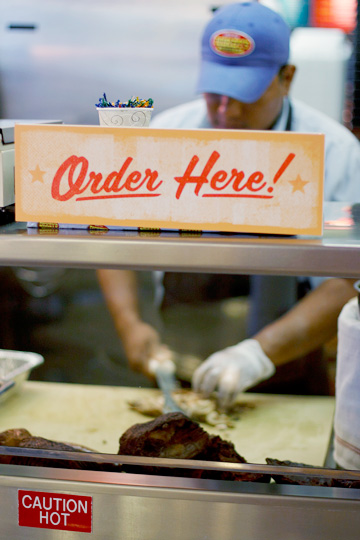 "We're intensely driven to achieve business results," Roland Jr. says. "We start every day at 7 a.m. looking at sales and labor and where we stand against our goals. Our business philosophy is that what gets measured, gets managed. We know what activities drive sales and keep costs in line. Are we driving catering sales? Keeping labor costs in line? Is occupancy the right percent of sales? We've established what works."
Dickey's is respected by others who've started franchise operations, like Tom Friday, who, in 2003, opened Knockouts/Haircuts for Men, a men's spa with young, good-looking girls dressed in athletic shorts. Knockouts has grown to 450 locations across 31 states. "Dickey's has done a good job surmounting the difficulties of running and expanding a family-run business," Friday says. "They've been careful about expansion, and they have a great franchise offering with exceptional validation for interested prospects."
That's echoed by owner-operator David Boisture, who owns Dickey's stores in Southlake, Keller, Arlington, and Fort Worth, and who was previously with a Phoenix operation, The Good Egg, until transitioning to Dickey's a decade ago. "Dickey's is different," says Boisture. "It's the quality, the environment, and the value for the customer."
Boisture takes to heart Dickey's commitment to working with community groups. His stores sponsor the Arlington Lamar football booster club, Keller High School athletics, and the Southlake youth sports organization, for example. They have benefit nights for local elementary schools, church groups, and countless other groups. Such involvement is not just consistent with the company's value system, Boisture says. "It's huge for the local level customer base, and for the evening and weekend business. It builds awareness.
"The Dickeys are very supportive of the owner-operators," Boisture adds. "They are open to ideas and suggestions and quick to develop them." Dickey's is also a good place to be if you want to see your kids, he says. Boisture has three children—ages 10, 8 and 4—and he coaches their sport teams. "Dickey's is a family-friendly place, and that's important. My family is very important to me, and there's no travel."
Customizing The Locations
the dickeys themselves, on the other hand, do a lot of traveling. Airport stores, like the three at Dallas-Fort Worth International Airport, are especially successful, and the family is selecting its out-of-Texas locations carefully.
In general, Dickey's looks for places where they will be able to "amaze" people. "We just opened in Bethlehem, Pa. There was only one other dingy, nasty place in a mall that should have been condemned," says Roland Jr. "The meat was OK, but the sides were an afterthought. The macaroni and cheese must have been Kraft brand, the coleslaw was out of bucket, and the sauce was so sickeningly sweet it could have gone over pancakes.
"And bread—oh, there is nothing I hate more than when they pull slices of white bread out of the store wrapper," he says. "Our bread is a high-quality roll from a high-quality baker that does a dense, semi-sweet yeast roll just for us."
There is also customization in other markets. "In Iowa, for example, they're insane over cornbread. So we developed the best cornbread with cream of corn in it," says Roland Jr. In North Carolina, "they want hush puppies, so we take the same recipe as the cornbread—I can't tell you the spices—and roll it into a ball and fry it. It tastes great."
(But what about the increasingly important issue of calories, obesity, fat content? Is Dickey's barbecue good for you? Roland Jr. suddenly turns less candid, saying simply: "No comment.")
While they're immensely proud of their Texas roots, outside the state the Dickeys have learned to carefully separate Texas from their image. When they opened one of their first out-of-state stores, in Denver, they painted it with Texas flags. "They told me to pack and go home," recalls Roland Jr. Today the Dickey's colors are red and yellow, and the decor consciously echoes the original store. It's homey, comfortable, and of course, dominated by the on-site "smoking" each night. Even if the stores are new, the smokers look like they've been working for decades.
In the end, Roland Jr. says, the family's goals for the company—and for themselves—are simple. "We don't take ourselves too seriously. I mean, we're selling ribs," he says. "Life is too short not to enjoy yourself. Being in the restaurants and greeting the public is the most fun thing you can do. We make a lot of friends. It's not brain surgery."
Get the D CEO Newsletter
Stay up to speed on DFW's fast-moving business community with weekly news reports, interviews, and insights.