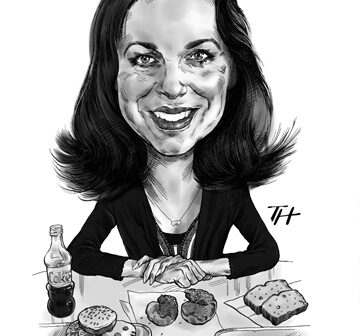 It's surely something of a marketing gimmick that Christine Cook's job title with mattress retailer Sleep Experts is "wife, mom, president." Regardless, she lived up to the billing when we met at Yummy Donuts on Lovers Lane in University Park.
Several customers waited at the shop's counter at 9 a.m. on a Wednesday morning as I entered and spotted Cook at a small, round white table. She already had a few platters sitting before her that were stacked with donuts of assorted shapes, flavors, colors, and sizes. Two pieces of banana nut bread, muffins, and several pigs-in-blankets were also part of our prospective feast.
After accompanying me to the counter to ensure I was aware of my beverage options (I chose water), Cook explained that a typical breakfast for her, after she's gotten her kids off to school and taken a morning run, is a piece of Yummy's banana nut bread along with a Diet Coke. That's where she chose to start her meal, though she asked me to take half of the massive slice. I accepted and also bit into a couple of the pigs-in-blankets as I asked why she opts for a soda rather than coffee.
"I already had my coffee," she says with a smile. "We moms need a lot of caffeine."
While her husband Chris is the CEO and oversees the day-to-day operations of their 34 locations across Dallas-Fort Worth from the corporate office in Carrollton, Christine Cook primarily works from the family's home in the Greenway Parks neighborhood of Dallas. Her focus is the company's marketing and community involvement.
The Cooks were living in Austin when they decided to set up shop in North Texas in 2003. Chris Cook hadn't wanted to follow in the footsteps of his father, who'd run a successful mattress chain in the Pacific Northwest after earlier going bankrupt in Dallas. "But everybody needs a bed, and it was something that we could get our heads around, and I think his dad's experience in intellectual capital has been tremendous," Christine Cook says.
Starting with three stores—on Henderson Avenue in Dallas, in Plano, and in Fort Worth—they set out to create a retail experience that addresses women's common concerns. They advised sales staff not to pounce on customers the moment they walk through the door, and trained them on measures such as where to stand when someone tries out the merchandise.
"Think about how you select a mattress. You're laying on these beds," Cook says. "If I were a woman and came in, and let's say I'm in a skirt, and you're standing at the end of the bed—that would make me very uncomfortable."
As she declined (gracefully, though) to discuss Sleep Experts' annual revenue—beyond claiming the company is No. 2 in local market share—Cook declared that she'd "brave" a heavily decorated donut sporting several mini-peanut butter cups on top. I gambled on a cream-filled pastry topped with chocolate. It turned out to taste like a Moon Pie—not my favorite—so I quickly moved to a simple glazed donut. Cook enjoyed hers before beginning to pick at another with pink frosting and sprinkles.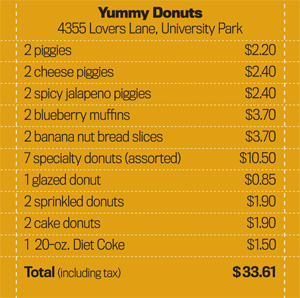 Because her previous career was in the advertising business, she seemed the natural choice to serve as the public face of Sleep Experts. She enjoys getting in front of the camera to appear in ads, but the work she's most proud of is the company's partnership with 22 local nonprofits, to which Sleep Experts donates recycled mattresses. Cook believes these efforts also help the bottom line.
"I'd much rather go shop with a store that I knew was giving back in some way than someone who didn't have that kind of deeper meaning or that consciousness of doing good," she says. "We hear that more and more from our customers who are coming in."
Her children—Catherine, age 9, and Christopher, 8—also get involved with the company's charitable efforts, though it somewhat skews their sense of what mom and dad do for a living.
"I'm not sure they get that we sell mattresses," Cook says. "They understand that we give them away."
I certainly feel like Cook has taken care of me as well as she might her own children as we finish our meal and look at the large pile of food that remains untouched.
"Can I pack this up for you?" she asks. "And you can't say no."
I didn't.
Get the D CEO Newsletter
Stay up to speed on DFW's fast-moving business community with weekly news reports, interviews, and insights.