From D CEO May 2008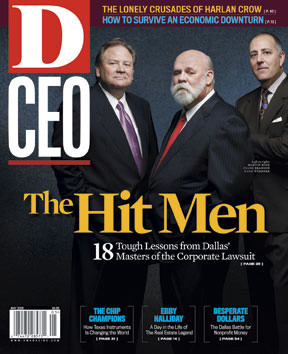 Subscribe
WHY THE MANSION:
Few restaurants rival the Mansion Restaurant at Rosewood Mansion on Turtle Creek, the grand dame of Dallas dining. Its stately elegance, Southern sensibility, and top-notch service always impress. Alas, in recent years, the old girl had started to show her age and was due for a face-lift. And that's just what she got. First, the outdated Southwestern cuisine from Dean Fearing's reign—after he left for his namesake restaurant at the new Dallas Ritz-Carlton—was replaced by Executive Chef John Tesar's bold take on New American and European favorites. (Be gone, lobster tacos; hello, lamb shank ravioli with tomato, mint, and spicy lamb sausage.) Last year, a multimillion-dollar redo reinvigorated the dining space. Afterwards, it was not only current and delicious; it was vital yet again.
[inline_image id="1″ align="" crop=""]WHAT TO EAT:
Through all the changes, one thing has remained the same: Breakfast at the Mansion is still where some of the city's top deals get hammered out. Chef Tesar has tweaked the menu while keeping it simple and classic. Homemade granola with vanilla yogurt, hazelnut brioche French toast with Irish smoked bacon, and the lightest eggs Benedict you'll ever taste are about as fanciful as it gets. But it's no less delicious. Back to those eggs Benedict: Tesar likes his hollandaise light and glossy with a touch of lemon, which helps to cut the richness of the egg. He uses less yolk and butter and whips the yolks longer than normal. Add a spark of citrus, and you have the best eggs Benedict in Dallas. The Marion Cunningham waffles are named after the famed foodie and close friend of James Beard. Tesar scored the recipe from her, and the crisp, airy breakfast cakes come with fresh strawberries and creme chantilly. Oh, and three words: fresh-squeezed juice. Besides the usual suspects—orange, grapefruit, and apple—the Mansion also offers freshly squeezed vegetables juices. Even if you don't like celery or beets, the vivid green and purple add dramatic eye candy to the table. And, yes, they taste good, too.
WHERE TO SIT:
The Mansion's famed veranda overlooking its lush grounds is the best way to impress your guest here. Morning light streaming in. Buttermilk pancakes with chocolate chips. Beet juice the color of royalty. Oh yeah. That contract is as good as signed.
THE DETAILS
THE MANSION
2821 Turtle Creek Blvd., Dallas
214-443-4747
THE FOOD:
Classic breakfast fare
THE COST:
$$$ (Average breakfast entree price: $18)
WHO'S THERE:
Pinstriped power players
WI-FI: Yes
FULL BAR:
Yes (But really? For breakfast?)
Get the D CEO Newsletter
Stay up to speed on DFW's fast-moving business community with weekly news reports, interviews, and insights.