From D CEO May 2008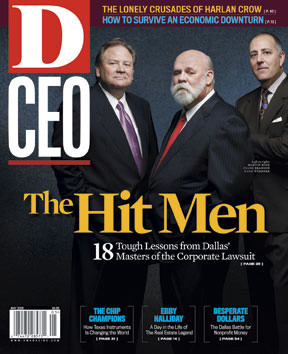 Subscribe
They are apex predators at the top of the litigation food chain, moving as effortlessly and efficiently in the courtroom as great white sharks gliding through their watery habitat. Their courtroom exploits throughout Texas and the rest of the country have earned them princely sums and larger-than-life reputations in the legal community.
Given the impact their verdicts have had on corporate bottom lines, it's no surprise that trial lawyers like Mike McKool, Martin Rose, Jeff Tillotson, and Mark Werbner have increasingly found Corporate America turning to them for high-stakes litigation. Along with Frank Branson—the longtime dean of plaintiff's personal-injury lawyers in North Texas—they are, quite simply, the lawyers an opposing CEO does not want to grapple with in the courtroom.
What are the secrets of their success? And, more importantly, what can they teach chief executives about the things that can make or break a company facing trial? Here, they offer their insight, drawn from years of trial experience.
Mike McKool
The Worker
Preparation Pays Off
Mike McKool [ MCKOOL SMITH ]
For Mike McKool, founder and senior partner at McKool Smith (which has more than 90 lawyers in Dallas; Austin; Marshall, N.Y.; and Washington, D.C.), courtroom success comes down to a near-obsessive level of preparation. A veteran of more than 120 trials, McKool says that while "you can be good without much preparation, you can't be consistently good."
Known for the intensity he brings to each case, McKool synthesizes a complex case that may involve millions of pages of documents into a lengthy outline of key facts, necessary proof, and an index of all of the case's exhibits. He's been known to isolate himself for days or even weeks as he prepares for trial, and he serially tests his cases using focus studies and mock trials to evaluate what works and what doesn't.
McKool remains keenly attuned to fundamentals, even in an age where technology and multimedia presentations dominate high-stakes litigation. "You have to create analogies for people that they can relate to, without talking down to the jury," he says, but "90 percent of the graphics I see in the courtroom are too busy."
McKool's track record shows that preparation pays off. He's been the go-to lawyer for people like Tom Hicks and Ray Hunt. His client roster reads like a who's who of Corporate America, including EDS, American Airlines, ExxonMobil, Ericsson, and Holly Corp. McKool's results against corporate defendants—often multimillion- dollar outcomes—are some of the biggest reasons CEOs want him on their side.
Says Ray Hunt of Hunt Consolidated: "What I really look for and value the most is knowing not only that the person is a great legal mind, but that he has judgment that I have confidence in. I value Mike's non-legal judgment as much as I value his legal skills."
Another factor in McKool's success is the level of personal dedication he brings to his cases. Discussing his successful defense of the Hicks Muse private-equity firm (now known as HM Capital) against accusations of mismanagement by a bankruptcy trustee for a failing dental company, McKool says, "It was very emotional for me. These were friends of mine, being accused of something that was so off-base; if anything, Hicks Muse had been defrauded." After an eight-week jury trial in Worcester, Mass., McKool and his client emerged victorious.
For lawyers who have squared off against McKool, his intensity and passion for detail are all too familiar. According to Jones Day partner Terence M. Murphy, who has represented companies like Trammell Crow and Texas Instruments in litigation with McKool on the other side, "Mike will dig to the bottom and get every fact he needs. You know you're in a battle royal when you go up against him."
McKool's victories on both sides of the bar have given him a keen insight into what CEOs should and shouldn't do in the courtroom. "The reality of the courtroom and the reality of the boardroom are two different things," he cautions. "Many executives pay relatively little attention to a lawsuit until trial is bearing down," resulting in a kind of "panic" setting in. McKool recommends that CEOs control what they can by familiarizing themselves with key documents and events, since juries "tend to hold them accountable for a level of direction and detail that would stun a CEO." At the same time, McKool warns against CEOs trying to take control and argue their case. "A CEO needs to know who is going to stand up and be his representative in the courtroom," he says. "Put faith in your lawyer to state your side."
Frank Branson
The Guru
Know Your Web Site
Frank Branson [ LAW OFFICES OF FRANK L. BRANSON PC ]
Frank Branson, of Dallas' Law Offices of Frank L. Branson PC, a nine-lawyer boutique, has made a lengthy career out of verbally eviscerating executives on the witness stand who fail to heed advice like Mark Werbner's (see p. 32). For Branson, a CEO is "the voice of the company" through whom the corporate attitude shines to the jury. The guru of Texas personal-injury trial lawyers, Branson reminds executives that, "as the jury perceives them, they will perceive the company."
One good illustration of this concept came in the Ford/Firestone tread separation litigation several years ago. Branson spent a week preparing for what would be a seven-hour deposition of Jacques Nasser, the former president of Ford Motor Co. Branson confronted Nasser with his own quotes from Ford's web site about trust and the company's partnership with the American consumer, and ultimately got Nasser to admit that Ford was a fiduciary to its customers. One of the biggest mistakes CEOs can make, Branson says, "is to not look at their own web site."
According to Branson, too many "I don't know" responses can be even more damaging to a company than one truthful but damaging admission, since "CEOs are presumed to have a lot of information." In a wrongful death case against a trucking company, Branson once played the jury 17 minutes of "I don't know" answers in a videotaped deposition by the company's safety director. Using razor-sharp cross-examination skills honed by years of trial work, Branson excels at getting what he wants out of a witness.
Take, for example, the time he forced a manager of a railroad to admit gross negligence. "I put him in a posture where, if he answered truthfully, it was gross negligence and, if he didn't, he was between the devil and the deep blue sea," Branson says. The notches on Branson's gun include multimillion-dollar verdicts and settlements against companies like American Airlines and Mitsubishi, as well as hospitals like HCA and major pharmaceutical companies.
Of course, Branson doesn't get by on cross-examination skills alone. Having learned as a young lawyer that "juries remember the visual aspects to a trial better than the verbal," the attorney employs a staff that would rival a Hollywood special-effects outfit. Branson not only has a full-time medical illustrator for personal-injury cases, he also employs sophisticated video and editing professionals using state-of-the-art technology.
As I toured his Highland Park Place office, one staffer was working on a computer-generated animation for a product-liability case against a nail-gun manufacturer, feeding in data that would aid in reconstructing the incident, right down to a CSI-like recreation of the nail penetrating the plaintiff's brain. Such technology is crucial, Branson says, not only because jurors have become accustomed to seeing such effects in movies and on TV, but because "our real function is to educate the jury and create images that they will remember." To get inside the mind of jurors, Branson also makes extensive use of focus groups, shadow juries, professional reenactments, and mock trials (he even has a "courtroom" built out on one floor of his building).
Mark Werbner
The Salesman
Knowing What Sells
Mark Werbner [ SAYLES WERBNER PC ]
Another top trial lawyer, Mark Werbner of Dallas' 15-lawyer Sayles Werbner PC, has found courtroom success by sometimes taking things less seriously than other attorneys. Werbner once asked a reluctant witness if he'd like a cookie for answering a question. Jeff Tillotson (right) describes Werbner as "very animated and lively," and "very good at recognizing what sells and how to sell it." Distinguishing himself from lawyers like Mike McKool, who strive to master every detail, Werbner says, "I try to keep a little distance, in an effort to see the case from the jury's perspective. … That tends to make me cut to the chase and hit the punch line quicker." Werbner, a veteran of more than 150 trials, relishes the opportunity to "craft the story and set the pace" when litigating against companies.
His approach has worked. Werbner has won some eye-popping verdicts, including a $73.5 million verdict in Dallas last year against Sears, Roebuck and Co. on behalf of a group of bondholders who claimed that Sears had violated certain investor agreements. He also won a $454 million award in 2001 against Comp USA Inc. and its president, billionaire Carlos "Slim" Helu, in a breach of contract case (it was later overturned on appeal).
For CEOs, Werbner warns against being arrogant or bossy in the courtroom, a perception that can arise not just from words, but from one's posture or interaction with the bailiff or court reporter. He also urges CEOs to get back in touch with "real people" by viewing their bad habits in a mock trial. "You don't want to come off like a fish out of water in front of a jury full of people who might be working two jobs to make ends meet," he says. "A mock trial can clue you in about diversity, about your vocabulary, and use of business jargon." Executives, according to Werbner, have great potential. "If they come across as down to earth and genuine, they will have a lot of credibility with the jury," he says. "When people feel accepted by someone they perceive as powerful, that's a very positive dynamic."
Jeff Tillotson
The Underdog
The Importance of Flexibility
Jeff Tillotson [ LYNN TILLOTSON & PINKER ]
As Mike McKool points out, having the right champion is crucial. That advice is echoed by another top trial lawyer, Jeff Tillotson, of the 17-lawyer, Dallas-based trial boutique Lynn Tillotson & Pinker. "If you're scared of the opposition, then your client shouldn't have hired you in the first place," Tillotson says. "No one should be denied a good lawyer because their cause is unpopular."
Tillotson should know; he's represented a variety of unpopular causes and litigants who are no strangers to controversy. He represented singer George Michael in a defamation suit, embattled school superintendent Bill Rojas against the Dallas Independent School District, and Ford Motor Co. in the Crown Victoria product-liability litigation. Tillotson also represented SCA Promotions, the sports-marketing company that balked at paying Lance Armstrong a bonus for his Tour de France victories in the wake of doping allegations. While that bitter dispute was ultimately resolved in arbitration, Tillotson had to face the ire of his own mother, a cancer survivor, for the side on which he found himself.
Tillotson almost bypassed the legal profession, opting instead to get a degree from Georgetown University's School of Foreign Service before studying business at the prestigious London School of Economics. Eventually, he found his calling in high-stakes commercial litigation, graduating from the University of Texas School of Law. He's tried cases in 15 or more states over disputes ranging from the tens of millions to the hundreds of millions of dollars.
Last year alone, at a time when many litigators were complaining about dwindling opportunities to go to trial, Tillotson tried four major jury trials and a significant bankruptcy case. Most of his business derives from referrals from clients or other lawyers, like the patent infringement case he tried and won in Reno, Nev., last December—just three weeks after being retained. No wonder, then, why Tillotson has been a go-to lawyer for companies like Mary Kay Cosmetics, Southwest Airlines, and Pacificare; he's also taken on local giants like TXU.
Tillotson stresses the need to be extraordinarily flexible and reactive in trying cases. For him, a trial is "like an athletic contest, where the momentum can shift. Exhibits are excluded, witnesses show up or don't show up, you have to be able to make changes." Tillotson likes to start a trial with what he calls an "instant pitch" to the jury, "like a 10- or 20-second clip of the defendant's main witness admitting something," pouncing on the moment and forcing the corporate defendant to spend the rest of the trial recovering.
Such tactics served him well in defending Visa USA and Visa International in a high-profile Internet defamation case in 2003. Dallas-based Zixit Corp. had sought more than $700 million in damages, claiming that a Visa executive had written 437 web postings critical of Zixit that affected its stock price. Tillotson showed the jury "devastating graphics" that depicted how the fluctuations in stock prices bore no relation to the postings. He illustrated his point about the 437 postings being dwarfed by more than 60,000 other postings made about Zixit in the same time frame by showing a picture of a football stadium with cheering and crowd noise drowning out the scattered boos. Faced with what Tillotson describes as "some of the most difficult facts and the worst witnesses I ever had," he prevailed for Visa after a four-week trial that the National Law Journal hailed as one of its "Defense Wins of the Year."
Given experiences like that, Tillotson knows what he's talking about when he advises CEOs not to fear a jury; plaintiff's lawyers, he says, "can smell fear." According to Tillotson, a CEO is actually at an advantage in the courtroom because "jurors want to believe witnesses. In Dallas, we respect successful business people—the Ross Perots and the Mark Cubans. A CEO should be straightforward and acknowledge where the company went wrong. Treat jurors like they were your board members; don't treat them like potential sales prospects, or you'll get hammered." Above all, he warns, a CEO needs to take each lawsuit seriously, and rid himself or herself of the idea that the case won't go to trial.
Martin Rose
The Gambler
'Be There—And Care'
Martin Rose [ ROSE•WALKER ]
If Frank Branson is the Hollywood special-effects wizard of this elite group, then Martin Rose of Dallas' Rose∙Walker is the high-stakes poker player. The lawyer with more than 70 trials under his belt—who in fact played competitive bridge and poker during law school—contends that, "If you want to win at anything, you have to be willing to lose as much as you're willing to win. You can't be like the golfer on Sunday afternoon who plays it safe." It's a maxim that has paid off handsomely for Rose.
When his client Interstate Southwest, an aircraft engine parts manufacturer, was blamed by Textron Lycoming for a number of fatal air crashes, Rose sued the bigger company for fraud and obtained findings that Lycoming's faulty design of crankshafts that failed was really to blame. After a seven-week trial in Grimes County, Rose prevailed with a $96 million verdict against Lycoming, wiping out a $180 million claim against his client, in a decision legal analysts called one of the biggest wins of the year.
Such wins in the face of long odds and stiff opposition have become almost commonplace for Rose. In 2001, he obtained a $25.2 million verdict for Raytheon against Learjet in a fraud/breach-of-contract lawsuit stemming from a Federal Aviation Administration contract. Before that, Rose successfully defended trucking giant Yellow Freight in a wrongful death case tried in small-town Mississippi, a case Rose describes as a "defendant's nightmare"; his defense verdict was upheld in 2005 by the Mississippi Supreme Court. And, last year in Dallas County, the veteran trial lawyer won a $9.8 million wrongful-termination and defamation case for Dr. Neal Fisher, who was fired by Pinnacle Anesthesia Consultants after voicing concerns about the company's billing practices. This last victory, however, was overshadowed by tragedy when Rose's longtime law partner, Hal Walker, died suddenly during the trial. It is a loss felt to this day by Rose and the rest of the firm co-founded with Walker, a man Rose describes as "fearless," and someone who "loved the theater of the courtroom."
Rose's track record in Texas and nationwide has made him a "must-have" defense attorney for many corporations, though he regularly wears the plaintiff's hat in everything from complex patent infringement and commercial litigation to wrongful-death cases. His experience in trying highly technical cases instilled in him early on the importance of reducing a case to a few simple, easy-to-grasp concepts. "This is what juries react to—right or wrong, truth and falsehood," he says. To illustrate the point, Rose cites an example from the Pinnacle Anesthesia case. When the CEO testified at trial, Rose relates, he "did the right thing—acknowledging that the firing wasn't done right, and so on. But then, they made the mistake of bringing him back the next day and having him recant all of that."
A CEO's testimony, according to Rose, can make or break a case. He cautions executives to remember that "half the jury is prepared to respect you, and half is prepared to loathe you. Be humble, be approachable, and don't try to take on the lawyer." Above all, he says, "be there—and care. Stay in the courtroom."
An executive in the Lycoming case learned that lesson the hard way. Though he attended most of the trial, he was conspicuously absent for the punitive-damages phase. Knowing that he had caught a flight after the initial verdict, Rose called him and other absent executives as witnesses, betting on the chance that the absences would leave an impression on the jury. Afterwards, Rose asked the jury, "Where [were they] to tell you [they] heard your message?" Since Lycoming's executives apparently hadn't heard the jury's message, Rose urged the jury to "make [their] message louder." The result: more than $86 million in punitive damages.
If you don't want to hear a message like that, you'd best heed the advice Rose and these other top trial lawyers have to offer. Reading it here beats learning the hard way—in the courtroom—any day.
Get our weekly recap
Brings new meaning to the phrase Sunday Funday. No spam, ever.