From D CEO May 2008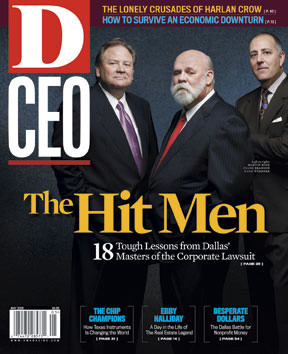 Subscribe
photography by Dan Sellers
Pipe smoking is an art, and a lost one at that. But Robert Knebel, a Dallas lawyer at Fernandez LLP, is an artist in his own right—a loyal pipe lover with more than 50 pipes to his name.
Introduced to the pastime in 1973 by his college professor, Knebel has come to appreciate the calming qualities of a good smoke. "It has really become a social event that has allowed me to develop many friendships over the years," he says.
Knebel meets regularly with friends at Lincoln Park Center's Up in Smoke store, where they swap stories in overstuffed leather chairs, all the while savoring the smooth flavors of their favorite tobaccos. Knebel prefers Mist brand blended vanilla tobacco packed into his trusty Sherlock-style pipe, though he's especially proud of his Meerschaum, a valuable pipe that was hand-carved from fossilized seashells extracted from the mines of Turkey.
So, if you haven't been smoking for 35 years like Knebel has, what's the secret to looking like an old pro? He says the trick is balance—both when it comes to packing the pipe ("not too loose and not too tight") and finding the perfect complement. Knebel's recommendation? A McAllen Scotch on the rocks.
Get our weekly recap
Brings new meaning to the phrase Sunday Funday. No spam, ever.