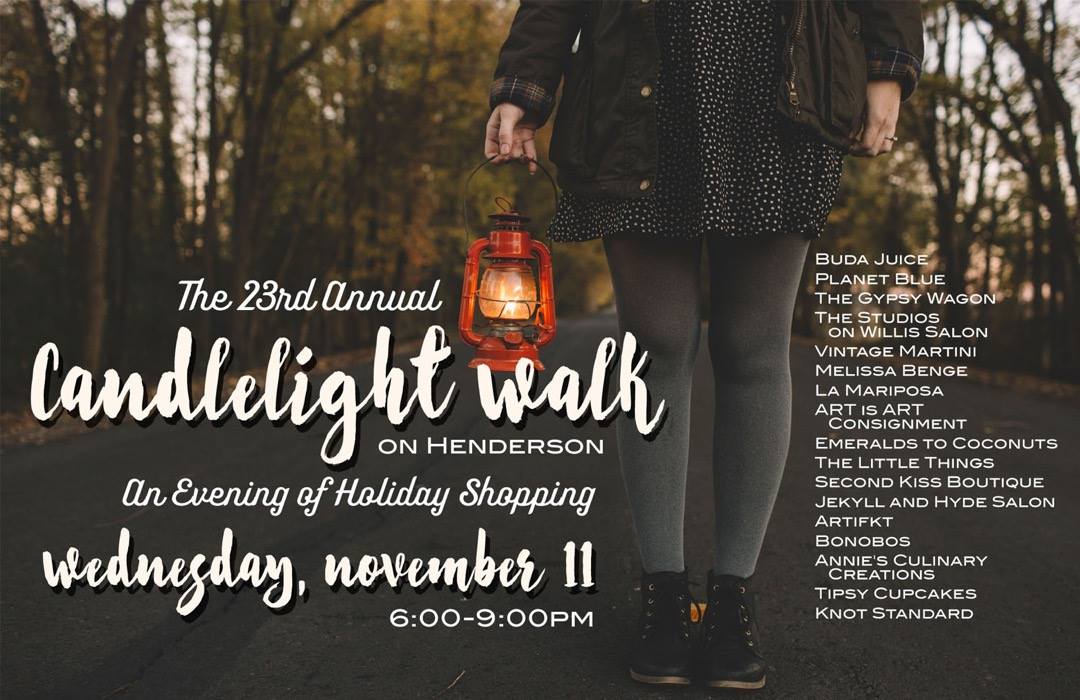 Kick Off Your Holiday Shopping on Henderson Avenue This Week
Cross some names of your list.
With perfectly culled shops such as The Gypsy Wagon, Artifkt, Bonobos, The Little Things, and more, Henderson Avenue is a variable treasure trove for gifting – no matter whom the recipient is. This Wednesday, the lively street's shops will open their doors after dark (and offer discounts) to celebrate the start of the holiday season during the 23rd Annual Candlelight Walk on Henderson. So grab a complimentary candle and cocktail, fuel up on light bites, and prepare to knock out a sizeable chunk of your holiday shopping at the following stores.
Buda Juice
Planet Blue
Gypsy Wagon
The Studios on Willis Salon
Vintage Martini (20% off all merchandise except jewelry)
Melissa Benge
La Mariposa (15% off all merchandise)
ART is ART Consignment (10% off all merchandise)
The Little Things (15% off all merchandise)
Emeralds to Coconuts (20% off all merchandise)
Second Kiss Boutique
Jekyll and Hyde Salon
Artifkt (20% off all merchandise except paint, wallpaper, books, and artwork)
Bonobos (10% off all merchandise)
Annie's Culinary Creations (complimentary samples and a 10% discount on items purchased or ordered that evening)
Tipsy Cupcakes (BOGO free special [limited to one cupcake purchase for the free cupcake])
Knot Standard