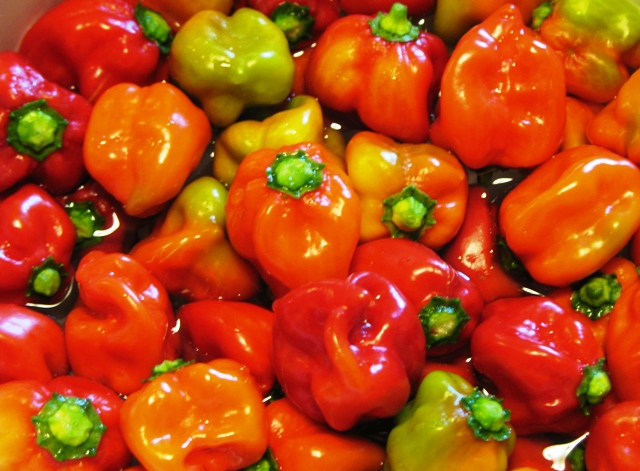 In The Garden: Peppers Abound? Try Pickling…
Here's what to do with your peck of peppers.
I can't imagine a summer garden without an abundance of peppers. Peppers, both hot and mild, are easy to grow and can be planted through the summer months. There are many varieties of peppers to choose from to suit any palette. Peppers also make great ornamentals and can be grown in patio containers. If you provide your plants with a sunny location and are fairly consistent about your watering (they are forgiving), you'll end up with plenty of peppers for the eating and the saving until the first hard frost.
Yet, there can come a point at which you feel overrun by the bounty of peppers from your garden. There are only so many ways to work them into weekday meals before you find yourself wondering what you'll do with all the extras. That's where pickling comes on handy.  With some basic canning supplies and a simple recipe, you'll be able to stock your pantry and enjoy pickled peppers year-round, even when the plants are long gone.
Pickling is very easy, so if you've never canned anything it's a good place to start. You need glass jars, mason type, with a secure lid, rings, and a simple water bath canner. You'll need to sterilize your jars and lids before you begin. You can either do this in the dishwasher or boil them for 10 minutes. You don't want your freshly sterilized jars to sit too long before you fill them. They should still be hot. Trim stems off the peppers and make sure to wash them thoroughly. Make a small slice in each pepper to aid in vinegar absorption.
When pickling, I like to use apple cider vinegar because I think it creates a more interesting flavor. In a large pot, bring to a simmer enough vinegar and water (a 50/50 mixture) to fill your jars. Stir in one tsp of pickling salt for each jar you'll be filling. In each sterilized hot jar, pack in peppers tightly and ad 3 cloves of halved garlic, and 4 to 6 peppercorns. You can also add other seasonings if you'd like. After the vinegar mixture has simmered for several minutes, ladle the hot vinegar into the jars completely covering the peppers. Leave about ½" of space between the liquid and the top of the jar. Run a sterilized knife or spatula between the peppers in the jar to remove air bubbles. Add more vinegar if necessary. Wipe the rim clean with a damp cloth then seal the jar with sterilized rings and lids. Don't tighten the ring too much, just secure it.
Bring water to boil in a water bath canner. Completely submerge the jars into the water bath and process for about 15 minutes. Remove the jars and set them on a dishtowel to cool. You'll know the lids have sealed when you hear a popping sound and you cannot depress the lid.
Pepper problem solved—at least until next summer!