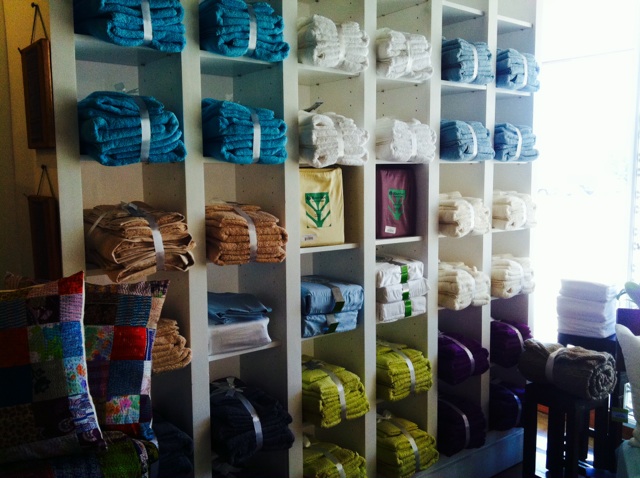 Shastra: A Place to Shop & Change the World, All in One Stop
Bring on the good shopping karma!
While the storefront officially opened on April 4 in the heart of the Design District, Shastra Home has been around since 2000. Owner Anu Agarwal started with selling mainly tabletop décor for wholesale prices out of her warehouse, but last year she decided it was time to expand and open a retail space.
"I believe in quality over quantity," Agarwal said of her quaint, but treasure-stocked shop. With hand-woven silk scarves, hammered metals shaped into brass letters, and furniture such as side tables and desks made of scrap wood from torn down Indian palaces, the quality she speaks to is obvious.
Shastra is a fair trade retailer, meaning it must uphold nine mandatory principles, and Argarwal said the most important is being fair to the Indian artisans who crafted every product in her store.
She organized a non-profit program in New Delhi, India years ago called the Living Dreams Foundation, which teaches female artisans useful tasks like speaking English, signing their names, how to manage a bank account, reading and writing, and how to make a living off of their craft.
"I really have this empathy for artisans," Argawal said, adding that hand-crafted materials "are kind of all dying in a way, and it's sad."
That's why she started her non-profit and her home store. She hopes to soon bring some of her artisan mentees to Dallas for an "artisan workshop," a spin off of trunk shows, where the artisans can teach their talents to participants and show the work that goes into each handmade piece.
Because she wants the artisans to maintain a substantial workload and develop an understanding of work ethic and responsibility, she does not markup any of the items' prices. Selling them for wholesale to the public helps with a quicker departure from the store's shelves. You can find pieces in her store for under ten dollars to about $250.
Not only does she cares about changing the lives of the artisans she works with, but Argawal also wants to help improve the environment. She collects rainwater in large green bins outside her store to water the bamboo lining its parking lot, rather than installing a sprinkler system. The shelving and other hardware in her shop are made of recycled or repurposed materials, even the ceiling, and all products for sale are made from organic and natural materials.
"The objects in your home are not just objects," she said, "They define you." The carefully combined measure of home décor in each of our abodes was what helped Argawal formulate the name of the store, Shastra, which means "science" in Sanskrit.
Forget chemistry class; this is the kind of science I would love to participate in.
Audrey Swanson is a D Home and D Weddings intern.