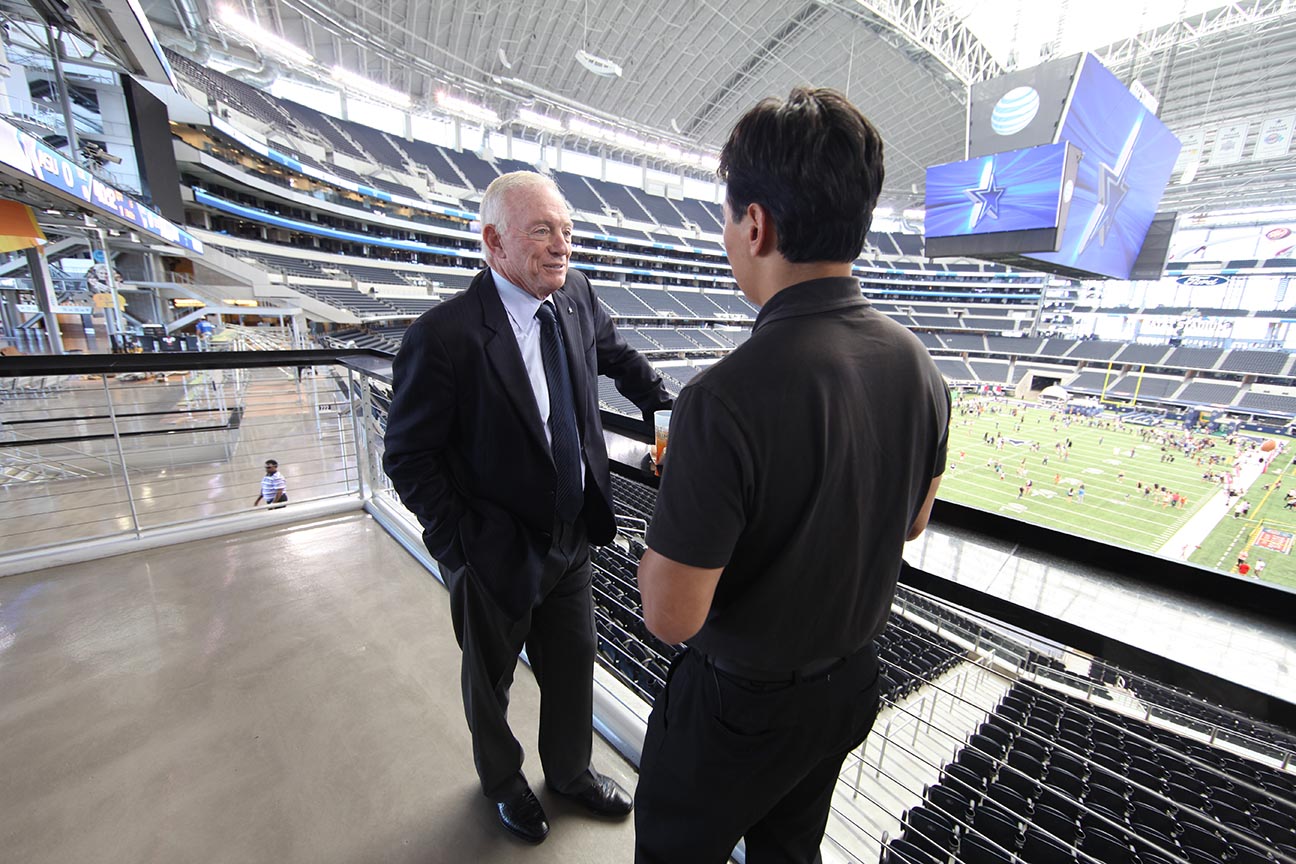 Architecture 360: Explore What Makes Dallas' Buildings Cool
This April we're celebrating Architecture Month with AIA. Every Wednesday and Friday I'll be introducing you to a guest blogger who will tell us all about whats happening in the Dallas architecture world. Today we've got Stephen Chung to tell you about his upcoming television show, which will feature our very own AT&T Stadium. 
"Cool Spaces! : The Best New Architecture" is a new television series currently airing on public television.  Each hour-long episode profiles the most provocative and innovative public space architecture in the U.S. and is organized around a central theme — such as performance spaces or art spaces. Tonight, the Dallas Center for Architecture (DCFA) will host a screening of the premiere episode, one which highlights performance spaces and features our very own HKS-designed AT&T Stadium.
Its creator and host is Stephen Chung, a Boston-based architect and teacher.  Before founding his own studio, he worked in the offices of Richard Meier and Partners and also with Philippe Starck.  As an educator, Stephen has taught design at many schools including Syracuse, Cornell and Yale. He talks more about why he produced it below:
For each building, we will see why it was designed, how it was designed, and discover just what makes the building so cool. As a Boston-based architect and teacher, and your host, we set off to explore these questions and decide for ourselves if a building really is a "Cool Space!"
People often ask me what "Cool Spaces!" is all about. And I never can answer without giving a bit of background. You see, it really begins over seven years ago, during the recession, which decimated the architecture profession. In a four-year span, approximately 30% of all architecture jobs in the U.S. were lost — including my own. This time away allowed me to reflect on the profession and its problems and to think about what role I might play in bringing about some positive change.
I decided to focus my energies on finding a way to share my passion for architecture with the general public — to bridge the gap between my fellow designers and those who use the places we create. My hope was that if we, as architects, could better explain what we do, and why it's important, it would increase interest in architecture. With a more engaged general public, there would be more opportunities for architects to build. Ultimately, I figured, the increased attention could lead to a better built environment. And by that I mean it could be better designed, less costly, more sustainable, and more beautiful. Everyone would benefit.
Too ambitious, you say? I think that ambition is a quality that afflicts all architects.
This show was made to appeal to a general audience that might have interests in design, engineering, or travel — and after watching "Cool Spaces", hopefully architecture as well! That being said, if you feel that the show is something positive for our profession, I hope that you will help me spread the word in any way that you can.  I am glad that the show is being screened at DCFA. With all of us working together, we can continue to get the subject of architecture to "tip" into the public consciousness.
The Architecture Film Series: Cool Spaces! screening is part of Architecture360, a month's worth of public architecture-related activities presented by AIA Dallas and Dallas Center for Architecture to celebrate Architecture Month in Dallas. The full slate of Architecture360 events is found here.
Cool Spaces! Is screening Tonight to Highlight Dallas' AT&T Stadium And Explore What Makes Buildings 'Cool'
Stephen Chung, AIA is the creator and host of the new television show entitled "Cool Spaces!: The Best New Architecture" on public television.