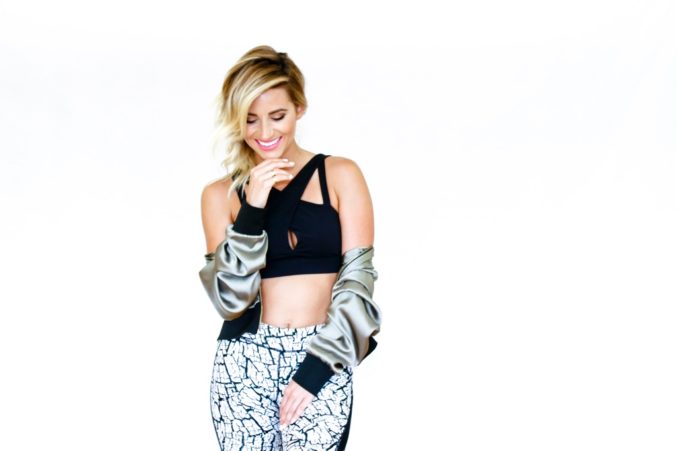 Get to Know Dallas' Dancing Queen
We caught up with choreographing powerhouse Michelle Keys.  
When you think of top dancers and choreographers in Dallas, Michelle Keys almost certainly comes to mind. Her name may have seeped into your consciousness during her days dancing with the Mavericks, or her three seasons cheering for the Cowboys. You may have even fallen down an Instagram rabbit hole, watching video after mesmerizing video of students deftly dancing their way through a Keys-led Power Class at Kitty Carter's Dance Factory. (Seriously, they're insane.)
Between local teaching sessions and bicoastal pop-up classes, we caught up with the busy Keys to get better acquainted with the newly engaged dancer, who shared everything from her favorite workouts (hint, dance cardio is key) to how she dreams up new choreography.
From Instagram, life looks amazing. Walk us through a day in the life of Michelle Keys.
That's funny. I work hard at promoting only positive things because there's enough negativity elsewhere to go around a few times. Honestly, sometimes my life can get a little bit lonely. I work by myself. I don't have a team or co-workers.  My schedule is always different so some days I'm in the studio choreographing, or other days I'm just working hard at finding new work.
How many hours a week do you dance?
I've lost count. All day, almost every day. Whether that's doing privates, teaching a team or working with my little dance kiddos at the studio. I never stop.
Can we take one of your dance classes in Dallas? When and where?
Always check my schedule, but for the most part they are on Wednesdays and Thursdays at Kitty Carter's Dance Factory. You can find the registration on my website and my Instagram.
Do we need to be pro dancers to keep up? 
My pro prep training is completely separate from my Power Class. Power Class is open to all levels.  It is a no judge zone. If you don't pick up the choreography, I can promise you you're going to pick up some new friends.
What's your favorite part of your job?
The most rewarding part about my Power Class is giving students the environment that I had when I first started. Whether you've danced your entire life or it's your very first dance class, it's your time to let it go and step outside of your comfort level. Huge thank you to Kitty Carter for helping me make this dream come true and providing this space for me. She's a huge inspiration and has trained some of the most talented dancers and creators in the entertainment world today.
How do you come up with your choreography?
I play the music and freestyle to it. If there's a move I do that I like, I'll keep it and add on from there. It usually takes me a few hours to come up with a combo. I will always listen to the song in my car driving around for about a day beforehand though so I have a platform to go off of in my mind. 
Okay so we probably know the answer to this question then, but we have to ask. How do you stay in shape?
I think dancing is the best form of a workout because you're working every muscle in your body without even realizing it. I also train with Sharif Abboud at his gym, EVOLVE. He's located in Downtown Dallas and his group workout classes are the absolute best. It's all about energy for me and he brings it. I also eat pretty clean and drink nothing but water. I'll have a cup of coffee in the morning but other than that, some pH water is my jam. I also do cryotherapy at Phoenix ReGen to cure my soreness.  It's way easier than sitting in a tub full of ice.
It's a Saturday. What's on the agenda for your ideal night?
You'll probably find me having dinner with friends and then in bed by midnight. I don't really go out much because I wouldn't be able to get up and perform at my best ability. This job is very mentally and physically demanding.
If you were to impart wisdom on any up-and-comers, what advice would you share to enhance their dance game? 
Nothing happens overnight. If you want something you need to put in the work every single day and never stop. Once you achieve a goal, create a new one. Always push yourself and motivate yourself. Don't rely on anyone else to do this. Be okay with having days of downs and not feeling like you're getting anywhere because tomorrow is a new day and you'll see the sun again. Grow through the struggles and always learn something from it.
You're not just choreographing in Dallas. Where do you travel for your dancing career? 
I started out doing pop-up classes just here in the south, but pretty soon my desire to expand and reach more cities was brewing.  I now teach across the U.S. from coast to coast. I believe traveling (especially alone) forces you to grow.