Dan Koller used to work here. He was the editor of our sister People Newspapers operation. Now he works in comms for the Allied Pilots Association. But he hasn't shaken the journalism bug. He runs the Coppell Chronicle, a Substack that, well, chronicles Coppell, where he lives. Dan is a masochist. He voluntarily sits through City Council and school board meetings to report on the news that no other outlet covers.
Which brings us to the following story that Dan has given me permission to republish. Have you seen the 2022 movie Vengeance? If you haven't, then don't. It's not good. The ending is especially problematic. So I'll spoil it for you: Ashton Kutcher's character deals drugs with impunity, even as his buyers overdose, because he has figured out that by dumping the bodies at the nexus of three West Texas jurisdictions, no single law enforcement agency will take responsibility for investigating the deaths.
That's what is happening in the community of South Haven, in Irving. Except instead of overdoses, the problem is speeding drivers. Read Dan's report. I think you'll enjoy it. And consider subscribing to his Coppell Chronicle.
***
Isolated Neighborhood Stuck in the Fast Lane, by Dan Koller
Merriam-Webster defines the word "haven" as a "harbor" or a "port," as "a place of safety," and as "a place offering favorable opportunities or conditions." Some residents of South Haven believe their neighborhood's name is highly ironic.
"This community is pretty strangely located," Prasad Choppa told the Irving City Council this month.
South Haven is to Irving what Alaska is to the United States; it's part of the city, but it's not connected to the rest of the city. To access any other Irving neighborhoods, South Haven residents must drive on roads that are in Dallas and Coppell.
Choppa spoke during the "Citizens' Forum" portion of the council's Aug. 3 meeting to advocate for a deceleration lane along East Belt Line Road. The speed limit on that stretch of Belt Line is 50 miles per hour, and the road curves right before it intersects with South Northlake Road, the only path in and out of South Haven. Choppa told me cars have hit the neighborhood's monument sign twice in the last few months.
He started emailing city staffers about this problem shortly after he bought his house in December 2020. Irving employees told him to talk to Dallas, because that intersection is technically within Big D. Dallas employees told him to talk to Coppell because East Belt Line Road is part of Coppell's thoroughfare plan.
In the map below, Dallas' territory is shaded in green. Unfortunately, the shades of pink used for Coppell and Irving are so similar they might as well be identical, but Grapevine Creek is the basic boundary. South Haven includes streets such as Canoe Drive, Otter Way, and Minnow Road. The blue pin is where Choppa would like somebody—anybody—to add a deceleration lane.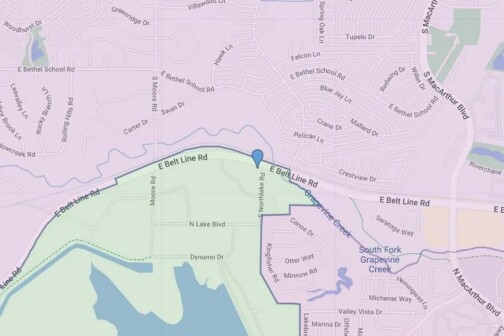 South Haven is a community of more than 800 residents in about 200 houses. The subdivision is zoned to Coppell ISD, specifically to Austin Elementary School and Coppell Middle School East. Choppa said its population includes 150 elementary students and 150 secondary students; he's particularly worried about the latter group because it includes teenage drivers who would especially benefit from an opportunity to slow down.
Adding to his frustration, the smaller subdivision to the east (Belmont Landing) does feature a deceleration lane along Belt Line. The difference is that Belmont Landing and its portion of Belt Line are both inside Coppell's city limits.
After Choppa's Aug. 3 speech to the Irving City Council, City Manager Chris Hillman asked him to speak to Irving Traffic and Transportation Director Dan Vedral. When I met with Choppa a couple of Fridays ago, I asked him how that conversation went. Here's how he summed up Vedral's position: I'd love to help you, but I can't add a deceleration lane to a road in another city.
When I asked Irving Communications Director April Reiling for a statement, she replied with this: "To alert and remind drivers about the intersection, City of Irving staff plans to work with the City of Coppell to install traffic signage along Belt Line Road indicating 'Intersection Ahead' prior to the Northlake Road at Belt Line intersection. The City of Irving is unable to provide the requested eastbound right-turn on Belt Line Road because it is not located within Irving city limits."
When I sought to confirm that with Reiling's Coppell counterpart, Hannah Cook, she said Coppell Director of Public Works Mike Garza advised Irving officials that they would need to discuss the signage with Dallas employees. "The City of Coppell is on board with the signage," Cook said, "but we have no jurisdiction over the area."
South Haven was developed by American Legend Homes and Normandy Homes. The lack of a deceleration lane is not the only problem those companies created when they plopped a neighborhood on that particular piece of property. Choppa and his neighbors have experienced delayed response times in emergencies while 911 operators figured out whose jurisdiction they're in. And although they reside in Irving, some maps put their homes in 75063 while others say they live in 75019. They've learned the hard way to have their mail addressed to 75019 because their neighborhood is serviced by the post office in Coppell.
Choppa told me he contacted U.S. Rep. Beth Van Duyne's office for help with their mail. When I emailed Van Duyne's office to confirm that, I couldn't help but laugh at the response:
"It turns out that, as a result of redistricting, South Haven is in Congressman Marc Veasey's district," Press Secretary Rosie Wilson wrote. "Mr. Choppa may have reached out to our office, but we would have directed him to Congressman Veasey's office as they would've been the best people to help address the postal delivery issue."
Get the D Brief Newsletter
Dallas' most important news stories of the week, delivered to your inbox each Sunday.
Author
Tim is the editor of D Magazine, where he has worked since 2001. He won a National Magazine Award in…